Pioneer has today announced the launch of their latest controller, the DDJ-WeGO3. This entry-level controller is an update from the previous WeGO versions that includes a complete makeover and offers more features to the budding DJ. Read more inside about the DDJ-WeGO3 and all Pioneer has to offer in this new controller.
Features: Software Versatility, Pulse Control, and Charging Station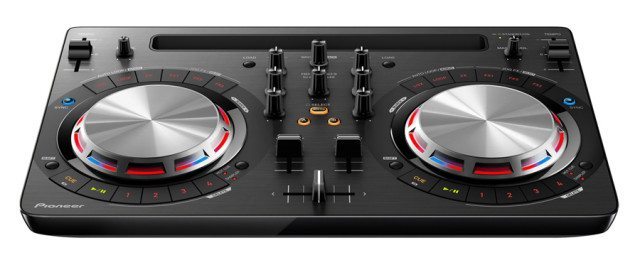 The DDJ-WeGO3 is a simplified controller for beginners to learn and understand the basics of DJing. The new design has an aluminum finish throughout the entire board of controls. Like the other models, the DDJ-WeGO3 has a flat profile making it very portable. One of the interesting, and probably the best feature for budding DJs, is that the WeGO3 supports multiple DJ software. For the DJ starting out, it can be intimidating and mind boggling to determine which software is going to be their weapon of choice. The DDJ-WeGO3 gives new DJs the choice to choose between Virtual DJ, djay, djay 2, Serato DJ Intro, Traktor Pro 2, and vjay. (djay 2 and vjay are on available on iOS devices.)
The DDJ-WeGO3 is also a central charging station for iPhones and iPads via a lightning cable. The intended use of this feature is by DJs who want to use iOS software and need their devices fully charged for a set. The included AC adapter will power the DDJ-WeGO3 and give power to charge the devices connected. As for new DJ features, the DDJ-WeGO3 offers two new features: Pulse control and Jog FX. Pulse control provides users with visual prompts using red and blue LED illumination around the Jog platters. The Pulse controls signal to the DJ that a track was loaded to a deck, an effect is being applied, and the volume intensity of a track. With that, the Jog FX allows the user to combine multiple effects and control them simultaneously using the jog wheel. The DDJ-WeGO3 is an all in one solution, providing a built in sound card with high quality audio ports for sound output.

DDJ-WeGO3: A Solution for Entry Level DJs?
Between the easy to use set-up and the Pulse control information, this controller provides beginners with the basics rather quickly. The controller is small and compact, so moving onto professional controllers in the future may be a leap.
The DDJ-WeGO3 is set for release in October and will be sold at the suggested retail price of $349. There are many entry level controllers out there – some a lot cheaper than the WeGO – however the DDJ-WeGO3 is one of the better solutions coming to market and, if the price isn't a problem, definitely consider picking one up.
What are your thoughts on the main features of the We-GO3? Is the DDJ-WeGO3 a worthy controller for the budding DJ?