Algoriddim is a household name when it comes to DJ applications. Their djay app for iOS and Android has been downloaded millions of times by users all across the globe who were looking for a way to get their feet wet in DJing. djay is also the name of Algoriddim's Mac dedicated software that has recently been given a total over-haul and redesign. Today, Algoriddim announced the release of djay Pro, the latest desktop DJ software for Mac OSX. I had the pleasure of talking to Algoriddim's CEO, Karim Morsy, who walked me through the software which has everything from automatic iTunes playlists to MIDI capabilities and even full Spotify integration.
A New Look
Any users of djay will quickly recognize that djay Pro is a complete redesign of the old software. Everything is much more spaced out and clear to see which makes the software easy to read whether one is in their studio or the club. The software combines the flexibility of the user interface alongside a powerful music library. On major point of design that can be appreciated is Algoriddim's designs on the virtual vinyl that renders actual grooves of the waveforms on the virtual vinyl.
A Powerful Library (Spotify + iTunes)
A major selling point of djay Pro is the fact the this is the first software that has full Spotify integration built into it. Algoriddim teamed up with Spotify to catalog the entire music library by key and BPM. A user with a solid internet connection can no seamlessly combine their Spotify tracks from the cloud into their mix. djay Pro even recommends tracks based on tracks that the user plays from Spotify.The feature does require a Spotify premium account which, for $10 a month, gives the user the ultimate DJ pool at their finger tips. A seven-day free trial of Spotify Premium is available to all djay Pro users.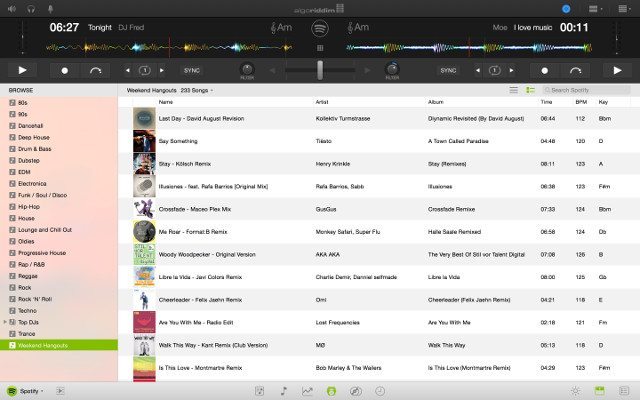 Also, given the fact that djay Pro was written with the Apple environment in mind, the software was made to work in sync with iTunes. Other DJ softwares lack the ability to automatically update iTunes playlist and libraries as tracks are changed in iTunes. With djay Pro, users' playlists and tracks are instantly adjusted when updated outside the software. The library also improves a DJ's workflow by including persistent history and queue, inline search, instant preview, an innovative song recommendation engine powered by The Echo Nest, and versatile track sorting features.
Mac OS X Power Capabilities
djay Pro was programmed with the Mac ecosystem in mind. Taking advantage of 64-bit processing, the software's response time and track playback is fast and on point. Also, the power behind the software allows for multi-core track analysis, support for Retina and 5k displays, and better sound quality. Seeing the software first hand I can vouch for the extreme responsiveness!
The djay Pro software will also be fully MIDI compatible with any controller that can be mapped to software. The software already supports over 50 controllers and for controllers that need to be mapped, the software has one of the easiest solutions for mapping. Mappings can get very convoluted with the lingo that comes with mapping a controller but djay Pro makes it easy to map a controller for people who have little experience. Everything is labeled clearly within the software. djay Pro also has support for multi-channel USB audio interfaces and external audio input.
Other key features of djay Pro include:
Extensive Music Library
Four Deck Mixing
Waveform Layouts
Live Sampler
Over 30 state-of-the-art audio effects powered by Sugar Bytes
Up to three chain-able audio effects per deck
Audio Limiter
djay Pro Making Waves
Algoriddim seems to have created a new level of their software that is worthy of being a reliable platform for advanced DJs and beginners looking to advance their available tools. The point of djay is to open up DJing to everyone through their consumer simple app on iOS – but eventually upgrade to the Pro software to take their skills to the next level.
djay Pro is now available via Algoriddim's website for $49.99 for a limited time.