January is here – which means companies are slowly rolling out their initial new products debuting at the currently underway Consumer Electronics Show in Las Vegas, or the upcoming NAMM show in Anaheim later this month.
The winner of "first new DJ product of 2015" appears to be – surprisingly – Casio. The company had released a co-branded Spin controller with Vestax last year, and now is launching two wild-design controllers for DJs and producers that happen to both look like everyone's favorite Kessel Run dominating starship.
XW-DJ1: Portable Platter for Algoriddim djay2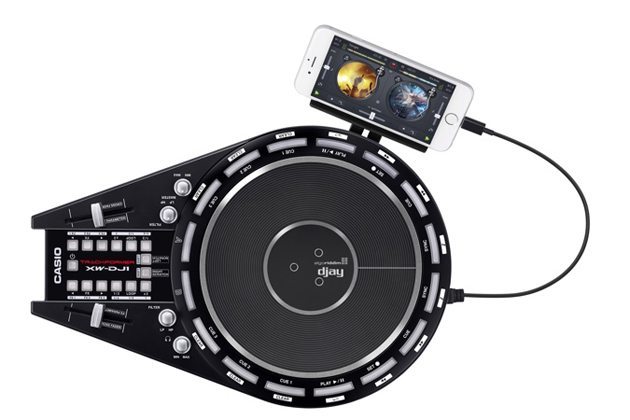 The DJ-oriented controller packs a 7-inch platter (designed to emulate the feeling of a turntable), filter controls, and dual crossfaders. The controls appear to be vertically mirrored – all of the cue points and loop controls are rotated 180 degrees on the far side of the controller – meaning that it can be turned in either orientation. This will likely be a big win for left-handed users!
The DJ1 can be used out of the box with Algoriddim's djay2 app for iOS, with direct integration "for cue points, tempo sync, effects, looping and more providing users a tactile experience for mixing and performing music."
This Corellian Corvette controller is also battery-powered, with a built-in speaker for using it on the go. We're not exactly sure what type of input/output is possible, but we're betting on a USB port (with included USB to Lightning cable), and a headphone jack based on the control layout.
The controller will be available in stores this month for MSRP of $299.
XW-PD1 Groove Center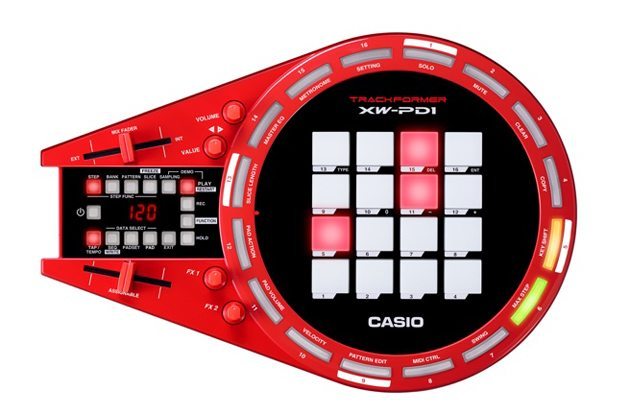 The second product is less of a controller, instead it's a standalone production box "equipped with the sound engine from Casio's widely-popular XW series of synthesizers, which features preset patterns produced by professional beat makers that cover dance music genres like Trap and EDM. The XW-PD1 design includes 16 velocity-sensitive pads and 4 knobs for fast real-time music production." 
The outer ring of sixteen buttons acts as a pattern selector, letting you record and play back phrases and rhythms. The PD1 also has built in DSP effects – roll, filter, bit crush, vinyl break, and pitch shift. Additionally it "is equipped with a synthesizer engine and a variety of effects, it can manipulate various sounds. Pad tap sequences can be recorded in real-time [and] sampled sounds from the mic or music player can easily be played on the pads."
Interestingly enough the AW-PD1 can be used alongside the DJ1, with the audio output of the DJ controller connected to the input of the PD1 for tandem use and live remix performances.
The XW-PD1 will be available starting March 2015 for an MSRP of $399  – or you might be able to win one in the next card game you play with Lando Calrissian.