Xtreme Mapping is back! For a brief time the popular mapping software was absent from the Mac App Store. It appeared that development had stopped and that the software was no longer available to purchase. Thankfully that wasn't the case. Vincenzo Pietropaolo has added Traktor 2.7.0 support to Xtreme Mapping. If you're not familiar with Xtreme Mapping, it's a Mac only software designed to speed up your mapping workflow for Traktor. Read on for what's been added.
Freeze Mode and Mapping Wizard

Last October, Native Instruments released Traktor Pro 2.7 alongside the Kontrol S8 (check out our overview of the Kontrol S8). Traktor Pro 2.7 added a popular feature, Freeze Mode, which was previously available only in Traktor DJ (iOS) and Serato DJ.
The latest version of Xtreme Mapping has the freeze mode commands available to map. While you can map freeze mode through Traktor's Controller Manager, the process can be time consuming. Xtreme Mapping helps speed up the process through a helpful mapping wizard.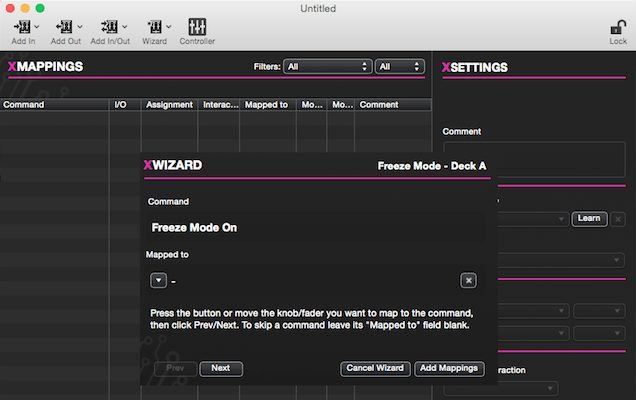 The mapping wizard lets you choose a feature (in this case Freeze mode) and then choose the deck you want to map it to. It will guide you through all the commands and let you map it to your control of choice. Once you're finished, click "add mappings" and Xtreme Mapping will add the commands to your mapping.
Xtreme Mapping also makes it really easy to modify commands. For example lets say you wanted to map all the commands to Deck B, just highlight the commands and assign them to Deck B. In Traktor you'd have to change the deck assignments for commands one at a time.
How to Update Xtreme Mapping
Although Xtreme Mapping is available again in the Mac App Store, it's not the latest version. You'll need to purchase Xtreme Mapping from the app store then go to the Xtreme Mapping site to enter your name and email. Once you've done that you'll receive instructions on how to update to the latest version of Xtreme Mapping.
Do you use Xtreme Mapping? How has it helped your mapping workflow?