EDM's resurgence has fueled ticket sales for name brand festivals like Ultra and EDC, but there is still a thirst for a more interactive experience beyond the standard music and light show. Inspired by rave culture and the DIY ethos of Burning Man (Warning: bring a dust cover for gear) a number of "Immersion Festivals" popping up around the world that are embracing a sense of community and participation. Maybe you're even booked at one, in that case make sure you're prepared for a festival set. Read on for five of our favorite immersion festivals.
Shambhala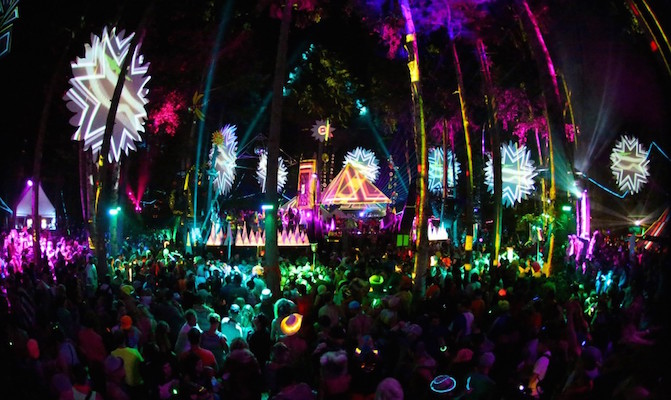 Where: Salmo, Canada
When: August 7-10, 2015
Located in the beautiful Kootenay region of British Colulmbia, Shambhala is a champion of grassroots organizing and community. The Salmo River Ranch, a 500-acre working farm, hosted the original festival in 1998, showcasing local art and music on two stages with an attendance of 500 people.
Today, thanks to about 2,000 volunteer "Shambassadors", the festival has grown to become a staple on the North American west coast, with six stages, craft workshops, an organic garden and 10,000 electronic music lovers. Their lineup is a world-class list of artists that has included Bassnectar, Gorgon City and Moby. The six unique stages house cutting edge visual and sound systems, but the most famous venue is the Fractal Forest, where DJs play at the center of a 360-degree dancefloor, surrounded by pyramids, fire-dancers and cedar trees.
Shambhala has a relaxed atmosphere that is very connected to the natural surroundings, but what is most impressive of all is that their event is done without any corporate sponsorship and works to reflect the dance music community as it moves into the mainstream.
Note: Make you're still taking precautions to protect your hearing to avoid ringing ears or developing Tinnitus.
Secret Garden Party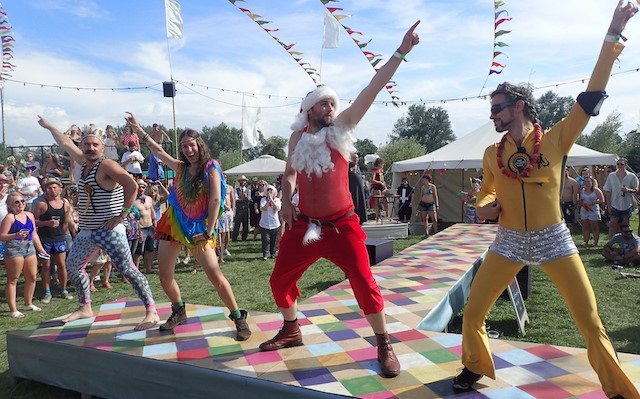 Where: Abbots Ripton, England
When: July 23-26, 2015
You've never attended a garden party quite like this. SGP was inspired by the DIY aesthetic of Burning Man, aiming to provide an alternative experience to the usual British music festival. The 10-year-old festival is held on a farm located in the English countryside. Unlike Burning Man, the rainy weather makes for a muddy experience as you explore the various "action camps".
The festival has developed a reputation as a "surreal hedonistic retreat", where you can swim in the lake, attend a lingerie party and sing-a-long to Romani music in addition to listening to an eclectic mix of music. Most of the artists are relatively unknown outside the UK, but the occasional surprise guest is known to pop up at this unpredictable festival. The stages can be anything from a drum circle in a field to a man-made island only accessible by boat, and there are numerous art installation following a yearly theme, 2015's being "Childish Things".
Participants have the option of really roughing it or opting for a more comfortable boutique camping experience where 5-star amenities are provided at extra cost. Recreational Vehicles are also allowed, and there are even family camps for children.
Boom Festival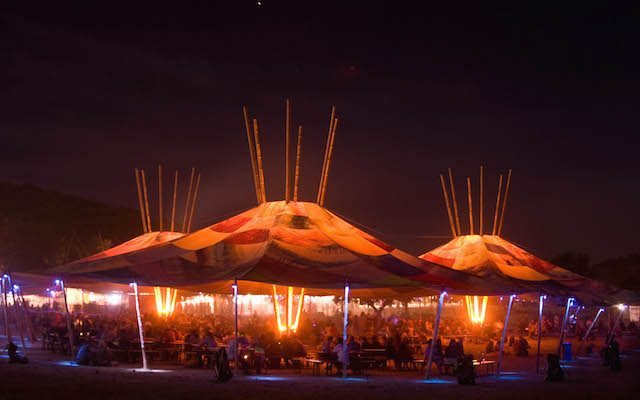 Where: Idanha-a-Nova, Portugal
When: August 11-18, 2016
This unique festival is a celebration of the transcendental power of electronic music. Since 1997, Boom Festival is held every two years in Portugal with an ethos of sustainability, participation and transformation. Entirely funded by ticket sales, Boom refuses to take any corporate sponsorship.
To make the festival more self-sustainable, the organizers have undertaken a number of environmental projects which include utilizing wind and solar energy, providing cleaning kits to participants, treating residual water and providing toilets that don't use chemical products.
The original event was a Psytrance festival held on a mainstage with a lounge area for chill-out music, and has since expanded its scope to a variety of genres. Psytrance and natural trance music is showcased in the Dance Temple tent. Sacred Fire hosts live world music performances and there are more stages featuring a variety of electronic styles.
Unique to this festival is its emphasis on transformation and personal development. Lectures, meditation and film screenings are held in the shaded Liminal Village. Burned out dancers can relax in the Healing Area with massages and water therapy. In addition to no corporate sponsorship, Boom prides itself in having no VIP areas and adopting the free and accepting spirit of the psychedelic movement.
What The Festival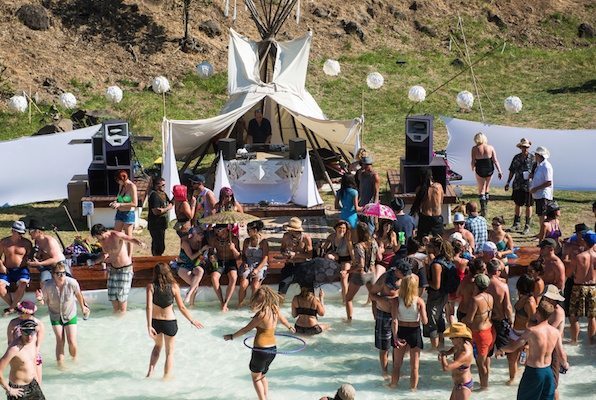 Where: Dufur, United States
When: June 19-22, 2015
American Burners looking for an alternative to Black Rock Desert should check out What The Festival, a beautiful forest rave held on Wolf Run Ranch in Oregon. This is very much an electronic music festival, with more than 60 artists covering house, techno, dubstep, downtempo and more.
The festival was founded by Glenn and Tiffany Boyd and music producer Peter Clark. They had attended the infamous Burning Man for years, and wanted to use their interest in music and technology to provide their own alternative festival experience, but with more of a "boutique feel". In 2013 they bought their permanent ranch location to accommodate up 5,000 attendees, but the organizers usually limit their tickets to keep an close-knit atmosphere. The four stages and small crowd means participants get to enjoy very intimate performances from renowned electronic artists like Beats Antique, Cyril Hahn and Gramatik. There is even a "LOL" stage that features vaudevillian comedy performances from midnight to the morning.
What The Festival embraces a "leave no trace" mantra by encouraging carpooling and recycling. Participants have the option to camp in a tent or use their RV or car, and there are certain amenities provided like showers and food.
Rainbow Serpent Festival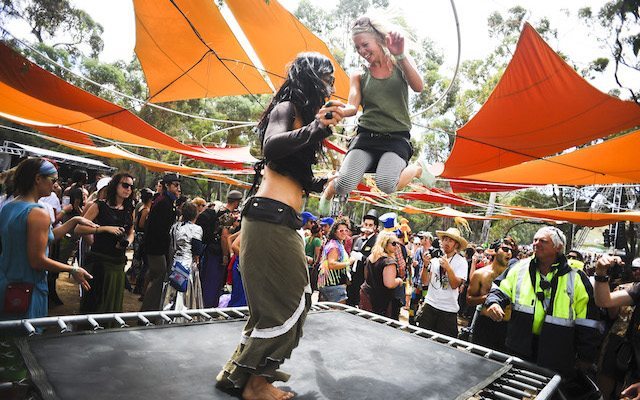 Where: Lexton, Australia
When: January 23-26, 2015
Every Australia Day weekend, the town of Lexton in southeastern Australia grows from a population of 150 to more than 10,000 for the world-renowned Rainbow Serpent Festival. Though it doesn't share any ceremonial practices, the festival is named after the creator deity of Aboriginal Australia, and aims to provide a alternative electronic music festival that connects to the Australian outback.
Rainbow Serpent is mostly known as a Psytrance and Minimal Techno festival, but in recent years has expanded to a variety of musical styles held on five stages. The Main Stage is the most technically advanced, running for 24 hours from Saturday night to Sunday, starting with an ambient act and progressively increasing the energy through the night. The Playground Stage focuses on live music and performers that range from magicians to mimes, in addition to providing an outlet for Melbourne's independent music scene.
The festival also strives to be environmentally conscious with a 70% carbon footprint. This sustainable ethos is further encourages with the Rainbow Serpent Marketplace, where a kilometer of stalls sell a variety of ethical products and crafts.
Over to You
These festivals show that there is room for new experiences apart from EDM festivals like Ultra and EDC. We only covered five festival alternatives and now we want to hear from you.
What are your favourite festival alternatives?
Akhil Kalepu is a producer and DJ from Philadelphia, Pennsylvania. You can check out his work at theinfamousAK.com.