Moog Music is the back bone of synthesizers in the late 20th century and for a couple of decades they have been silent about producing and manufacturing the synthesizers of the 1970s that built the brand to be what it is today. Then yesterday Moog made a huge announcement that the company would be bringing back three massive synthesizers from their 1970s line that will be handmade from the schematics of the old, pioneers of synthesis.
Watch Moog's video below to learn more about synthesis and read about the synthesizers coming back from the dead.
Bringing Modular Synthesis Back to the Future
Modular synthesis offers a whole new perspective on music and the way sounds are created. A musician not only plays the keyboard but also learns the different ways a modular synthesizer can be patched to produce different sounds. Artists such as Deadmau5, M83, and Daft Punk, still use modular synthesis today in their works and the revival of Moog's synthesizers will open up an avenue of music production that was lost to a generation.
The System 55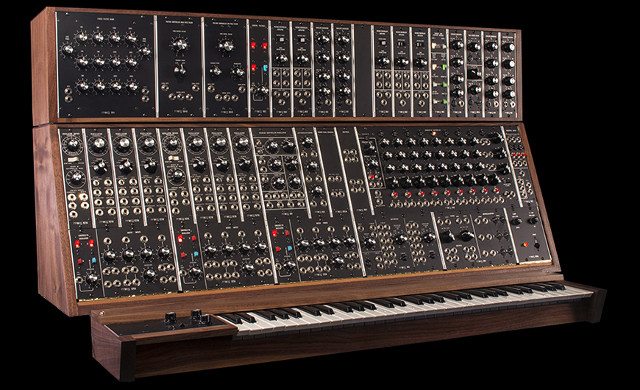 The System 55 will be the Louis Vutton of modern synthesizers and will be for the producers looking for the ultimate synthesis tool box to have in their studio. The unit is encased in a 2 hand-finished solid walnut cabinet that houses 36 hand-crafted modules. The System 55 comes with the coveted 960 Sequential Controller that allows for the synthesist  use an 8 stage, 3 row sequencer with an internal oscillator to incorporate extensive rhythmic complexity into the creative process.
Price: $35,000 per instrument
The System 35
The Moog System 35 is the middle child of the modular synthesis revival that contains a 5 oscillators comprised of 22 handcrafted analog modules that are also housed in the iconic hand-finished solid walnut cabinet. This unit is built for the modern studio and creates the sonic depth and dimension of a modular Moog synthesizer.
Price:  $22,000 per instrument.
The Model 15
The ultra compact solution for the modern synthesizer will be the Model 15 which is designed to be portable and utilized as a live instrument device. It comes encased in a rugged case that is internally built to focus on speed, creativity, and simplicity. The Model 15 comes ready to be available in multiple configurations to better suit the needs of the touring musician.
Price: $10,000 per synthesizer. (Moog's "affordable" option)
Return of Modular Sound
These synthesizers won't be easily obtained by everyone but what this means is that producers and musicians today can now stimulate creativity in a whole new way that was once thought to be lost to a different generation. Hopefully the world will see more to come from Moog and modular synthesizer manufactures everywhere.
More NAMM 2015 news and articles: