From the newswire, we've got a story from the rising stars of the DAW world, Bitwig Studio – launching a new set of features that are due to come out in an upcoming 1.2 release of the software. The new update promises the following new features:
Group Tracks: Consolidation In Navigation

This seems basic, but for any professional using a DAW it is essential to stay organized and on top of all of the elements you have going on in a production. Bitwig writes:
[…] dramatically improve the navigation of numerous tracks in every view of your project while consolidating the signal flow of multiple sources through a single Group Track. The feature introduces a new style of editing in the Arrange View called "Meta Clips." Meta Clips allow for easy editing of clips from multiple tracks in group track timelines. Group Tracks also expand upon Bitwig Studio's Multi-out VST functionality, providing a convenient way to setup tracks for multi-timbral VST instruments, and useful functions to organize and consolidate your entire mix.
Audition Browser: Test Out Sounds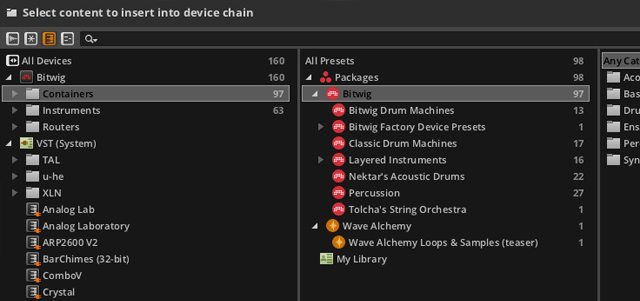 This is another much-requested feature – the ability to quickly try out new samples or presets while the track continues playing on the fly. Being able to do this allows producers to use Bitwig's tagging system in a new window when searching for a particular new of sound to try out
Support For Super-Nice-Looking Displays
Software developers are approaching a point where they can't avoid thinking about next generation screens like Windows High-DPI and Macbook Retina displays – the new Bitwig Studio brings great-looking graphics to these screens.
More Bundled Audio/Preset Content
"The Bitwig Sound Team has been hard at work creating new standards that provide a fluid experience when navigating from one preset to the next. These standards were presented to several new partners to develop an extraordinary new addition of content and workflow to the Bitwig Studio Factory Library, sure to inspire music makers and sound designers everywhere. We are proud to introduce three new demo songs, over 500 fully-mapped presets, and optimization of every preset in our Library with the help of Detunized, Mode Audio, Sample Magic, and Overclock Inc. as part of the Bitwig Studio 1.2 update."
More NAMM 2015 news and articles: