Novation has been building Launchpads for the better part of decade, and it's fair to say the controller has launched careers, pushed controllerism into the mainstream, and been an integral part of thousands of DJ and producer setups both onstage and in the studio. Today Novation is announcing a professional version, the Launchpad Pro, which brings long-requested features to the product line. Read on for full details.  
Name: Launchpad Pro
Manufacturer: Novation
Available: Spring 2015
Price: Street price will be $299.99
In A Nutshell: The RGB-pad filled big-kahuna of the Launchpad family, with velocity sensitive pads and additional mixer controls
Watch it in action: Thavius Beck rocking an exclusive Ableton set on the Pro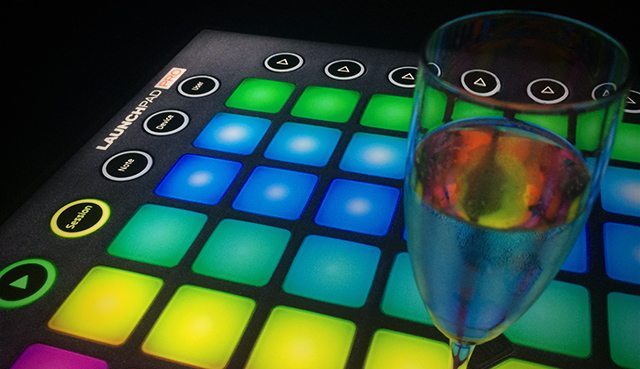 Launchpad Pro: Feature Overdrive
Novation has taken their ubiquitous controller and brought on a number of features that go well beyond anything we've seen in a controller at this price range (the Pro will launch with a street price of just $299).
Enhanced full color RGB LED pads: The pads look better than ever on the new Pro – which match the color of your clips in Ableton Live
Pressure/Velocity Sensitivity: Each of the 64 pads send MIDI data based on how hard you hit the pads
More buttons: The Launchpad Pro incorporates 16 additional circle buttons, located on the left and bottom of the pad grid, allowing quick access to Live mixer and playback controls
Midi Output: The rear of the Pro now has MIDI ports, meaning you can run it out directly to hardware synths and play the instrument in Note Mode (more on that below)
Still Bus Powered: Despite all of the added features, the unit still manages to work under just bus power – there is an optional power adapter. It's also class-compliant, making it suitable for iOS use.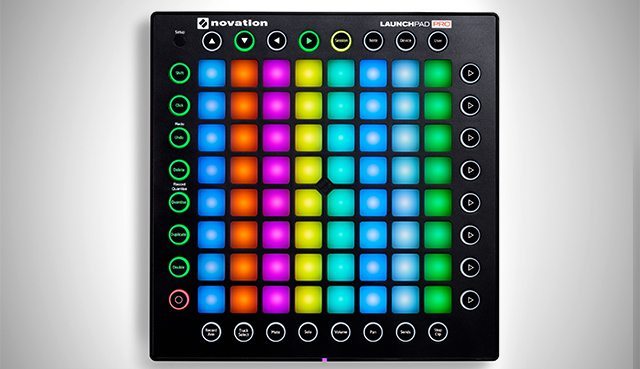 Advanced Launch Modes Built-In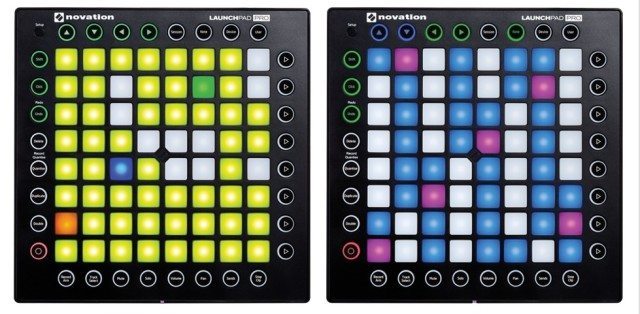 The Pro also has an array of new modes that allow dynamic control over Live:
Session Mode: immediately trigger and combine your clips – this is the traditional view that everyone is used to
Note Mode: create dynamic beats and play the grid just like an instrument. Launchpad Pro automatically switches the layout for drum or instrument devices. With drums, all your sounds are available, spread across the whole 8 x 8 grid. With instruments, the grid illuminates as a chromatic keyboard, enabling you to easily play notes, melodies, and chords.
Device Mode: easily apply effects to your performance.  Control any effect or instrument mid-performance to add engaging, expressive effects like reverb, beat repeats and filters. For super smooth effect transitions, the button grid also turns into eight velocity-sensitive vertical faders, with LED feedback – the harder you hit the pad, the faster the transition.
User Mode: create unique custom performances and layouts
Look, Feel, And Initial Impressions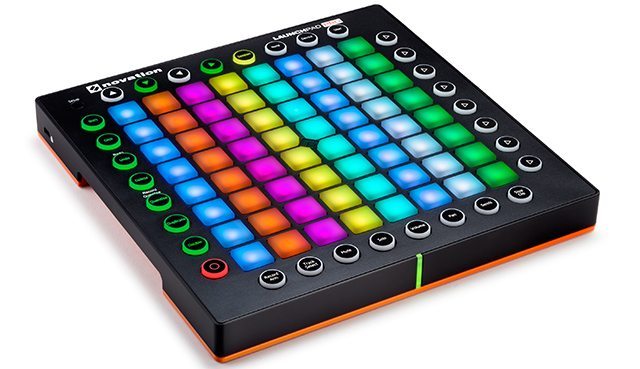 The Launchpad Pro also feels very pro – with an upgrade to the physical surface to a more soft-touch plastic that resembles the Ableton Push. There's a nice orange shade added to the bottom of the unit, and it sits up a bit higher than other Launchpad products. On the front, there's a new RGB indicator – we're not sure what the function there is yet. The Pro is still very lightweight (no official specs yet) and is roughly the same dimensions as the original Launchpad, albeit a bit thicker.
We're impressed at the amount of functionality that Novation has packed into this thing, eliminating a lot of additional work that some live performers have had to put in to build a performance environment around their Launchpad. (We wish they would have built a great tool for making wild LED graphics, though!)
The Launchpad Pro is expected to lift off into stores sometime this Spring for just $299.
More NAMM 2015 news and articles: