It has been a few years since we've seen anything new come out of Rane, one of the most well-known DJ mixer manufacturers that has stayed prominent since their first DJ mixer back in 1986 (it was the MP 24, designed for a disco sound designer, Richard Long). Rane is today announcing two new mixers – an upgrade to a product that many thought was defunct, the TTM57 MKII, and the first mass-produced rotary mixer we've seen in years, the MP2015. Read on to learn more about both.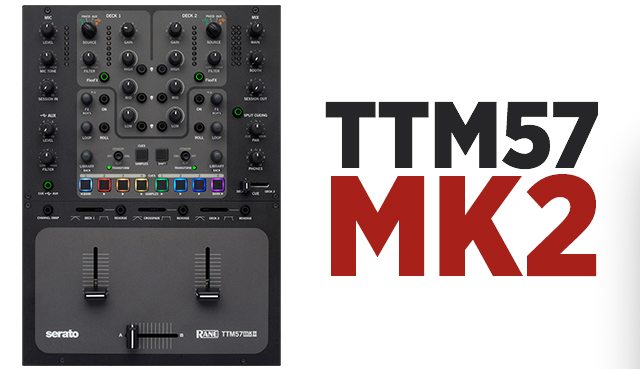 Name: TTM57 MKII
Manufacturer: Rane
Available: Now in the DJTT store
Price: MSRP $2199 – with a lower expected street price TBD
In A Nutshell: Dual soundcards for back-to-back switchups and integrated advanced Serato DJ control
The new TTM57MKII follows up on one of the best-selling DJ mixers of the digital era, which brought Serato to prominence for club and mobile DJs around the world. In fact, the only reason the original mixer finally began being phased out by Serato with the Serato DJ DVS launch a year ago was due to the aging soundcard connection (it used USB 1.0). Rane's press release isn't exgaggerating when they speak to a "cult-like following" of the mixer – we've heard consistently from DJs who are avoiding the Serato DJ software entirely because they love their 57 so much.
The new TTM57 MK2 keeps the same design as the original, adding a set of dual USB 2.0 audio/MIDI ports (it's class compliant too, meaning that it should work with iOS devices). The two soundcards mean that DJs can quickly and easily swap in a back-to-back setup, with each of the two input channels switchable to either soundcard. Each soundcard has 10 record and 10 playback channels with sample rates of 44.1 kHz, 48 kHz, and 96 kHz.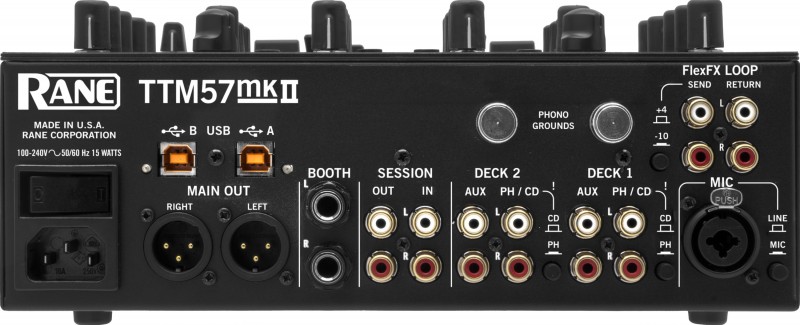 You can also use the soundcards as FX inserts, meaning that Serato DJ's iZotope FX can be applied to the channels in the mix. There's an AUX channel that allows routing of Serato's SP-6 sampler, and there are sweep filters on all three channels (1, 2, and AUX).
Most noticeably, there's new RGB-backlit silicone pads (a drastic upgrade from the plastic circle cues on the original 57) which correspond to the colors of cue points in the Serato DJ software.
We're really excited for this new mixer – and we think that it will be a new standby for mobile DJs and scratch DJs, much like its predecessor.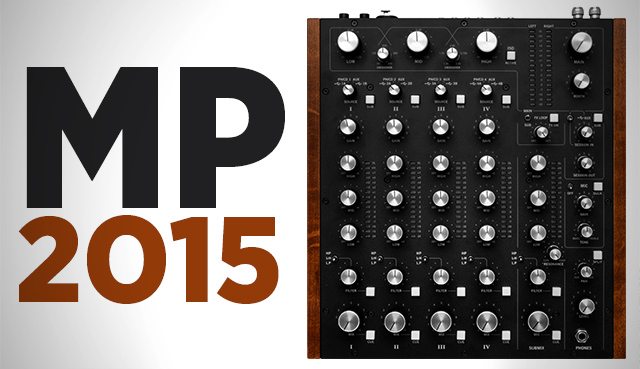 Name: MP2015
Manufacturer: Rane
Available: Now in the DJTT store
Price: $3,499 MSRP with an expected lower street price
In A Nutshell: Rotary DJ mixers are back.
A NAMM surprise that almost no one was expecting, Rane is releasing one of the first new rotary mixers that we've seen a major manufacturer put out in a long, long time. The new mixer represents a modern take on rotary – incorporating 3-way swept filters (selectable between LP, HP, or a combo – with steep 24dB/octave slopes), a 3-band main mix isolator with adjustable crossover points, a Submix bus for multitrack mixing (can group any number of inputs to be together and control them with one set of controls – or alternately it can be switched to another input channel).
At the same time, the MP2015 mixer also has a digital side to it – with dual 24-channel USB soundcards that allow for the connection of two computers. The ports are class compliant, meaning no drivers are require on OSX, and there's a new high-performance ASIO driver for Windows users. Each soundcard supports 10 playback and 14 recording channels – meaning that even Ableton Live users might see an advantage to using this mixer in a DJ capacity.
It helps that the mixer looks great as well – with a US-made all steel chassis, an extra thick front panel for durability, wood side panels with the Rane logo laser-etched on it, and classic spun-aluminium knob caps.
More NAMM 2015 news and articles: