Today's Artist Gear Setup feature looks inside the travel bag of Gregor Tresher. Gregor Tresher began his career as a DJ in Frankfurt in the early '90s; today, he can be found playing in venues around the world, from Berlin to Tokyo, Sydney to Los Angeles.
Gregor previously performed with Ableton Live and the Akai APC40 but it looks like he's made the jump to CDJs. Keep reading to find out what gear Gregor Tresher packs in his bag.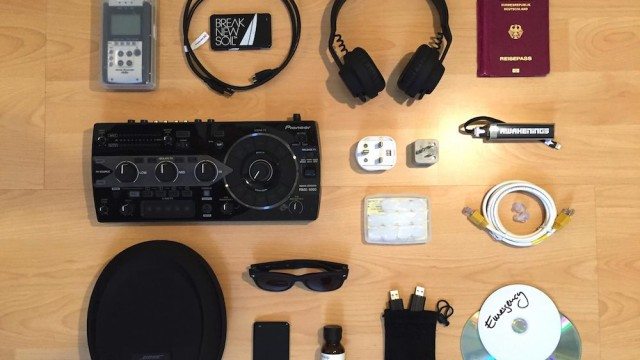 Zoom H4n Recorder
I record sets with this. I sometimes record the direct output from the mixer but also do a parallel recording with the ambience microphones. If the ambience recording works out well, I mix the two tracks later so you get an idea of the crowd. The recording of the crowd obviously depends on how the sound is at the recording devices position.
I've been using them for a couple of years and am very happy with the sound and reliability, never had any problems. I really like the design too, no logos and a nice matte black – these headphones just look perfect in my opinion.
I don't load my own samples into it – I actually like to use effects in a pretty subtle way when I DJ and I try to not overload my sets with effects but use a little reverb here and a bit of delay there. Sometimes the crowd needs a little extra push into the right direction to really get the party started, and that's where an effects units is a good thing to have. Check out Ean's review of the Pioneer RMX-1000.
Custom Made Earplugs
The earplugs are custom-made at a local acoustics shop here in Frankfurt. I don't wear them at every single gig, but try to use them as often as possible – especially in clubs where the DJ-booth gets a lot of sound from the PA. Also after a couple of drinks I tend to forget to keep the monitor volume at a healthy level 😉 I only started wearing earplugs a few years ago, when I realized that my ears were suffering a little. The other earplugs on the picture are for sleeping on airplanes but also in case of too much noise in the hotel room. The brand is called Macks Earplugs and they're the best on the market for me and I really tried them all.
Learn more about protecting your hearing.
128GB SSD Drive
It's a 128GB SSD drive and I have roughly 300 tracks on it. The second harddrive is an exact copy of the first one, just in case one of them crashes. I usually have three linked CDJs on stage, so what I do is play from my main harddrive, and in case it fails during my set, I can quickly use the second one. I always try to strictly play new music to not bore myself and the audience, so I don't need to bring music from a year ago or two.
Emergency CD
Basically I had the plan to burn emergency CDs every other week with the most recent tracks, so I would still be able to play a set if the hard disks would fail (make sure you always have an emergency backup.) But since I was lucky enough to never have both hard drives fail I got a little bit lazy with burning CDs, so if it would happen now I'd be in trouble as the music on there is a little bit dated. I have two extra USB-sticks with me with some recent music as well though.
Travel Essentials
Passport
Power plug adapters
Extra iPhone battery
Mack's earplugs for sleeping (simply the best, and I really tried them all 🙂
Extra network cable for connecting CDJs
BOSE Noise cancelling headphones for travelling
Sunglasses
Aesop rinse-free handwash
Music backup on USB flash drives
Looking for more artist gear setups? See what's in these artists bags:
Stay up to date with Gregor Tresher on gregortresher.com, Soundcloud, Twitter, and Facebook.
What artist gear setup would you like to see?
Let us know in the comments below!