Today's Artist Gear Setup feature looks at the travel gear of Brainfeeder artist William Benjamin Bensussen, better known as The Gaslamp Killer. As an alternative hip hop DJ and producer, Gaslamp Killer helped found "Low End Theory", an experimental hip hop and electronic music club night held every week at The Airliner in LA. One of the most unique pieces in his setup isn't exactly DJ gear, it's an Apple Airport Express. Find out why it's crucial for his sets.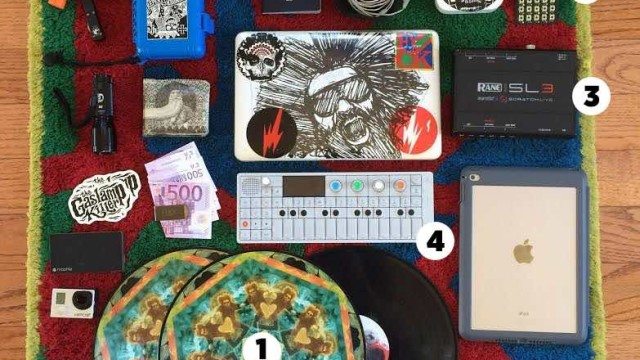 1 – Limited Edition Gaslamp Killer Serato Vinyl
My limited picture disc Gaslamp Killer Serato records and a Scratchy Seal record. I use Serato with real vinyl – there's nothing like scratching with my custom control vinyl AND dirtstyle break records!
2 – Computer
MacBook Air 11″. My iPad Air 2. Apple Airport Express. I need a powerful wireless set up for my iPad to work well unplugged, hence the Airport Express. These 3 are crucial to the show.
3 – Soundcard
4 – Synths
Teenage engineering OP-1 & rhythm pocket operator. Always fun to make music with these 2 toys while on the road.
5 – Headphones
My Shure SE846 in ear headphones. Best for keeping calm on flights and hearing actual sub bass through your brain and body is a must while making music on the road.
6 – Needles
 4 Shure m447 needles. Best in the game for scratching IMO.
Personal Items
Car keys with my LaCie rugged usb3 64gb flash drive which holds a back up of my live set.
My GoPro Hero 3
Mophie juice pack
Some € euros
Passport
Pilpeled paper wallet
Gaslamp Killer stickers
Flashlight
Looking for more artist gear setups? See what's in these artists bags:
For more Gaslamp Killer check him out at thegaslampkiller.com Instagram, Twitter, Facebook. His latest album, The Gaslamp Killer Experience Live in Los Angeles is available now on iTunes
What artist gear setup would you like to see?
Let us know in the comments below!