With Digital DJ software, DJs have several creative tools at their disposal: 4 decks, multiple FX, and sample decks such as the Serato DJs SP-6 sample player or Traktor Pro 2's remix decks. These sample decks can be loaded with one shot samples, loops, instrumentals and acapellas for remixing. Today Ryan Dejaegher shares 5 sources for great samples, loops, instrumentals, and acapellas to load into your sample decks.
Loopmasters – One Shots and Loops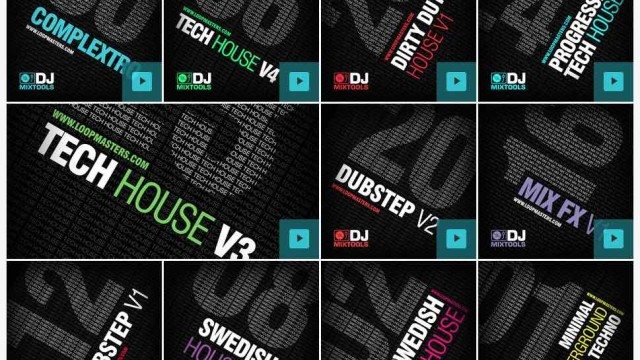 Loopmasters has a massive collection of genre specific sample packs containing loops, one shots, and stems. These are royalty free so they can be used both in productions and DJ sets without any concerns about copyright issues. Most of the loops and samples in the pack will be marked with the Key and BPM making it easy to layer loops over that are harmonically compatible with the current track. Loopmasters has even created a series of sample packs that are aimed specifically at DJs called "DJ Mixtools". One pack that will really interest DJs is the "Mix FX" series:
MIX FX V1 is a great collection of DJ FX, Long Evolving Gated Effects, Builds, Rises, Booms, Crashes, Deep Chords, Echo FX and Impacts which Producers and DJs alike will find invaluable in the Mix, or to make tracks with in the studio. These Sound FX are designed to work perfectly in sync with your tunes and will compliment House, Techno, Tech House, Dubstep, Drum & Bass, Cinematic and Downtempo styles.
For DJs that want to easily create their own breakdowns or buildups on the fly, Mix FX is highly recommended. Samples packs are also a great source for high quality drum loops that can be used to give a boost to tracks that are lacking in the low end. For Midi Fighter Twister owners, sample packs have lots of drum hits and samples are that perfect for sequencing in Traktor's remix decks. Most of the packs are available in a variety of formats including Ableton projects, Apple Loops, and .WAV. The prices for sample packs range from $20 to $60 USD.
Thud Rumble Digital – Scratch And Battle Samples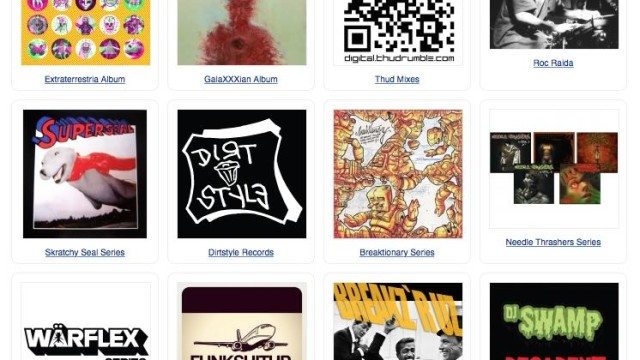 Scratch DJs and turntablists are no strangers to Thud Rumble. Founded in 1996 by Riche "Yogafrog" Desuasido & Richard "DJ Qbert" Quitevis, Thud Rumble was started to push the envelope of scratching as a science, an art and an international culture. Unless there's a record shop nearby, it can be hard to find battle records, the weapon of choice for scratch DJs and turntablists.
Luckily, Thud Rumble Digital has a collection of battle records/scratch records available to purchase in digital formats. Battle records are filled with scratch sentences, drum loops/breaks, tones, and obscure samples. This is where DJs will find classic scratch samples such as "ahhh", "fresh" or the famous air horn. Even DJs that aren't big into scratching or battling are likely to find some cool samples that they can drop to add some personality to their sets. Controllerists can also get creative with these samples by using cue points and effects.
On Thud Rumble each side of a record is available for $4 (MP3) or $5 (.wav). Which is a pretty good deal considering you're usually getting 10-15 minutes of solid samples. The only downside is that it's one long file, so DJs will want to throw the track into their DAW and chop the parts they want.
Acapella4u – Acapellas For Mash-Ups And Remixes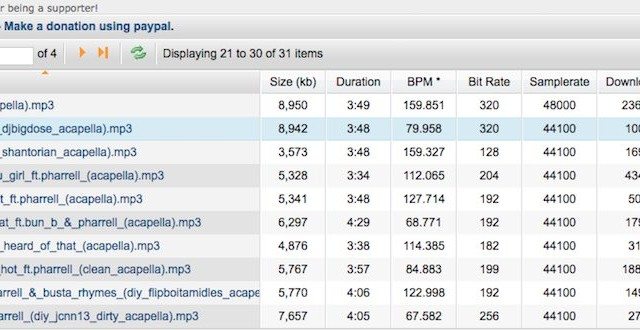 For mash-up DJs or remixers, acapellas are essential. An acapella is just the vocal element of a track, with all the instrument elements removed. They're also very useful for DJs creating performance routines. There are tutorials out there that show how to create DIY acapellas with phase inversion or use some EQ wizardry to isolate vocals. However nothing beats a clean studio acapella that doesn't sound like it's being played through a bad radio. One of the best places to find great acapellas is Acapellas4u.
The site has a massive collection of acapellas, both old and new available for free download. There are duplicates and some of the acapellas are DIY, but track ratings and track downloads make it easy to find the higher quality acapellas. The site also displays the BPM of acapellas but take this with a grain of salt, DJs should always manually adjust the BPM in their DJ software.
One downside to the site is the download process. The site limits users to 30 downloads per month with no way to increase that limit. Tracks can be only previewed after a one time donation and users also have to wait 45 (or 50 seconds) before the download link is active. They do have the largest collection of acapellas so unfortunately DJs have to live with that process. Acapellas4u is also missing instrumentals but this is where the next source comes in handy.
Record Pools – Instrumentals, Intro's and Acapella Edits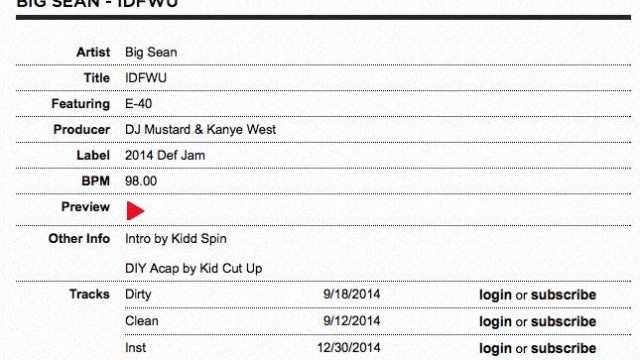 Record pools are a great source for DJs that need the latest tracks to play in clubs. There are lots of different record pools online and the price and selection varies. Depending on the selection of the record pool, DJs will have access to exclusive edits, instrumentals, remixes, and acapellas.
In the case of DJCity, there are multiple versions of tracks available: clean, dirty, intro edits, instrumentals, and sometimes acapellas. Intro edits are typically tracks that start with an 8 bar instrumental and then drops into the verse or chorus. These intro edits make the tracks easier to mix. DJCity has a great collection of new tracks with high quality instrumentals and acapellas, but there aren't as many old tracks, so DJs will want to dig into Acapellas4u for older tracks.
Another notable record pool is Direct Music Service (DMS). DMS is entirely focused on edits and has a massive back catalog of music that goes all the way back to the 1950's. If you've ever heard a classic track that actually sounded good in a club, it's probably a re-drum edit from DMS. These are old tracks that have been beefed up with heavier drums to make them club friendly. DMS also has several "Acapella in/out" edits – the track will start or end with just vocals before dropping into the full track. With Traktor's remix decks, DJs can loop these acapella sections and save them to a remix deck cell.
Remix Contests & Traktor Remix Sets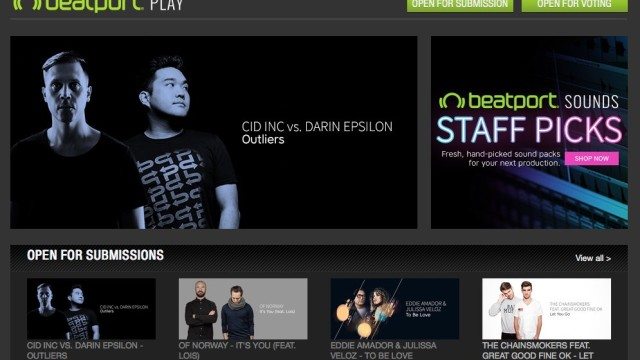 Although remix contests are aimed at producers, DJs can still benefit from downloading the stems or remix project from contests. With the stems from a remix contest, DJs can incorporate individual elements from the track in their DJ sets. A DJ could tease the audience with a familiar melody, bassline, or sample from the track. With Traktor's remix decks, DJs can load all stems into the remix cells and recreate the track on the fly. Since DJs are limited to 4 remix cells in the remix decks certain elements may need to be left out or layered together in a DAW.
Remix contests can be found on Beatport Play or through a remix contest aggregators such as remix comps and there's no cost to downloading the remix parts. If you download a remix project make sure you don't delete it, since the download links are disabled after the entry deadline passes.

Finally the last option that's more plug and play for Traktor's remix decks are
Traktor Remix Sets
.
Native Instruments
has a full page of Remix Sets that are available for free or for purchase. These Remix Sets are actually full track from artists that are broken apart into individual elements in the remix decks. The advantage of Remix Sets over a remix project or stems from a remix contest is that the Remix Set is already setup with the stems laid out in the remix decks. With the
Traktor Kontrol D2
, DJs will be able to see the names of the remix cells on the D2 screens, no more staring at a laptop.
Unsure how to use samples in your set?
Ean shares 5 ways to use samples in a real DJ set!