Email marketing is consistently ranked as one of the most effective and easiest forms of online marketing by marketing professionals. Social media is an effective way to reach new people and have passive touch points with current fans but your online marketing strategy should, as Hanzel would say, go one deeper. After you've collected your fans emails the next step is to actually reach out to fans. How often should you send emails, what should the subject line be, and what do you say? Today, David King, founder of Receiver, is going to answer these questions.
Own The Data With Email
Email provides a direct line of communication between yourself and your fans. Although it can be frustrating to send out an email and see a 20% open rate, the benefit of email is it is easier to see who is opening and who is engaging with what you send to them.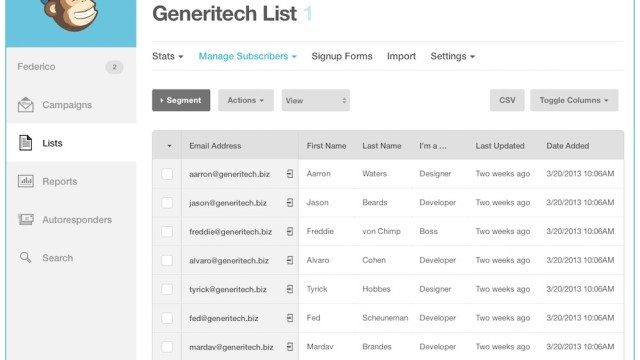 Both social and email marketing are requirements for any artist or brand to grow. What sets email marketing apart is the extent to which you own this data. In a world where Facebook and Soundcloud shut down, how would you get in touch with your true fans?
How Does Email Compare To Social Media?
Before we take a look at a few tips and tricks to get your fans to open, click, and respond to your emails, lets break down how you can compare expectations between an email campaign and Facebook.
Let's say DJ DK starts with 100,000 Facebook Fans. On average, a Facebook message is likely to reach approximately 7000 of those fans and garner around 700 engagements (Source: Adweek). The greatest advantage Facebook provides is the potential for a post to "go viral".
Virality and the ability to reach people outside of your current fanbase is the beautiful thing about social networks, but social networks cannot tell you specifically who you have reached.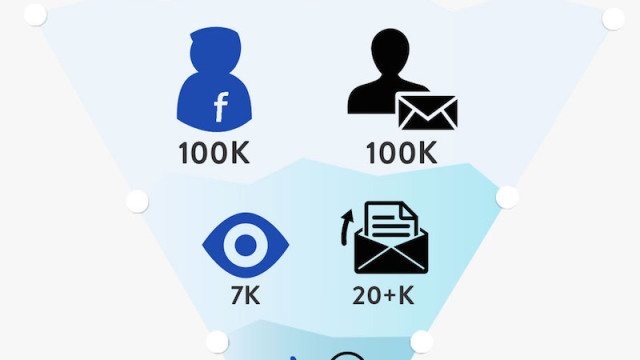 With email DJ DK knows that 23,000 people opened his message, he is able to segment these 23,000 people into a category. He also knows exactly which of his fans clicked through on his message (Source: Mailchimp). Facebook gives you a great idea of how many people are seeing and clicking on your message, most social networks give you very little information about who those people are. This is why you need to start collecting fans emails.
Make It A Regular Thing
Whether it is weekly, bi-weekly, or monthly, ensuring that your message reaches the recipient on a regular basis will help keep you top of mind with your users. Your fans will become conditioned to expect your message and, if you are good at sending them content they care about, look forward to it.
Maintaining regular contact with your database also helps ensure that your mailing list doesn't become stale. When subscribers don't hear from you for an extended period of time they can forget why they signed up or whether they signed up at all.
It Shouldn't Always Be About You
You need to share more than updates about your tours and records. Fans want a reason to look forward to your emails. In other words, if every message you send is a tour or release announcement you are more likely to alienate people than engage them. My favourite emails always contain information I'm interested in, not just marketing messages. Its why e-commerce sites send you exclusive DJ mixes and artist features, when what they sell is clothing.
When contacting your fanbase think about the things that matter to them. Whether it's sharing someone else's music, interesting articles, or giving them something exclusively you need to be more creative than asking for a heart on Hypem or a repost on Soundcloud.
Effective Subject Lines
I was recently speaking to a high ranking salesperson at Oracle about how they send email when reaching out to new leads. The two things that were most interesting to me was how she crafted simple subject lines and veered away from fancy templates. We tested some of these tricks ourselves and what we've found echoes her suggestions.
Subject lines that can lead to higher open rates are often the opposite of what you think they should be. We have found that using "Re:" at the front of subject lines often raises our open rate by a couple of percentage points (a big deal when you are emailing thousands of people).
Subject line examples:
Re: New Music for you!
Re: <no subject>
What's going on?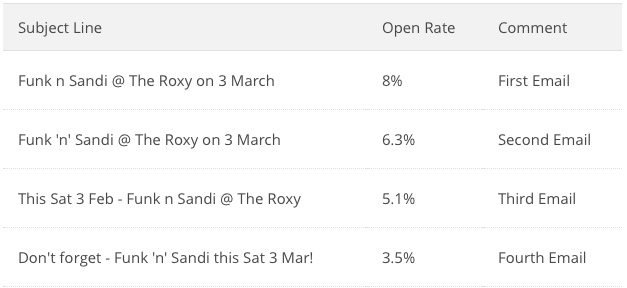 Beautiful Email Templates vs. Plain Text
While email templates that include multiple images, and an amazing on brand colour scheme can seem attractive, in a lot of cases they can work against you. Depending on your purpose, sending a plain text email can garner a higher response rate. You need to keep in mind the time constraints that most people have in their day and aversions they have to being sold things.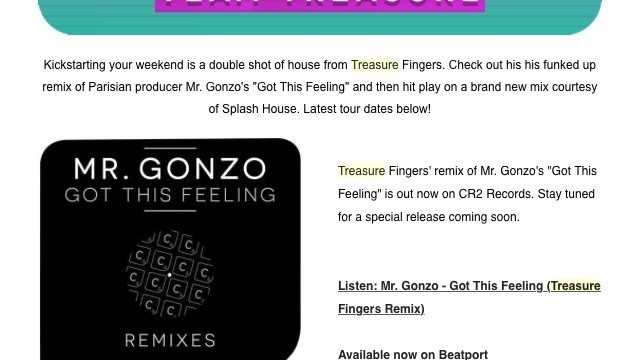 Unless you have a hyper engaged audience that wants to read through multiple things each time you contact them (which is completely possible) it is hard to get people to give you more than a glance. This is especially true when you are contacting your fans for a specific purpose. The other reason for considering brevity is that in most cases your fans will open your message on their smart phone.
Alongside brevity, clarity regarding the desired action is extremely important. Ask yourself about what your desired outcome: a digital download,  ticket sold,  article or song shared? Based on what you want you should craft a short and simple message with a clear next step and call to action.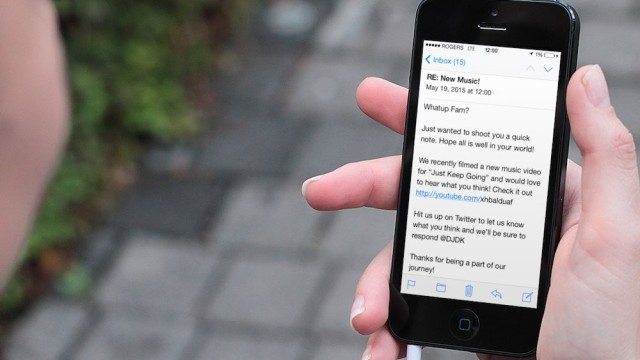 Don't Know What to Say? Steal This Script!
Don't get overwhelmed about what to say in your emails. It doesn't have to be a long message, keep it short and to the point. Here is an example of the type of email you could send to your fans if you've got a new track/mix to share:
Subject: Re: New Music!

Whatup Fam?

Just wanted to shoot you a quick note. Hope all is well in your world.

We recently finished a new music video for "Just Keep Going" and would love to hear what you think! Check it out at (insert link)

Hit us up on Twitter to let us know what you think @DJDK

Thanks for being a part of our journey.
A simple track download can have a huge impact on your mailing list. Thugli have grown their mailing list by 1000 people by giving away their remix of Vic Mensa and Kanye West.
David King is the founder of Receiver, a service that lets DJs and producers build a mobile ready website with tools designed to reach their fans.
Do you have a mailing list? What tips/tricks do you have for sending emails?
Let us know in the comments below!