Since the announcement of the Kontrol D2 and new Stems format at WMC people have eagerly been waiting for more details on the new file format. Native Instruments has just launched a dedicated Stems site, stems-music.com. The site goes into more details on the stems format and the benefits for DJs, producers, labels, and developers. We even get our first look at the Stems Creator Tool.

What Is A Stem File?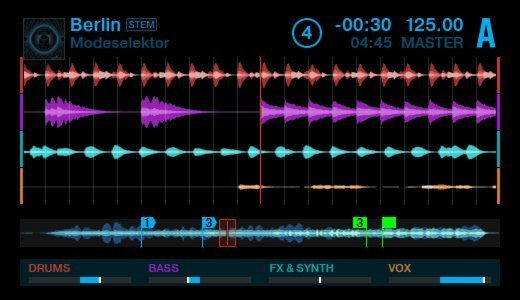 Stem files allow you to interact with four different musical elements of a track independently while DJing – expanding performance possibilities that make your DJ sets stand out. These four 'stems' of a track can be modified individually to create spontaneous instrumentals, remixes, or mashups.
Transition between elements stem-by-stem instead of using global volume and EQ control for an entire track. Or apply effects just to a specific stem. And to get really creative, swap elements across multiple decks – take the vocals from one track and mix it with the beat from another, for example. Using the Stem Creator Tool producers and DJs can easily create their own Stem tracks.
Using the Stems Creator Tool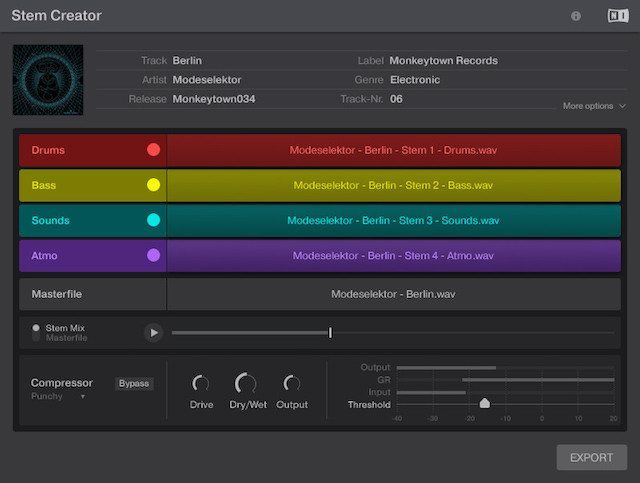 The big question has been: how do you create Stems and how do you deal with mastering individual stems verse a finished stereo track? NI has finally shared some more details the tool that deals with this process.
The Stem Creator Tool first imports four elements of a track, each previously prepared as separate audio files in a DAW or wave editor, along with a stereo master of the whole track. Once imported you can edit metadata like stem name, album title, and stem color.
Master compression and limiting can be applied to all stems for balanced playback. After compression and limiting is adjusted, the Stem Creator Tool exports and packs the stems into a single stem.mp4 file.
For now, it's a very manual process. But there's hope for other tools that might improve the process, as the Stems format is open source. This means that popular DAWs like Ableton and Logic could create a dedicated Stems export option to speed up the Stems creation process. It's a no-brainer since NI is not charging any licensing fees or limiting access to the developer toolkit.
The Stems Creator Tool and developer toolkit aren't available yet, but the expected release date is sometime in July alongside Traktor 2.9.0. Both will be a free download available to DJs, producers, labels, and developers.
Playing And Controlling Stems

When Traktor 2.9.0 is released, the best way to play and control Stems will be with the Traktor Kontrol D2, Kontrol S8 and Kontrol F1 with Traktor Pro 2. The Kontrol S8 and Kontrol D2 have the added advantage of colored screens so DJs can actually see the individual stem waveforms split across the display.
These controllers will be plug and play with controls natively mapped to the Stem Decks to take full advantage of the new decks. These devices aren't the only way to control them as the Stem decks will be fully mappable to any MIDI controller (expect to see a Midi Fighter Twister mapping when everything rolls out).
Additionally Stem tracks can be played in any software or hardware that plays .mp4 (the file container used by Stems). If the software or hardware doesn't support Stems then the track mastered stereo track will be played. This means you can listen a stem track in iTunes or on a CDJ just like a regular track. If other software and hardware developers do indeed add Stem support this would make the Stem format a huge win for DJs/producers and prevent them from being locked down to a specific system (i.e. Traktor).
Have more questions about Stems? Check out the detailed FAQ