In January at NAMM, Pioneer reps hinted at a huge announcement for the company later this year – and it looks like we might be there. Pioneer has just released a brand new teaser video that seems to indicate a new DJ software from the company based off of their Rekordbox platform. Watch the teaser and check out what we see so far in the software.
Rekordbox DJ Software
For the beginning of the video, it looks like we're just looking at elements of good old Rekordbox, Pioneer's track preparation and organization software. But things take a bit of a turn a few seconds in – when we see a proper track deck that looks straight out of Traktor or Serato – except the layout of controls is organized just like the bottom of a DDJ-SX2 or XDJ-RX:

Then a few seconds later, a shot of an FX rack – with a uniquely Pioneer effect (Spiral) making it's first appearance in software form:

Followed up by an array of sample players:

Here's what we know so about this Rekordbox DJ software so far – very little.
It doesn't look like a rebranding of Traktor or Serato
It's full of Pioneer-style control labels (Spiral, Slip, Master Tempo)
It has two types of FX: FX and CFX (which could be Crossfader FX? A throwback to older Pioneer gear that actually had FX triggered on the crossfader?)
Likely four decks – look closely at the FX assignment on the far left of the FX1 box.
It looks like we will be getting many more details on the software as early as next week, as there's an early adopter program that DJs can apply to on the Rekordbox site that will allow accepted applicants to try out a beta version of the software. The dates on this program also seem to indicate that there will be a full public release of the software in September 2015.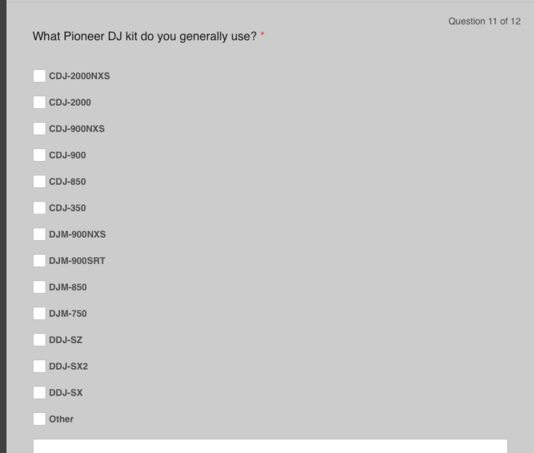 The application for the early adopter program indicates that it's a cross-platform software (Mac and PC) and also asks about what Pioneer DJ gear you use – perhaps this is a way for the developers to prioritize hardware integrations?
See anything we haven't so far? Let us know in the comments!