A producer's DAW is rarely a simple machine – usually it's a combination of libraries, sounds, plug-ins, and instruments. When starting a new track it isn't always as simple as grabbing a guitar or drumming out a beat on a drum set and becomes more technical, it's almost too much. Since just playing around with the music isn't as simple in the electronic world as traditional instruments, Novation has tackled this by announcing the Circuit, a brand new type of groove box.
Novation Circuit: The Complete Beat Machine
Drummers have the drums and the pianist has the piano. Modern producers are continually looking for their instrument. The Novation Circuit is specifically designed to spark inspiration and help producers turn inspiration into a full track.
Inside the Circuit are:
two Novation, analogue-modeled poly-synthesisers
a four-part drum machine
anindustry standard step sequencer grid (4×8 RGB velocity-sensitive pads)
"Circuit inspires, straight out the box… which will have you finding new musical directions and creating electronic grooves in no time."
The device is functional by itself straight out of the box, being  battery-powered and with its own speaker. It can be plugged into a PA via line outputs, and it plays nice with other gear and software thanks to the USB and MIDI ports.
Building a Track With Novation Circuit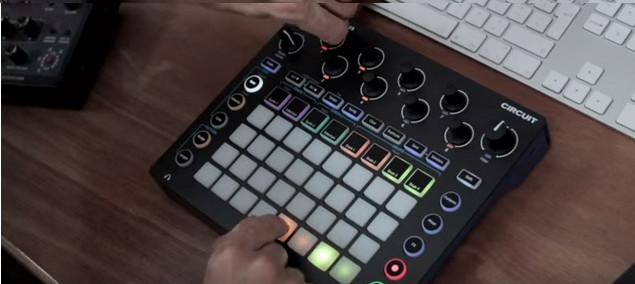 Circuit is portable and functional, but how does a producer go about creating a new track using the controller? It has a split grid that shows steps and notes at the same time. This allows a producer to sequence and play while seeing what is going on within the track. The notes on the sequencer use simple modes to keep harmonies, rhythms, and melodies locked down no matter what music theory knowledge a producer has.
Once the melody is laid down the drums can be programmed by switching modes into the drum sequencer. The four part drum machine can be programmed in the same fashion as the note sequencer. Once a pattern is set, the producer can side chain the synths to the kick drum to get the classic "pump" in the mix. Circuit contains 32 slots for creating and saving 128 steps of synth and drum patterns.
Once the tunes are laid down, the sounds can be tweaked even further. If the synth doesn't sound right there are "loads" of oscillator types and wavetables available along with 64 production-ready patches. The eight macro encoders allow the synth to be tweaked or to add delay and reverb effects. Inside the box is pretty much everything needed to get started with the Circuit:
USB cable
2 MIDI breakout cables: 3.5mm jack to female 5 pin din
Circuit patches sheet
6x AA batteries
12V DC power supply
The Producer's Instrument?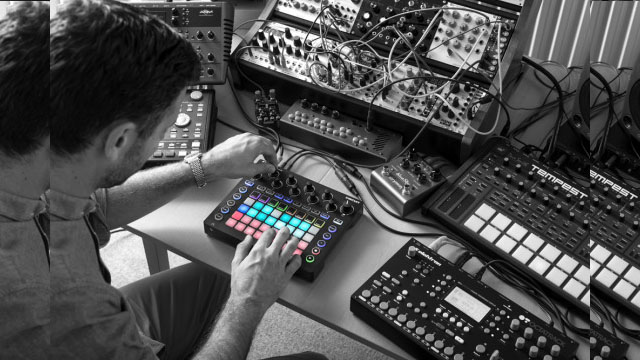 Based of first impressions, we're impressed that the Novation Circuit has brought a true stand-alone professional feeling production tool to market. The fact that Circuit can be synced with external hardware or used with a laptop makes it more than just a groove box. No word on whether or not individual patterns can be exported to a DAW or if each part has to be recorded, but stay tuned for our full review when we get a unit!
The Novation Circuit is priced at $329.99 and is set to be available in October.