At last, final details have emerged from Pioneer DJ on their two new flagship models of media player and mixer. Yep, it's still a CDJ, but now they have touchscreens, MIDI input, and FLAC support. The DJM-900NXS has EQ-specific FX controls, a 64-bit mixing processor, and an independent standalone Send/Return. Learn more inside:
Pioneer CDJ-2000NXS2: Touchscreen, FLAC Support, 96/24 Soundcard
Pioneer has done a a solid job of taking some of the most requested features and putting them into the new CDJ-2000NXS2. The best features on this new unit include:
Better Sound: A 96 kHz/24-bit sound card is built into the unit, with a 32-bit D/A converter and improved digital out to really give the best possible sound for this high-end CDJ. They've even separated the power supply to reduce noise issues.
Better Sound File Support: FLAC and ALAC support, at last!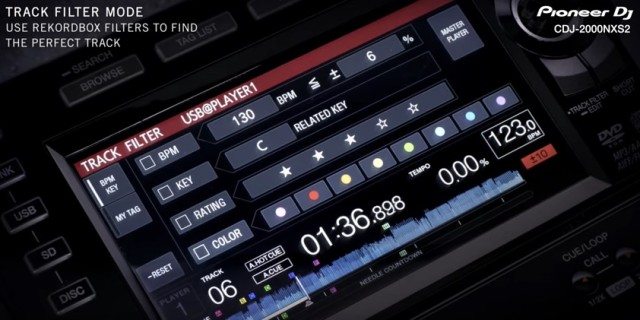 Color Touch Screen: a 7-inch touch screen like on the XDJ-1000s. You can use it to trigger a new track filter mod to filter by metadata, type in a search on the QWERTY keyboard, and more.
8 Color Coded Hot Cues: They've increased the Hot Cue section to four buttons (two banks) and color-coded them to match what you have set up in Rekordbox. They can also be named in Rekordbox!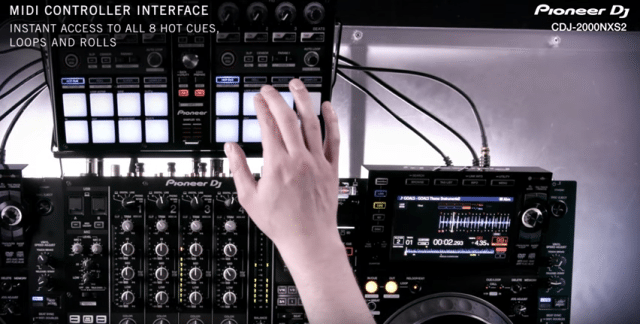 MIDI control: Finally the DDJ-SP1 has a use in a pro setup – it can be connected to a CDJ setup to control up to 4 CDJ-2000NXS2s with Pro DJ Link activated. This means quicker cue, loop, slip, and browsing – and MUCH BETTER pads to play cue points with than CDJ users have ever had. Now all we need is Midi Fighter support…..
Fractional Quantize: allowing you to change what level of beat quantization you use – between 1/8, 1/4, 1/2
Pro DJ Link Update: An improved Phase Meter with two modes, beatgrids now accurate to the microsecond, and a quantized beat jump. The press release only mentions beat jump for 1 beat forward or backward – we're hoping this isn't the case and that 4/8/16/32 are also options.
Rekordbox DJ HID control: coming soon
3 position playback lever: Slip Reverse, Forward, Reverse
What we still think is missing:
The hot cue buttons still feel misplaced, up in the top left of the unit. We were hoping they might take center stage like on the DDJ lineup.
there's still a CD slot on the unit – we understand that Pioneer wants to continue to have a player that works for everyone, but do CDJ/DJM users really still use CDs if given the option? Are DJs paying money for a feature (and extra weight) that goes unused?
DJM-900 NXS: 64-bit mixing, Send/Return, New EQ-Based FX, 2 USB Ports
The DJM-900NXS2 is here, and yes, we know that there's been a leaked photo that we haven't posted that has been all over the web. Here are the confirmed features:
Better onboard digital sound: a 64-bit mixing processor, enhanced dithering technology, and a low-jitter clock – all deliver a warm, natural analog sound. There's a 96 kHz/24-bit sound card and direct digital connection, as well as a new power supply designed to eliminate extra noise.
Improved analog input: Pioneer has a new phono amp circuit, plus a new signal GND terminal to easily attach ground wires from analog turntables.

EQ, Fader, Clip control improvements: Improved channel fader curves: the three curves have been fine-tuned for more precision and control, while the EQ curves now have more precision across the highs, mids and lows. There's a more accurate clip indicator, paired with a redesigned gain structure ensures meters don't go into the red too early.

An independent Send/Return FX loop – you no longer need to use up Beat FX to send and return an external effector. This makes a lot of sense when using something like the RMX series. Can be used with 1/4″ jacks or via USB, and brought back into the mixer as insert FX or as AUX input. InterApp support means you can use FX/Instrument apps on your iPad – for example the virtual RMX-1000 app.
6 Sound Color FX: New Sweep: replaces Gate/Comp. A new parameter knob alters different parameters for each effect, and the Sound Color FX have bigger knobs for more fine control.
14 Beat FX: New FX: Ping Pong, Vinyl Brake, Helix, Pitch, improved Reverb; Bigger X-Pad with OLED screen.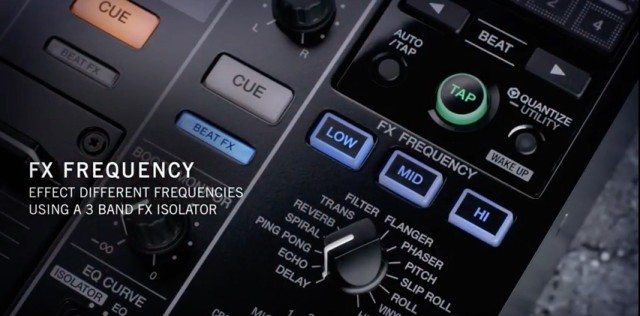 Beat FX Applied To Low/Mid/Highs: three buttons allow you to select what frequency range to apply these effects to.
New I/O: Two USB ports, 4 Phono Inputs (meaning there will be no DJM-900SRT2), and DVS support
Better build quality: The new Magvel Fader (as seen on the DJM-S9 mixer) is a highly responsive magnetic crossfader designed for smooth operation and superb durability. There's also Gold-plated RCAs on the rear of the mixer.
2 headphone plugs: ¼-inch stereo jack and 3.5mm MiniPin
Simplified Pro DJ Link Connection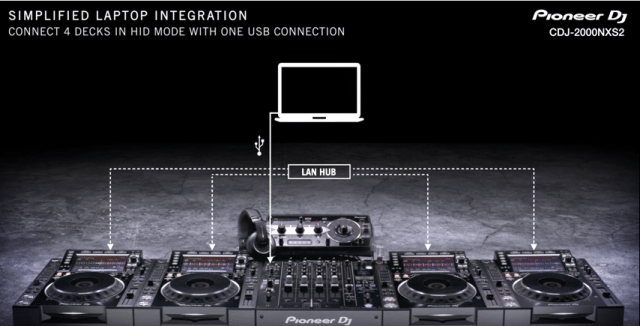 This is an obvious feature, but Pioneer have finally made it way easier to get HID support working between a full DJM/CDJ NX2 setup and a laptop. Of course, this might only work with Rekordbox DJ for a while, but the pain of aggregating CDJs and hoping that the soundcards worked was always a pain. Skip past all of that and simply plug a single USB cable into the setup and you can access all of the CDJs and mixers.
Both the CDJ-2000NXS2 and DJM-900NXS2 can now both be ordered in the DJTT Store. All sales support more great articles, videos, and artist interviews! The MSRP is $2,199, but final street price might be lower than that (closer to $1,999, if the last models are any indication). (Sadly, Pioneer confirmed that that is also the street price. That's more than half of a new Technics SL-1200G/GAE turntable!)