Today marks the first day of NAMM 2016, and Hercules is coming out strong with the P32 DJ controller, designed for live remixing, sample triggering, and slicing. It's essentially 32 three color pads with a MIDI mixer in the middle, a design that many live performance-focused DJs will find enticing and unique. Read on for the details on the Hercules P32 controller.
Hercules P32 DJ Controller
DJ Gear: Hercules P32 DJ
Manufacturer: Hercules
Price: $249.99
Availability: March 3, 2016
Pads As Decks For Everyone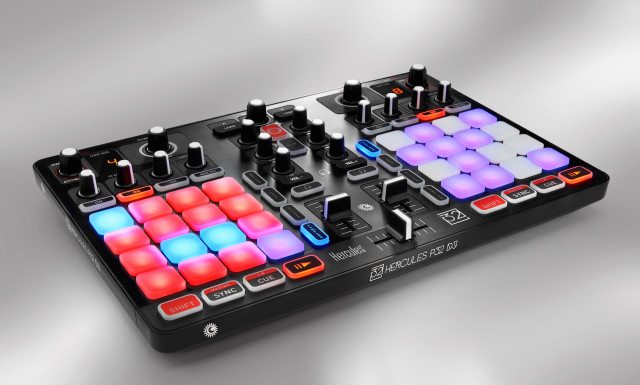 We first saw a preview of this controller in a performance video (embedded at the end of this article) entered into our holiday fingerdrumming contest. The P32 DJ's design is simple and brilliant, it's an all-in-one controller with:
effect racks control
central mixing section
32 three color backlit pads for samples, slicer, loops, etc
loop size dual digit displays
built-in audio interface (two master out RCA and 1 stereo headphone out)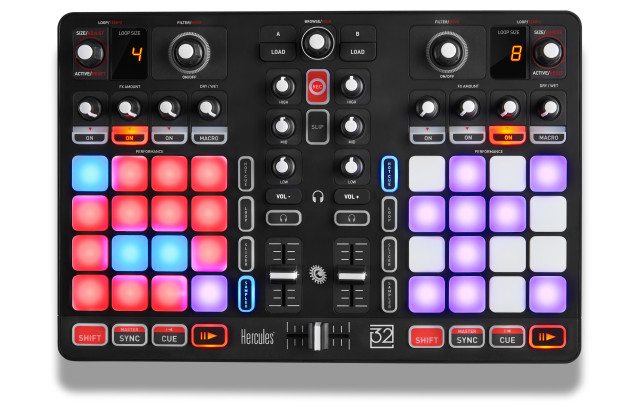 The P32's array of controls make it pretty exciting for someone who wants to play loops, samples, and slices as their primary DJ workflow. It's a really simple workflow, which we love (don't overcomplicate DJ gear!) – with big chunky knobs as the filter/beat move control, a loop size encoder with display, and four FX knobs at the top of the unit.
Our open questions (which we'll answer in a few hours on the NAMM 2016 show floor):
How do all of the knobs and pads feel?
Does the unit have easy-to-map functionality for other non-Hercules software?
Velocity sensitivity on the pads?
(add your own questions in the comments!)
DJUCED 40º DJ Software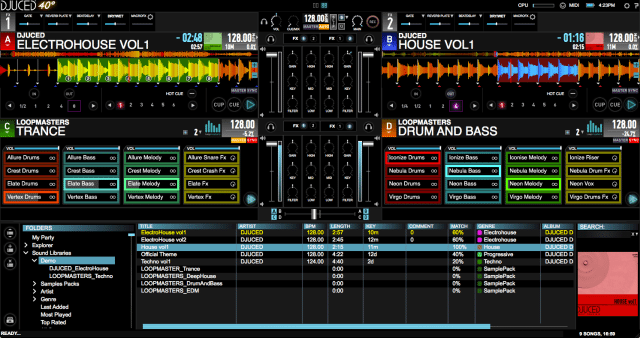 Alongside the launch of this new Hercules P32 hardware comes an updated new DJ software from the company, DJUCED 40º. While for many DJs who are already entrenched in their own software, it might not be immediately appealing to move to DJUCED 40º, but considering that the new P32 DJ comes with the software, it's likely to be a solid starting point for users starting out on this controller. It's also designed to be plug-and-play and a completely integrated solution, but we wouldn't be surprised to see many MIDI mappings popping up on DJTT's Maps database from enterprising controllerists who want to use the P32 DJ with their software of choice.
Have thoughts or questions about this new controller? Hit us up in the comments below and we'll ask the Hercules team for details. See all the NAMM updates here, or follow us on Twitter or Instagram for up-to-the-minute updates and unique insights.