This morning at NAMM 2016, Rane launched a new two-channel mixer in their MP rotary line, the Rane MP2014. It carries almost all of the awesome features of the highly-successful MP2015 that debuted last year, and comes in at a lower price point – keep reading for the details and photos from the NAMM floor.

Rane MP2014 Two Channel Rotary Mixer
DJ Gear: MP2014 Rotary Mixer
Manufacturer: Rane
Price: $1999 retail / MAP
Availability: TBD
Rane's MP2015 was a much lusted-after rotary mixer last year, but the price point and four channels made it excessive for a lot of DJs. This year, Rane is following up with a little brother to that mixer, the MP2014 two-channel rotary mixer – at a much more affordable price.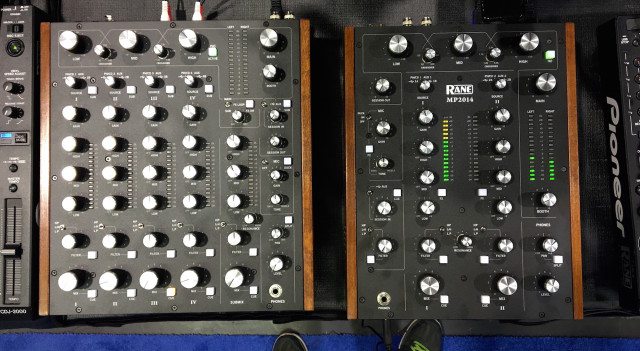 What's great is that Rane has managed to keep almost all the best features from the MP2015 in this new mixer – particularly big features include:
Dual USB ports / soundcards for switching off DJs
high-resolution beautiful-sounding filters that switch between HP, LP, and Dual
durable steel chassis, beautiful wood sides
studio quality phono preamps
External FX loop
High resolution isolator with adjustable crossover, for playing with the master out

Add to all that that the MP2014 is still built in the USA, which is a rarity in the DJ industry. Pretty impressive considering the price point.
Want more info? There's a massive writeup of the MP2014's specs on the Rane website here that goes into more detail on almost every feature.
Have questions about the MP2014? Let us know and we'll try to answer them. You can also follow more about NAMM 2016 and new products, or watch our Instagram for the most up-to-date information.