There's a major emphasis live streaming video online right now, and as a result, social media posts that contain live video get more natural exposure. This is a big opportunity for DJs to reach more a wider audience, so in today's article, learn how quickly stream DJ sets on Facebook Live, Periscope, and more with great-sounding DJ audio.
In this article we'll share instructions on two ways of live streaming DJ sets:
On Facebook Live or Periscope, from a phone (single-cam supported, good DJ audio)
On Facebook Live from a computer (multi-cam supported, good DJ audio)
By default, using a streaming service from your phone has pretty crappy sound quality from the built-in mic – keep reading to find out how to make something professional.
Streaming a DJ Set From Your Phone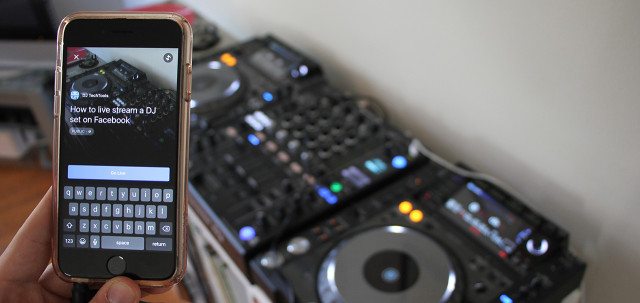 To stream a DJ set on your phone, you'll need:
Facebook or Periscope app
A solid internet connection (4G LTE is alright, dedicated Wi-Fi is best)
A connector cable from your Record Out (or equivalent) to a male 1/8″ plug
For iPhone: a special TRRS to TRS input cable with built-in Line to Mic attenuator ($28.50 on KV Connection or $19.95 on Amazon); you'll need a different cable for other phones.
The process is pretty straightforward – you'll want to plug the special TRRS > TRS cable into your iPhone's audio jack – this will allow you to send good DJ audio into your phone, using the same audio path that headphones with a built-in mic use. By default, no phones are prepared to accept Line In level audio, so this cable will quickly solve that problem:

To start a stream on Facebook Live, just make a new status update and hit the Live icon at the bottom of the status field. Once you're live, you can quickly see comments that are made and the number of current viewers. Periscope works almost identically Facebook Live, and both platforms will use the mic-in audio if you use the cable mentioned above.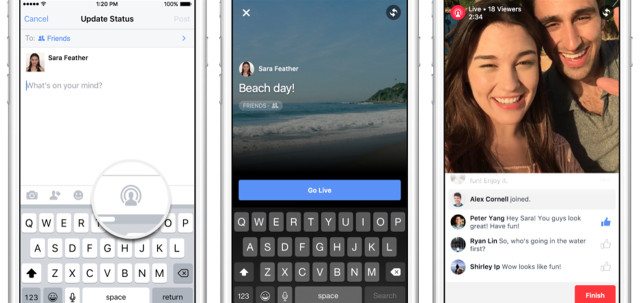 Pro-Tip #1: Battery Life – It's worth pointing out that streaming live video on your phone over Wi-Fi or data will use a significant amount of power. We highly recommend you use a charging cable (plug it into your laptop, CDJ, or just a power strip) to avoid your phone dying in the middle of a set.
Pro-Tip #2: Great Looking Streams – To avoid a stream that looks like a DJ set out of the Blair Witch Project, use a tripod. There are a lot of very cheap adapters that allow any phone to attach to almost any tripod – we've tested this $7.95 adapter from Amazon with acceptable results.
Pro-Tip #3: Mind The Time Cap – With all Facebook Live streams, there's a hard cap of 90 minutes max on a single stream. After that the stream will cut off – but you can start another one right away (you'll just lose the viewers that you had).
Stream DJ Sets On Twitch/Chew.TV/Facebook From Your Computer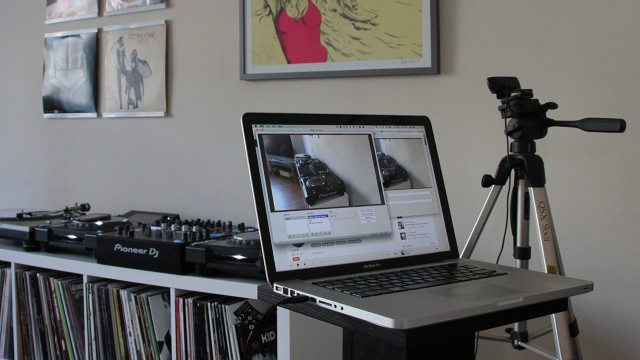 If you've got a more permanent setup where you want to start streaming video, it makes a lot of sense to stream directly from your computer. There are a number of great platforms out there for this – like Twitch.TV and Chew.TV – that have their own niche audiences.
Excitingly, Facebook Live has joined those ranks with a recent update that allows multi-camera apps to stream directly into the platform. This is important because for many producers and DJs, your fans already use Facebook, so there's no concerns about trying to get them to use something new.
To stream a DJ set from your computer, you'll need:
a webcam (built-in webcams are not ideal – we recommend the $70 Logitech C920)
a broadcasting app (OBS is free and easy, Facebook also supports Livestream, Wirecast, Xsplit, and ffmpeg)
a solid internet connection (wired ethernet if possible)
an audio connection from your DJ setup to your computer
for Facebook, a Facebook Page (currently normal Facebook user accounts are not able to do this advanced streaming – see the full setup process here)
To get set up, you'll need to make a new stream on the platform of your choice, and the platform will give you a unique set of URLs/stream keys that link your software to your specific stream. Here's what the Facebook Live URLs look like (but each user has a unique set):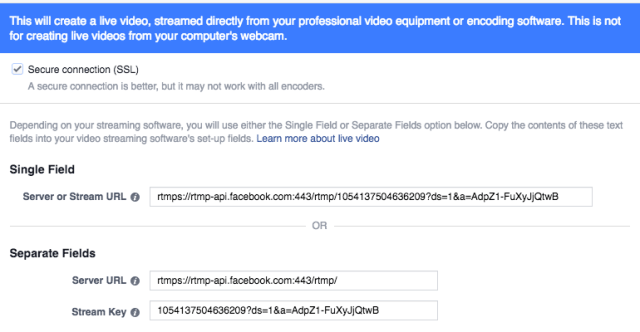 Pro-Tip #1: Computer Overload: If you're using a DJ software, we'd recommend against streaming from that same computer unless you have a very high-spec machine. Doing streaming video and a lot of audio manipulation on the same computer is asking for trouble, even though theoretically most recent computers should be able to handle it.
Here's an example of an event livestreamed this week in this exact way – the Redbull Thre3style Finals in Berlin:
Pro-Tip #2: Talk To Your Viewers: Something that Facebook heavily incorporates in their algorithms that expose people to content is the level of engagement on a post, and this goes for live streams as well. If you talk to people watching your live stream and they respond with comments, that makes it more likely that your stream will appear in more news feeds.
 What streams have you seen that were impressive or interesting on Facebook or Periscope? Share with us in the comments below.