Pioneer DJ launched another small update to their preparation and DJ software, Rekordbox 4.2.1. In the new update, they've added features that make it easy to record and organize audio from analog sources. On the DJ software side, they've added a new effects pack that draws from their RMX hardware units. Keep reading for full details.
Rekordbox 4.2.1: Analog Recording
In this new update to Rekordbox, Pioneer DJ has decided to tackle the challenge that a lot of vinyl collectors face: moving their tracks to digital in an efficient and organized way. The new update is designed to automatically create, split, and normalize tracks from analog sources. Here are the features from Pioneer's list:
"Easy Track Management: Start recording with ease thanks to the simple GUI that's free of complex settings. Recorded tracks are automatically added to your library so you can find them easily and add them to playlists.
Automatic Recording: Play your analog sound source and rekordbox starts recording. Then it stops when it detects silence between tracks or when you pause playback. There's no need for you to edit out silence.
Automatic Track Creation: Each time rekordbox detects silence and pauses recording, a new file is created and added to your library. You can also manually divide recorded audio into tracks if you need to.
Normalize Function: The volume of recorded files is automatically adjusted to a standard level and saved so you can DJ with all your tracks without having to edit or adjust their volume."
Rekordbox DJ: RMX Effects Pack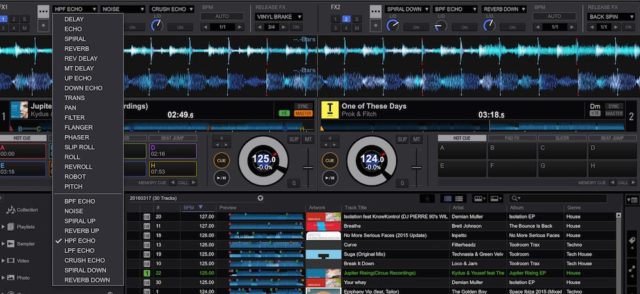 One of the advantages of having their own DJ software means that Pioneer DJ can add more effects to it. From a business standpoint, they also can charge a few extra bucks for these effects. In this instance, they're adding the Scene FX from the RMX-1000/500 hardware units:
"Effects for highlighting exciting sections in tracks:
BPF Echo – Adds the sound that has passed through the band pass filter to the original sound and adds echo.
Noise – Adds white noise generated internally to the sound.
Spiral Up – Raises pitch of the sound while changing echo reverberation time.
Reverb Up – Adds a reverberation effect to the sound and raises the pitch of the echo as time passes.
Effects for inserting breaks into tracks:
HPF Echo – Passes the sound through the high pass filter and adds echo.
LPF Echo – Passes the sound through the low pass filter and adds echo.
Crush Echo – Creates a sound as if the sound were crushed and adds echo.
Spiral Down – Lowers the pitch of the sound while changing echo reverberation time.
Reverb Down – Adds a reverberation effect to the sound and lowers the pitch of the echo as time passes."
The RMX Effects Plus Pack costs $9.99, and is available here individually. It's also included in the subscription version of Rekordbox DJ which includes every expansion pack. At $9.90 a month, it looks like the better deal for anyone considering switching (the cost of the software + every current plus pack would pay for at least 2 years of the subscription).
Rekordbox: Matching on CDJs

Here's feature that's been added to Rekordbox DJ which is limited just to early adopters of the newest Pioneer gear: CDJ-TOUR1 or CDJ-2000NXS2 multiplayers. With a new firmware update, users of these two units are able to see suggested tracks for the playing track.
These suggested tracks have to be manually marked in Rekordbox beforehand with the Matching feature, so it's far from an automatic solution – but that could be next.
Rekordbox: 64-Bit Windows Version
One final note – Rekordbox is finally being offered in a 64-bit version for Windows users. This makes a big difference for users that want a well-optimized software for the hardware that they're running. We've been wondering when this might happen since Pioneer rewrote the software from scratch with the release of Rekordbox 4.
Get more details on this release of Rekordbox 4.2.1 on the official Rekordbox site here.