We first heard of Qbert's Thud Rumble working with Intel over a year ago, with the goal to bring microcomputers into the DJ booth and eventually replace laptops. Yesterday, at Intel's IDF keynote, Qbert showed off a prototype of their Invader mixer – with a touchscreen display showing Traktor Pro on the mixer. Keep reading for what we know so far.
Thud Rumble Invader Mixer With Intel Inside
Gear: Invader mixer (prototype)
Designer: Thud Rumble
Expected Price: $1,699
Availability: Shipping end of 2016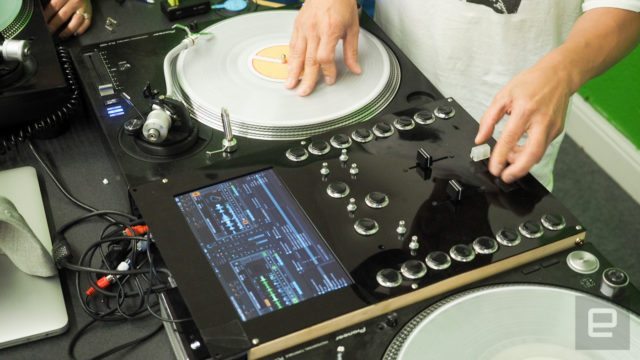 Say hello to Qbert's dream laptop-free mixer? These prototypes units are still very much basic test runs – but so far the feature set seems to be:
touchscreen display (looks to be about a 10″ screen)
two-channel mixing section
EQ / browse encoders / knobs still seem to be in development
8 cue buttons (arcade buttons) for each deck
Windows 10 / Intel processor
currently no soundcard, although they are "working with Native Instruments" to have an audio interface made
additional HDMI out for video mixing
In terms of size, the final Invader mixer could be "as thin as two centimeters" with feet to adjust it up to standard mixer/turntable height. But with a smaller surface area touching the DJ booth, it'll be critical for those feet to be super grippy, especially since so much lateral motion (cutting on the crossfader and channel faders)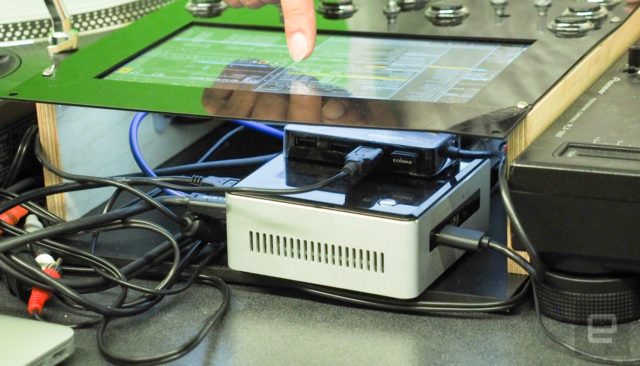 For now, these prototypes are very much just that – it's not a final mixer by any means. Check out the above photo – at this stage, the Invader mixer is 
appears
to just be just a MIDI controller with a built-in touchscreen to the faceplate, and a computer sitting underneath. There's not even a back I/O section yet – in these prototypes they're using external Traktor sound cards.
But Is A Mixer With A Computer Inside It Really Better?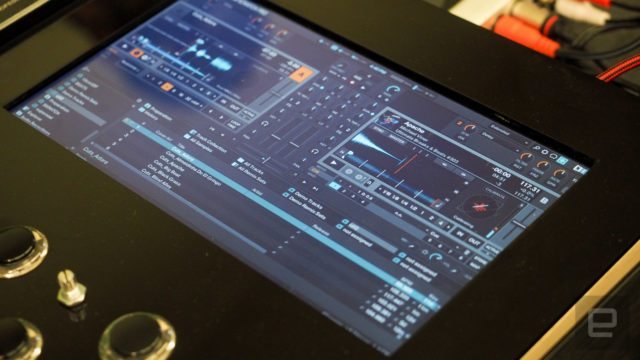 "[…] the Invader negates the need to drag your personal data around with you. Fainer points out that you already have to carry a mixer around. "You don't want to be carrying your laptop around too. You have your whole life on that thing," he says." – Engadget
We're not entirely sure that this type of logic works for many DJs who aren't dedicated touring professional turntablists. Most working DJs:
buy new songs that live and are organized on their laptop without transferring them to a second computer (maybe a USB stick for CDJ users)
tweak and adjust their DJ software settings on their laptop without needing their mixer nearby
use their laptop for multiple purposes
often use other people's mixers and don't carry their own to each gig
The other drawbacks to having a mixer with a computer inside include:
needing to always have a keyboard and mouse ready if anything goes wrong
it's only really useful for DJing having a big mixer in the way means it's nearly unusable as a normal machine
always will need wall power as it's a desktop computer – not a laptop with a battery (a power glitch will mean a complete restart)
Share your thoughts in the comments;
Would you want a dedicated computer inside of a DJ mixer?
Other Similar Mixer/Computer Projects
While Thud Rumble might be the first company to successfully get a mixer with a built-in computer to market, we've covered a number of other similar projects right here on DJ Techtools.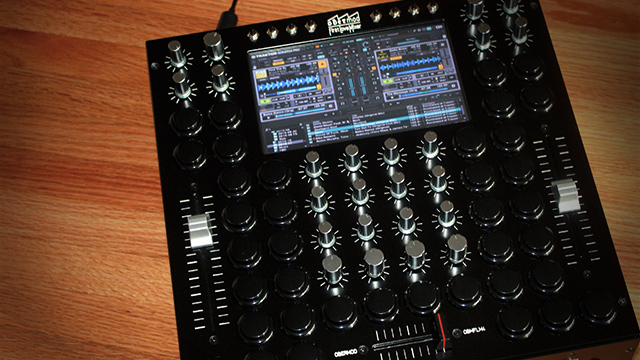 It's very much worth nothing that the OBMFLM4 mixer that we covered last November, designed by Sean Ober – looks very similar to Thud Rumble's Invader prototype – built-in  screen, and a plethora of arcade buttons all over the face. Very different purpose – but very similar concept.
[header photo and additional photos of the Thud Rumble prototype via our friends at Engadget in their full article on the Invader]