One of the hardest parts about the business of being a dance music producer is getting your tracks in places where listeners can hear and buy them. But unlesss you're signed to a label or have a great distribution partner, this can be a challenge, and services will charge serious percentages of your earnings. Today, we take a closer look at Ditto – a service that hopes to simplify this process and reduce fees for music producers.
Selling tracks online is how many dance music producers make a steady income (especially if they're not playing gigs regularly). Therefore, it's vital for artists to distribute tracks to electronic-oriented platforms – Beatport in particular – in addition to the mainstream stores/services like iTunes, Spotify and Google Play.
With these DJ-focused stores, you're guaranteed to reach an audience more likely to buy. This can make all the difference to your total sales and the royalties you stand to earn – and ultimately will be a major factor in your financial success as an artist.
How Producers Get Music In Digital Stores
You're an independent DJ with a back-catalogue of tracks that you're ready to get out to your fans; but where do you start? First of all, you'll need to find a good music aggregator.
A music aggregator will get your music into the online stores and out to your fans. Choosing the right aggregator is particularly important, especially for DJs and producers looking to get their music onto the best platforms for the best price. Unfortunately, there are very few aggregators who will distribute music to Beatport. Of those that do, producers may have to pay extra charges or sacrifice some of your royalties to get your tracks on to the most important platforms for DJs and producers.
However, independent music distributors Ditto Music have just launched a new unlimited distribution service aimed specifically at DJs and producers, offering everything they need to get their music into the biggest mainstream and EDM-oriented stores in one simple package. It's called Ditto DJ Plus.
Ditto: Release + Monetize Music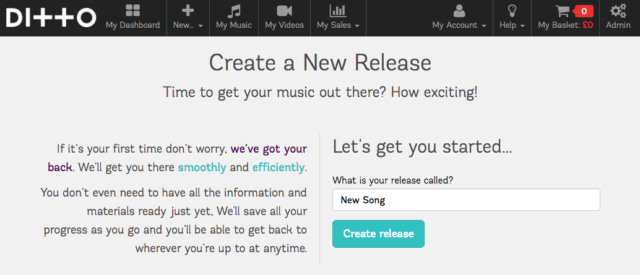 Service: Ditto DJ Plus
Company: Ditto Music
Price: $149 per year
The key feature of Ditto Music's "DJ Plus" plan it to allowing unlimited releases for almost every store that DJs and producers find to be important – and they've managed to do it while charging only an annual fee. The process to release a track is pretty simple. Create a new release (see image above) and add artwork and images, then add your tracks: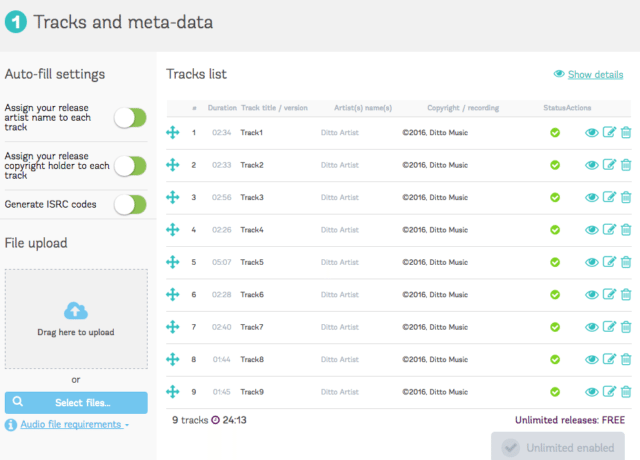 Then Ditto offers you an easy selection option to decide where you want to release your music: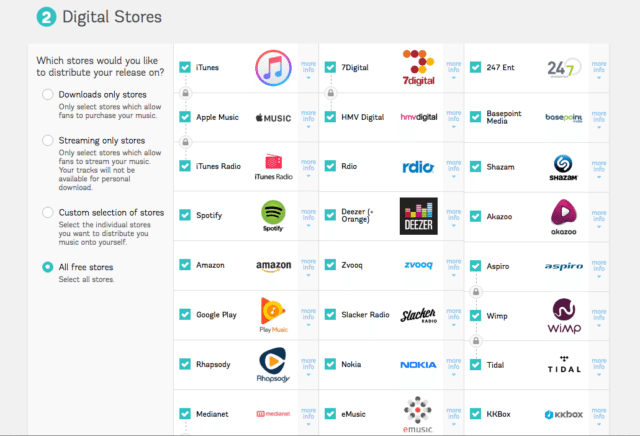 The stores include Beatport and Juno, as well as iTunes, Spotify, Apple Music, Google Play and other streaming and download platforms.
The service costs £99/$149 per year and comes with a number of added benefits. Most importantly, the artist keeps 100% of the rights and royalties to their music – and all of the money they earned from the sales of tracks. If you happen to already have a Ditto Plus subscription, the introductory price is £49/$79 for the first year.
Other Music Aggregators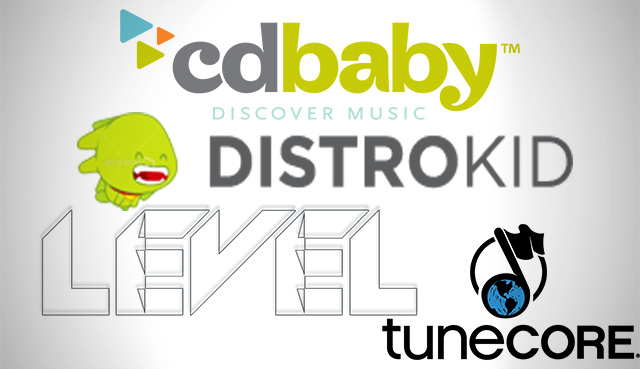 There are other music distribution companies to choose from, but most do not distribute music to Beatport at all. This leaves DJs and producers without a way to get their music into the world's most popular electronic music store.
Tunecore is one of the biggest players in the indie music distribution industry, but they do not offer the option to distribute to Beatport or Juno, which means that DJs using their service will miss out on the platform's massive potential.
The same is true for CD Baby and DistroKid. However, when it comes to CD Baby, not only will their clients miss out on distribution to Beatport, but also a 9% cut of their royalties, which the company will take from your earnings as part of their service.
Now finding a company who will distribute music to Beatport, specifically, is not hard. There are smaller aggregators out there which do release music to Beatport but be careful with less established distributors. Companies like Level and Labelworx all offer distribution deals to Beatport, as well. The cavet is that commission is often 20% or more of the artist's royalties. (Some aggregators even charge monthly fees too!) It is also important to point out that many of these companies who distribute to Beatport are for independent labels. An independent artist using one of these label-focused services may often find low returns on investments.
Things to Consider
Make sure to ask yourself the important questions before signing up to their service. Do you trust them with your music? Is their pricing clear? Will you keep all of your royalty earnings? If the answer to any of these questions is no, then it is unlikely to be the best option for you. A simple earnings projection can also help a lot here as it can help you understand what cost-structure is best for your level of predicted music sales. In the digital age, it is very important to have clear and concise control over your music. Copyrights, royalties, and distribution are intricate parts of the music industry. The task of finding a professional company to guide you through the process is crucial.
Get Up and Running with Ditto
You can find out more about Ditto DJ Plus and try the service for yourself here. You can start adding tracks to your account for free to familiarize yourself with the process.
You'll be able to start uploading your music and planning your releases straight away after signing up. Then just sit back and watch as your tracks appear on Beatport, iTunes, Spotify, Juno and any other music stores you choose. In our research, Ditto appears to be one of the best music aggregators around and depending on how much music a producer is looking to release, the DJ Plus plan is a killer investment.
Do you use a music aggregator to distribute your music? Tell us about your experiences in the comments below?