The Pioneer DJ NXS2 setup – CDJ-2000NXS2s and DJM-900NXS2s – are finally getting complete Tratkor Scratch compatibility. This comes in step with the launch of Traktor 2.11 (which is due to be released in the next day or two). Keep reading for the details on new compatibility.
Traktor + Pioneer NXS2s History
We published an article back in June 2016 about the absurdity of the situation for early adopters of high end Pioneer DJ NXS2 gear. Many users upgraded directly from NXS gear, and for some DJs, this meant losing DVS/Traktor Scratch and HID compatibility.
Pioneer DJ notes that the new compatibility being announced today, "comes under the Pioneer DJ Certification Program, an initiative to evaluate products from other companies and certify them as compatible with our DJ gear so you know you can use them together with confidence."
The NXS2 line officially launched in February 2016, so if you invested then, it's been eight months without this feature. Long enough for almost any digital DJ who missed this feature consider returning the units or trying out Rekordbox DJ, which has worked perfectly with the NXS2 hardware most of the year.
Full USB-HID Compatibility + Features
Despite the delay, we're happy that Pioneer DJ have announced this new update. Here are the features that Pioneer DJ is announcing for each unit:
DJM-900NXS2:
Intuitive DVS and scratch control: Plug your computer into the mixer and use the Traktor Scratch control vinyl or CDs. If you're using a CDJ-2000NXS2, you don't need a timecode disc.
Dual Soundcard Support: With the DJM-900NXS2's dual built-in sound cards and input selector switches, it's easy to connect two computers to the mixer at the same time and trade off channels.
Use the DJM-900NXS2 as an audio output device: Output audio signals from TRAKTOR SCRATCH PRO 2 without needing an external audio interface. The USB sound cards enable 96 kHz/24-bit high-quality sample processing and you can input/output each audio signal and maintain sound quality just by connecting the mixer to your PC/Mac. (Editor's note: We are pretty sure this isn't a new feature – just now "officially supported") 
CDJ-2000NXS2: 
HID Control: Plug your Traktor Scratch computer into a CDJ-2000NXS2 and control track decks without the need for a control disc. Loops, tempo adjustment, and play/cue are all automatically mapped to the software.
Track information on CDJ-2000NXS2's screen: Text information, artwork, and wave form from your tracks in Traktor are shown on the screen (Editor's note: so far, it looks like this is still just one static waveform and not a highres, zoomable waveform – same as with the CDJ-2000NXS)
Use the CDJ-2000NXS2 as an audio output device: Output audio via the CDJ-2000's built-in sound card
How To Set It Up
In order to start DJing with Traktor Scratch Pro and the NXS2 line, you'll need to download the 2.11 beta (or soon, final release) of Traktor. You also will will need to update the firmware on your CDJ-2000NX2 units to version 1.50 and DJM-900NXS2 units to version 1.20.
We also noticed a good bit of advice in the Pioneer DJ forums for any DJs who might use CDJs without a DJM mixer. This means using the audio output of the CDJs and using the CDJ Aggregator software.  Here's what Tristan James writes: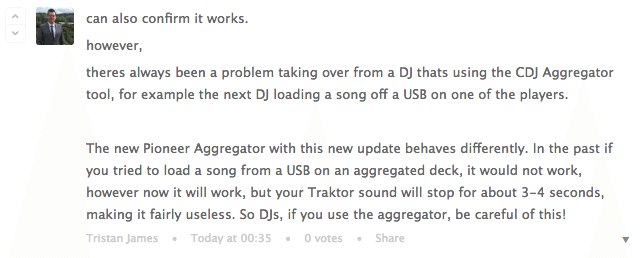 Have your own experiences with using NXS2 gear with Traktor? Let us know in the comments.