Earlier this year we highlighted a variety of analog rotary mixers being made by independent companies, and the list continues to grow. Two British companies, MasterSounds and Union Audio, have teamed up to create the simple-but-unique Radius 2 DJ mixer. Keep reading for details on this two-channel mixer with master isolators, analog VU meters, and high-pass filters on each channel.
Radius 2: 2 Channel Simplicity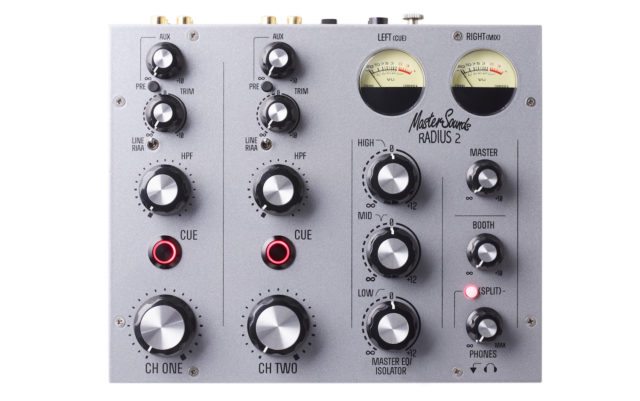 The Radius 2 is a compact two-channel mixer – with a focus on the overall quality of the mixer as opposed to cramming as many features in as possible. Here's the advertised feature set:
"a fantastic clean, open and dynamic sound" on both Line and RIAA/Phono inputs
easy to read VU meters (analog needles instead of lights)
a three-band Master EQ/Isolator
a "smooth natural sounding" hi-pass filter per channel
AUX Send/Return loop for adding on external effects
Record Out (RCA)
Booth Out (1/4″)
Master Out (XLR)

Make no mistake – this is a premium product. The units are all hand-built, tested, and shipped by co-designer Andy Rigby-Jones (the industrial designer behind Richie Hawtin's Model 1 Mixer) The mixer is available in two exterior case colors – black and silver.
The price matches the premium aesthetic and delivery:  "£1,200 including VAT, and £1,350 including VAT for the even higher specification version" (although there's no details on what the higher-spec version offers). With the GBP where it is now, those prices are $1,467 and $1,651 respectively.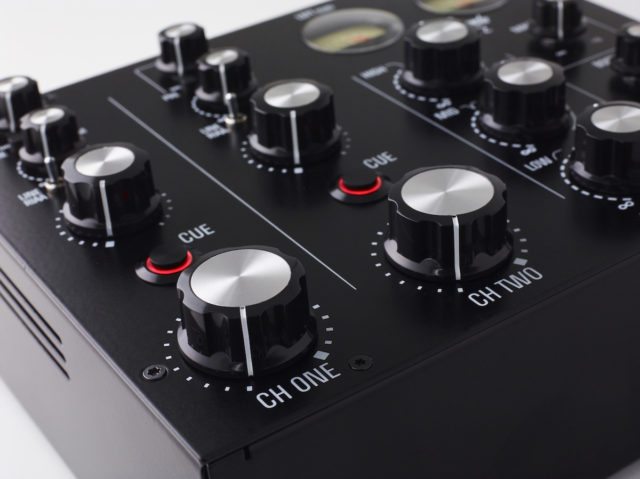 Who Are MasterSounds and Union Audio?
So why buy this type of high-end DJ mixer from two smaller companies in the U.K.? First, it's worth noting that as with the other mixers we highlighted back in June, these are not mass-produced products. This is a big part of why the price is high – but it also allows the quality to be hand-checked by someone intensely familiar with the design of the product.
The two companies are uniquely qualified to create a product puts audio quality as the central focus. MasterSounds is a company that sells turntable accessories and audiophile versions of Technics SL-1210s. Union Audio is a company that designs and develops audio products – and was founded by Andy Rigby-Jones (who created the Allen & Heath Xone series of DJ mixers), who writes:
"The heart of the Radius 2 is a carefully designed audio signal path, marrying classic analogue circuitry to the latest high performance components and design techniques, all of which contribute to the superb transparency of the mixer."
The Radius 2 Black and Silver are available only by emailing Ryan Shaw at MasterSounds as they are made-to-order. Click here to get more details.