ROLI, the company behind the unique Seaboard RISE touch keyboards, rolled out a new product line today: BLOCKS. They're modular control surfaces, quickly attached together to expand from a single touch pad to full array of modules. Keep reading to get a sense of BLOCKS and how they work with ROLI's free iOS music creation app.
ROLI BLOCKS
These new devices are built for ROLI's own iOS app, NOISE. The basic idea is a streamlined music creation app – something that sits comfortably between a DAW and a Kaossilator. The app has been out for a while – but until now it was focused on the on-screen experience.
With the new BLOCKS hardware, NOISE is gaining a system of control that's unprecedented on iOS when it comes to music creation apps. It's no surprise that one of the few places you'll be able to buy any of the three control surfaces will be in Apple Stores around the world – these devices are aiming to be the ultimate music-creation accessory.
Lightpad, Live, Loop Blocks
There are three different pieces of hardware that are a part of the BLOCKS family: Lightpad, Live, and Loop. The Lightpad Block is the primary unit that a new user would start with. It will run $180, has 225 LEDs across its multi-touch surface that has some familiar power features as other ROLI touch products:
The Lightpad Block has a number of grid modes, each of which display a different colored grid of notes that helps guide process of writing melodies, playing drums, etc.
It sends MIDI over Bluetooth – so we suspect there will be a healthy community of people who get a Lightpad for their own setups that don't use NOISE. But the intuitive control over the iOS app is likely to be the most attractive option for most consumers.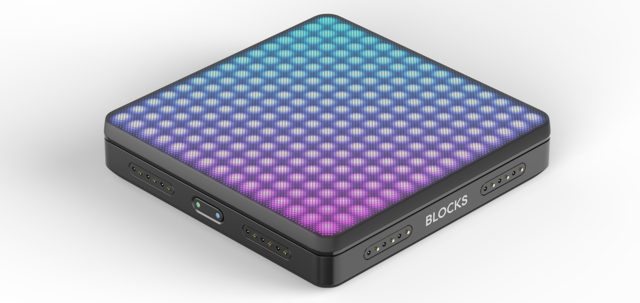 Lightpad also is advertised as "5D" touch – by which ROLI means there are five different ways you can touch the surface to create sounds:
"Strike the surface to sound a note, as you would on a piano key or a drum. Glide your fingers from side to side to bend the pitch, as violinists do. Slide up and down to modulate the sound. Press into the surface to deepen sounds, like a saxophone player does by breathing more. Lift off the surface at different speeds to change a sound's resonance."
It's all designed to be intuitive, instead of terrifying (something that a lot of first-time producers feel when they open Ableton and have no idea what they're doing). The Lightpad adjusts to what you see on the iOS app, and even has a Learn Mode that visually suggest different types of gestures to craft musical ideas. As expected, all the input functions can be quantized and scale locked – ideal to always stay in tune with a project.
You can add a second Lightpad Block to the first to expand the playable space (see more about BLOCKS' modular connections below). Alternatively, adding one of the two other Blocks (each of which are $80) allows even more secondary control:
Live Block
This secondary Live Block controller is designed for performing – allowing live producers to quickly "switch scales and octaves, trigger chords and arpeggios, and sustain notes in real time."
Loop Block
The Loop Block is, as you might expect, more oriented for loop-based production work. You can quickly record loops / sequences, turn on the metronome, adjust BPM, quantize input, undo your last input, and more.
Modular BLOCKS: Keep Adding More
ROLI has thought the modularity of the BLOCKS through – with the ability to quickly connect each of the devices together. The Lightpad Blocks have magnetic "BLOCKS DNA connectors" on all four sides, meaning you can attach other Blocks however best suits your setup.
ROLI's new BLOCKS are available now on their store – and soon, in Apple Stores as well. You can download the NOISE app for free on the App Store, and yes, it works without owning any of the Blocks or a Seaboard.