Now in its second year, Loop, a temporary faculty-installation organized by Ableton, brought together pro-users and enthusiasts in Berlin for a long-weekend of panel discussions, workshops and performances. DJ Techtools' Dan Cole was on hand to get to grips with the mechanics behind the software company's latest foray into technological and social conferences.
Experiencing Ableton Loop
From Friday through to Sunday in early November, Loop was home to lectures and panels (as well as workshops and tutorials), such as:
'Local Scenes in a Globalized World'
'New Approaches in Music Education'
the aptly titled 'Don't Be A Music Snob'
Upon entering the convention, you're bombarded with a wave of multi-disciplinary showcases that look to the future of music and production; an installation where you could use an Oculus Rift to program music; 3D music-making environments, and a multi-tactile facsimile of the party game Twister that allowed you to create beats with your feet (image below). The entrance was just a small respite from the swell of options that were readily available throughout the weekend.
This was the second year of Loop, and the music-makers summit proved again to be a hub of talented and creative minds. Now located in Funkhaus – a gallant, former East-German industrial broadcasting centre in Berlin – Loop was a hive with a multitude of experts, academics and artists covering a plethora of musical and artistic fields. Far from a product fair, Loop has the air of an academy, with scheduled classes, get-togethers, and breaks.
High Profile Producers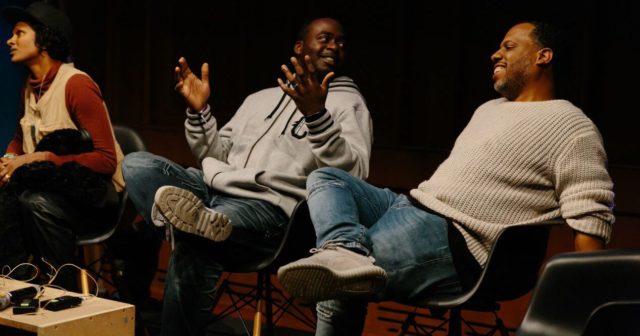 Those on stage debating music making in the modern age included pioneering electronic musician Morton Subotnick, LA producer and Kanye, Jay Z and Common affiliated hit-machine) No I.D., Grammy Award-winning artist Kimbra, beat-master Jazzy Jeff, dub-pioneer Lee Scratch Perry, and many more. In addition, there were more intimate studio and production sessions that featured Quantic, Skinnerbox, and as well as a whole list of affiliated tech-wizards, along with a full nighttime schedule that featured Elysia Crampton, Resom, Kode 9, and Nonotak.
There was an overall richness of approach towards general collectivism that made Loop special. Tickets are allocated to music-makers only, and then filtered to make sure the attending crowd meet Abelton's 'vision of a healthy and diverse music technology community'. This created a general feeling of inclusivity, where no one person feels more exceptional than the other.
There is often the sense that those on stage leading the classes are often learning more from the attendees than visa-versa. Ableton's clearly curating a future community of academics, and everywhere I looked, there were talented attendees.
Watching the concluding performance I notice that I was standing next to LA beat-producer matthewdavid. Over in the distance I spot Noah Pred, and outside I brush past Jivraj Singh –from Indian electro-pop duo Parekh & Singh. Daedulus is perpetually hanging out on the stairwell seemingly talking to everyone, while Ableton co-founder Robert Henke (whose laser installation Fragile Territories (video below) brightened up one the upper-connecting platforms) was omnipresent, as if his personality was ghosting throughout Funkhaus' ethereal corridors and pathways.
Hands-On With Gear, Synths, Jam Sessions
In the recesses of Funkhaus, where the former broadcast studios overlook the River Spree, the more hands-on aspect to the program took place. These ground-floor, outmoded workspaces provided listening sessions by Jazzy Jeff, Chino Amobi and more.
FACT presented live presentations of their notorious Against The Clock series and Bastl Intruments hosted synth-building tutorials. There were classes on how to improving field recording skills, building modulars, or learning how to process plug-ins.
There were also spaces for gear fetishists to go and get a more hands-on feel with a wide selection of music tools. One area provided daily jam sessions, where you could make music with up to ten other like-minded musicians on drum machines, synthesizers, modules and pads – all linked together through Ableton Link, and coordinated by the company's lead product experts.
Towards the end of the three days, I bumped into DJ and producer Sasha Perrera (see Jahcoozi). Throughout Loop she imparted knowledge on panels, hosting technical studio sessions and generally giving out seasoned advice to those who attended.
"Everyone here is on the same page," she commented about the festival, "there really is no hierarchy here."
In a sense, it recapitulates some of Loop's finer points; it is comprehensive, wide-ranging and inspirational space – a place that facilitates the exchange of ideas, that looked to help reshape notions of music, open up ideas of what music-making can be, while engaging with people beyond the worlds of instant messaging and DAWs.
Concluding the event, Lee 'Scratch' Perry took the stage to impart his far-flung, ideas and experience about music with the younger crowd. The enigmatic, borderline-genius brought with him his radical notions, before closing Loop with his show alongside the Subatomic Sound System.
"Without Music, we are lost," Lee proclaimed when asked by The Wire's Frances Morgan. "We are the sheep, and music is the shepherd."
Should Producers Consider Going To Loop?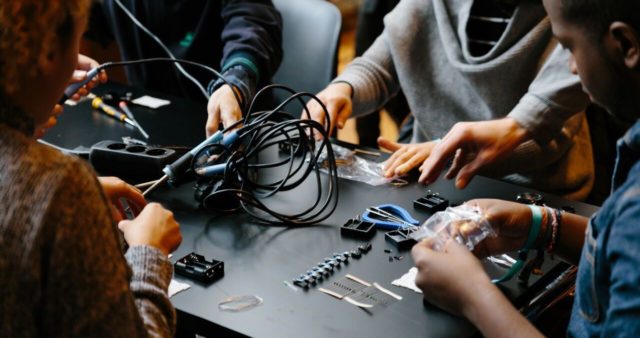 If you want to take your productions, regardless of genre or style, you won't do much worse than getting on board with Loop. Loop exists as a space that pushes you outside of your comfort zone, thinking far beyond teaching simple studio or production techniques. It seeks to create a more tolerant musical space where progressive notions of composition and thinking take place, where collaboration and imagination rules in a world of technical limitations and immeasurable musical diversity.
Three Stand-Out Acts At Loop
Along with an exceedingly well-programmed night schedule, that featured Kode9, MC Earl, Fatima Al Qadiri and more, the day conference was also broken up by shows played out primarily in the Main Hall. These performances were mainly built around a theme of experimentalism, challenging conceived notions of what a concert should actually be. These were three best artist showcases from the weekend:
1. Deantoni Parks:
Bordering on the edge of absurd and obscenely, mind-blowingly amazing, the LA experimental, jazz-rock drummer (he was once drummer for The Mars Volta, recorded with Flying Lotus and collaborated with Sade and John Cale) delivered a set that was half-analogue, half digital. With one hand setting the rhythm on his drum kit, the other triggering samples on a MIDI-controlled keyboard, Deantoni Parks' set a new standard for what one can accomplish using a bucket-load of creative flair and a strong pallet for talent.
2. Suzanne Ciani
One of the most vital and important figures within electronic music synthesis, the classical musician delivered an invigorating and inspired set using the Buchla Modular. Ciani, who recently re-released a series of 70s Buchla recordings, as well as collaborating with Kaitlyn Aurelia Smith, then discussed her approach to using modular systems, and her deep and exceptional history of composition and innovation.
3. Mitya and Sandunes
Although they were not performing, Russian multi-instrumentalist Mitya and Indian producer Sandunes introduced sections from their new Red Bull documentary Searching for Sound, presenting the new music and techniques they used and made during the film's production. As part of the series' concept, the two producers went into different habitats to engage with regional musicians, with the end goal of using locally recorded soundscapes and music to use within their own compositions. The end results were both moving and incredible.
Dan Cole is a DJTT contributing writer based in Berlin, Germany. See more of his work here.