Who would have thought, ten years ago, that vinyl would undergo a major resurgence in popularity? This old school music medium has continued to gain popularity, while other forms of purchased music have dropped off. According to a report of music sales in the United Kingdom last week, records are clocking paid downloads in terms of dollars spent.
More money was spent on vinyl than downloaded albums in the U.K last week as vinyl's popularity continues to soar. pic.twitter.com/8fKSg43TsN

— ERA (@ERALTD) December 5, 2016
The report, published by the Entertainment Retailers Association, showed that last week in the U.K., vinyl album sales had higher gross revenue sales than digital album sales. The numbers:
Week 48, 2016 – Vinyl sales: £2.4 million
Week 48, 2016 – Digital download sales: £2.1 million
The story originally broke on The Vinyl Factory, who also noted an interesting year-over-year shift:
"It marks a huge swing from the same week in 2015, when the £1.2m spent on vinyl albums was eclipsed by £4.4m of digital downloads."
Vinyl Sales Growing While Paid Downloads Shrink
The landscape is clear to most casual music consumers. Paid downloads of music are falling off sharply in favor of streaming services – which offer more track access at a subscription rate. Check out this past performance and future projection chart of paid music downloads on iTunes and Amazon (originally published on Digital Music News):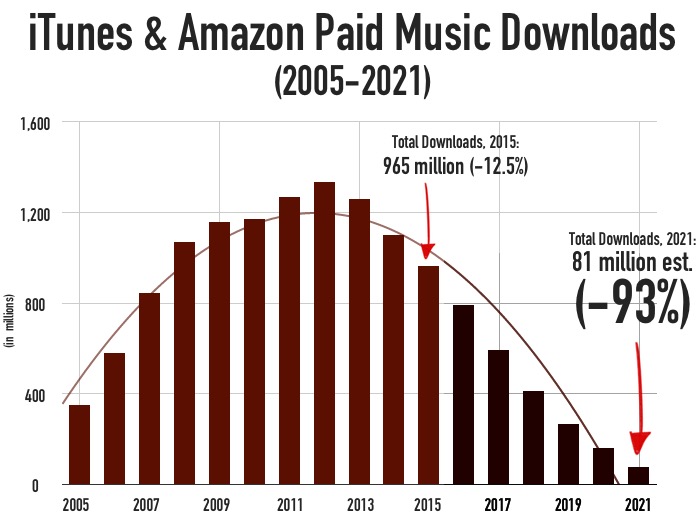 Is It Just That Vinyl Is More Expensive?
Coverage of the story on the BBC expands a bit more on why the actual revenue was so much higher last week in vinyl sales than download sales: average price.
"[..] it is worth noting that vinyl albums are priced much higher than downloads. Last week's biggest-selling vinyl was Kate Bush's triple-disc live album Before The Dawn, which retails at £52. A download of the same recording is available for £12.
All of which means that downloads are still the more popular product. According to the ERA, 120,000 vinyl albums were sold last week, compared with 295,000 digital ones."
The story carries on to note that even though the format has had eight years of sales growth, the vinyl category still accounts for less than 2% of the overall music market.
Are DJs Buying More Vinyl?
Here's part of the story that we're simply not sure about – are more DJs buying vinyl than they used to? According to the story on the BBC, there are far more casual vinyl purchasers, many of whom never listen to what they're buying:
"But 48% of those surveyed said they did not play the vinyl they bought – while 7% did not even own a turntable."
But what about DJs? Fill out the poll below – are you buying more vinyl now to DJ with?
Are you buying more or fewer vinyl records to DJ with than you were a year ago? https://t.co/lMj8ZKHjAr

— DJ TechTools (@DJTechTools) December 7, 2016