Since the move to digital stores, the process of finding new tracks for DJs has remained relatively stagnant. A new app, Kado, intelligently cross-references hundreds of thousands of DJ sets to find high-quality related tracks that will mix well together. Keep reading to learn more about this new crate digging tool that's powered by real music curators, not metadata-only algorithms.
Kado: Social Recommendations For DJ Sets
App: Kado
Availability: Limited beta launches today on GetKado.com
Price: Free 30-day trial, $9.99/month subscription
System Requirements: MacOS only at launch
Kado is a new joint venture from Ean Golden (DJTT founder), Rob McQueen (a former Twitter engineer), and AJ Asver (a former Googler who left to focus on music technology). It's one of the first apps designed for DJs that takes advantage of the massive amount of data available surrounding DJ sets. With Kado, this data is used as a quality filter to help DJs find better tracks for their collection and save time searching for new music.
How Does Kado Work? The Ultimate Trainspotter
When was the last time you trainspotted a DJ on the decks, peaking at their track selections, or even just using Shazam? DJs always want to know what other DJs are playing – and that's the core sentiment behind the Kado app.
The main difference between Kado and most other music recommendation engines is that it uses public tracklists from other DJs' sets to power the search for good-matching tracks. The goal is to show you better recommendations for tracks that might work well in your collection  – based on songs that other DJs decided to include in a mix with the track you're searching.
Here's the intended workflow: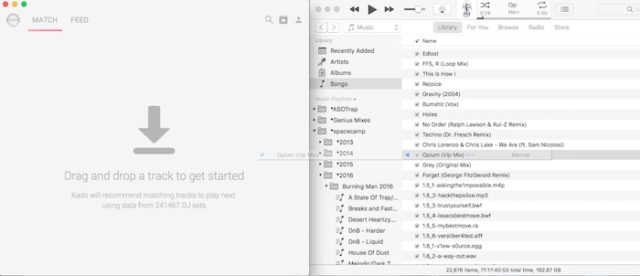 Drag a track into Kado that you want to find similar tracks to
The app cross-references "a database of over 250,000 DJ sets" to find other tracks commonly played in the same set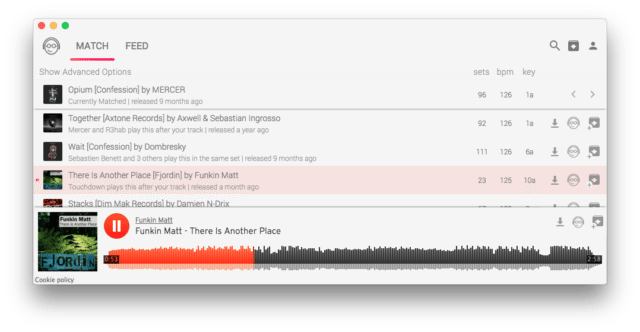 The Match results are focused around showing what tracks DJs played directly around the track you searched. Under each title, Kado even indicates how many DJs play it before, after, or in the same set as your searched track.
In the results, quickly preview each track, and sort the list popularity, key, or BPM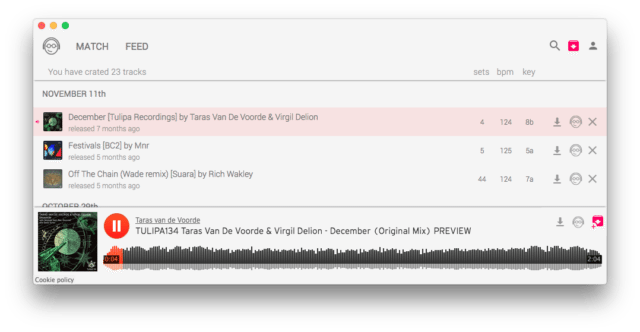 When you find a track you like: add it to a holding crate or get direct purchase links
Optionally, click the Kado icon on any result to get another set of results based on that track
Customized Results
Kado also has the ability to integrate your Serato DJ library, Traktor collection, iTunes library, and Soundcloud likes to get customized search results. After connecting any of them, hitting "Advanced Options" on the Match screen reveals the types of customization available: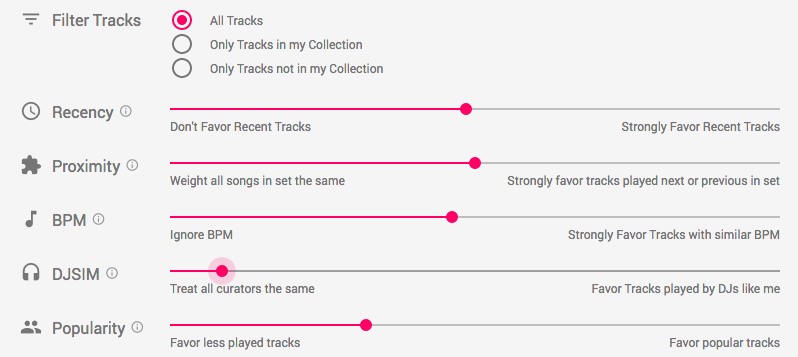 These options unlock even more powerful searches. The DJSIM bar is used to determine how similar your DJ history is to that of other DJs – and allows you to favor similar DJs in the results.  Ean Golden shared his own favorite – using the "Only Tracks in my Collection" button to reference his own Traktor history:
"There is no way in any DJ software to see what songs I usually play before or after a given song. This would be really helpful when making playlists and planning my set in advance. You can configure Kado to only show your own playlist history and quickly see what tracks you normally play. I discover so many interesting connections that got lost in memory years ago."
Discover New Artists, Labels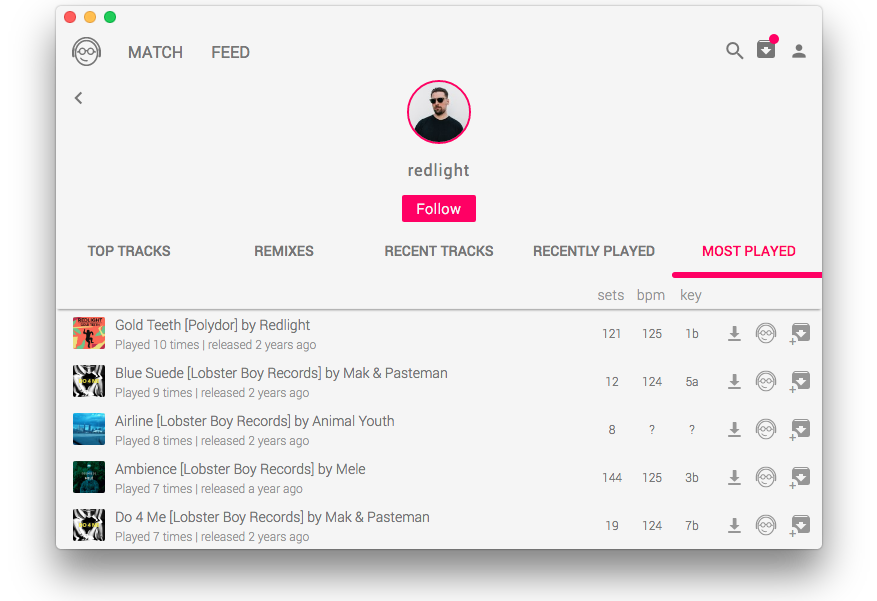 While using the Kado application, it's easy to discover new artists or labels that fit your own tastes extremely well. Similar to what you might do on a store like Beatport, Kado allows you to quickly click into individual artists or labels and see everything that has been put out by them. But instead of just seeing their most purchased tracks, you can see what tracks are actually the most played in DJ sets (as well as a number of other sorting options).
Users can also click the "Follow" button on any artist or label to get all of their new releases in the Feed tab. The Feed acts as quick daily digest review of the most recent tracks that you actually care about based on what you're following and playing.
A Beta Tester's Review
I've been a private beta tester of the app for a few months – having used it in preparation for a number of gigs and as a way to build out playlists around a specific type of sound.
The app reminds me of few tools available to DJs – but in one highly effective package instead of a few disparate solutions. If each of these tools are private investigator firms, Kado is the entire Scotland Yard:
Virtual DJ's built-in "Live Feedback" engine, designed to suggest a single next track. It's a feature powered by other VDJ users and metadata filtering. But it's not designed for digging – it's designed as an in-the-moment solution for DJs, and until VDJ 8 only offered a single result.
Shazam / tracklistings / visual trainspotting – allowing DJs to find out the tracks that their favorite DJs are playing. It's a manual process – and you're limited to whatever mix you're currently listening to.
Beatport's "People Also Bought" recommendations, which suggest other purchases based on tracks in your cart. These recommendations can sometimes be winners, but it's no guarantee that the tracks will work well together in a set.
The most practical application I've found is to start putting together a playlist for a mix or event, and then run each track through Kado. This allows you quickly flesh out a playlist without listening to hundreds of releases. It's like asking every DJ you know "Hey, I like these songs. What do you think would go well with them?"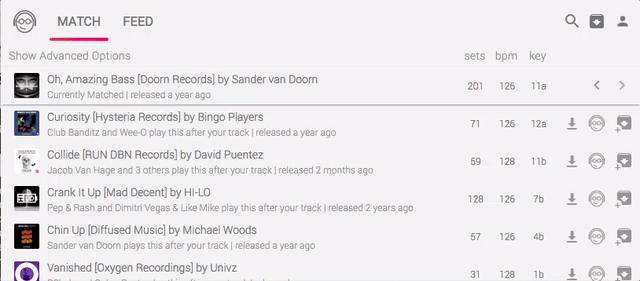 One of most enjoyable experiences is going "down the rabbit hole" with Kado's results. Start with a single song, find another one that you love, hit the Kado button for a new set of results, and repeat endlessly. It's an addicting way to dig for tracks – you get the feeling that an amazing new floorfiller for your collection could be just one click away.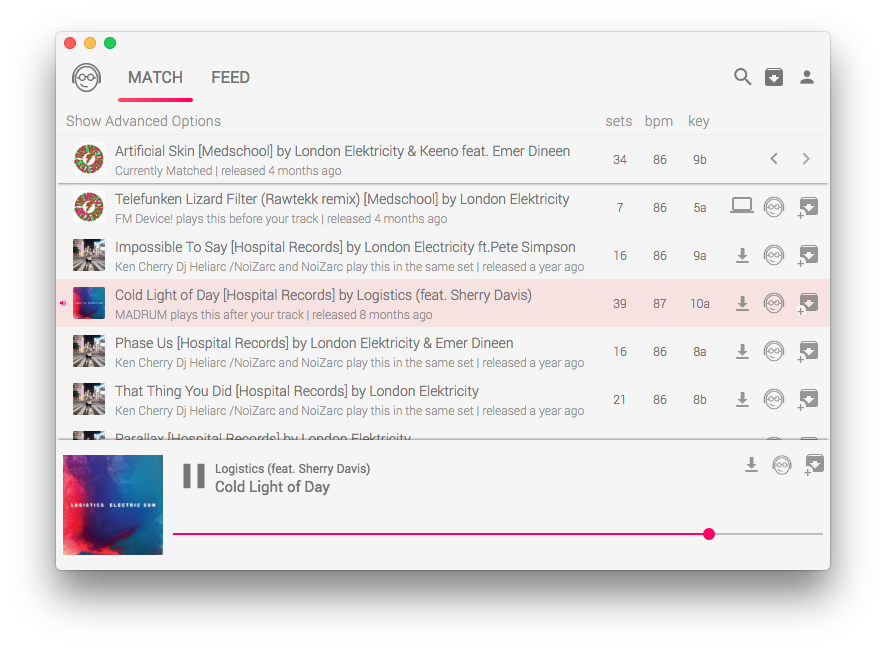 I did find that results occasionally would feel a bit too obvious, particularly with drum and bass tracks. Perhaps the app can introduce a way to filter out Matches with the same artist or label to avoid telling DJs about songs they already know.
The next step for Kado absolutely needs to be to add Rekordbox compatibility. Many DJs like myself almost exclusively use CDJs for most of their gigs. Being able to reference that collection/history would be amazing – but for now it's exclusive to Traktor and Serato collections.
A private Beta of the Kado app is available now – apply on the official site here. A full release is slated for two months from today. 
Author's note: Aside from providing access to their application during the beta stage, the team behind Kado – which includes DJTT founder Ean Golden – did not influence the opinions expressed in this review.