The move to standalone is real, but no one has been more under-served than producers who love their large pad control surfaces like the APC, Maschine, and Push. Today's announcement from Akai aims to change all of that with their new Force, a "music production/DJ performance device." We think it's the closest thing yet to a truly computer-free production workflow we've seen. Here's what we know so far about the Akai Pro Force.
Akai Pro Force: No Computer Required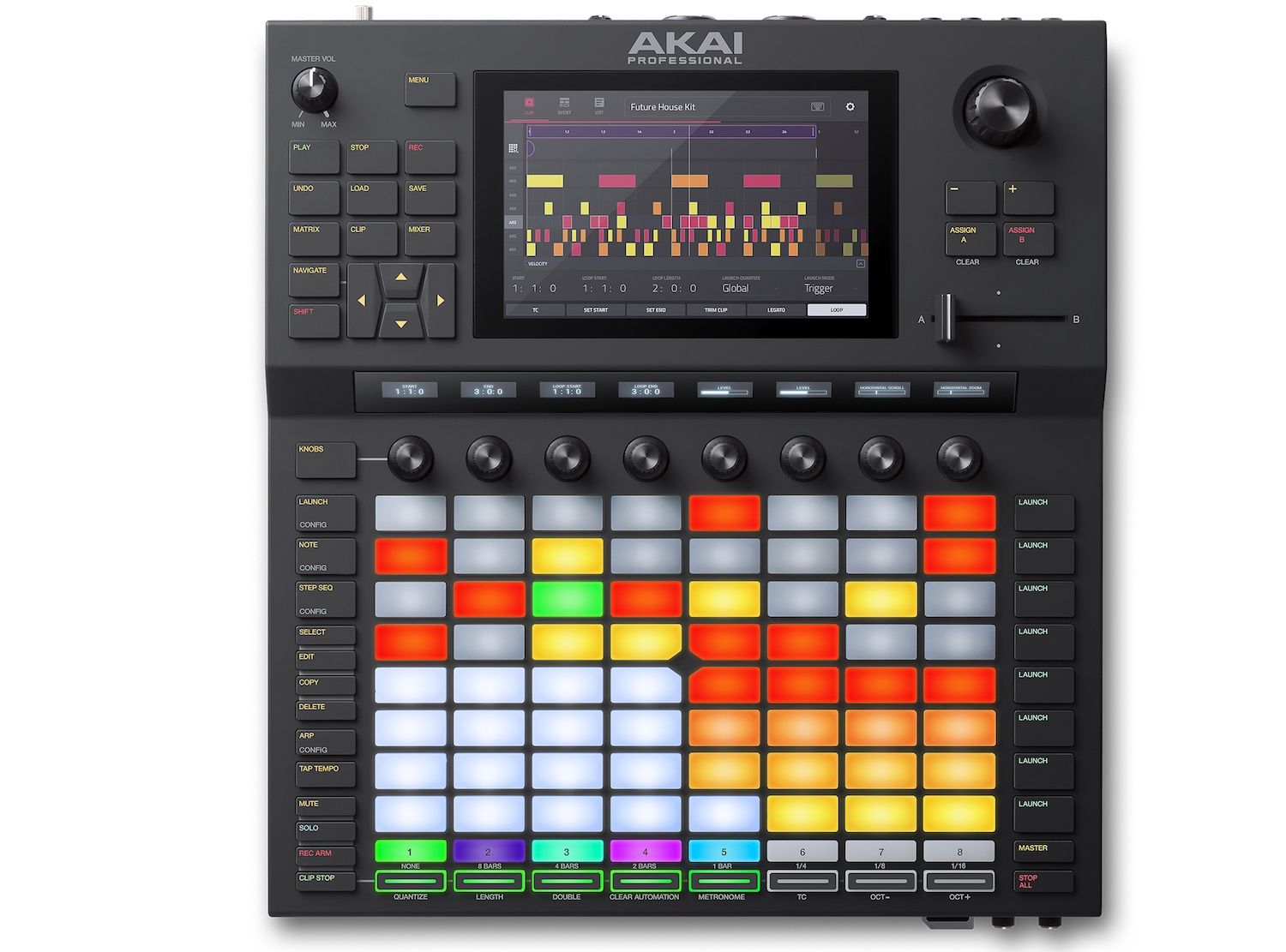 Being able to create music without staring at the same laptop or computer that most of us stare at every day is the dream for many producers. Yes, there's incredible power behind producing on a computer, but it also can be draining.
The Force aims to tackle this by applying the fun standalone power of digital production instruments like the Teenage Engineering OP1 and the Novation Circuit to a DAW workflow. Yes, the MPC Live was a solid first foray, but it was more of a beat maker – not a full production platform unless you really love diving through menus.
Here's the full feature overview view:
This is more like Akai has taken an APC and turned it into a standalone unit – as we first speculated when the FCC leak happened earlier this month. Beyond the controls on the Force, it proports to have an "Ableton Live-style" workflow, with clip launching, step sequencing, sampling, synths, time stretching, effects, and more. Here's the full feature set straight from Akai:
Standalone – no computer required
8×8 clip launch matrix with RGB LEDs
7″ color capacitive multitouch display
Mic/Instrument/Line Inputs, 4 outputs
MIDI In/Out/Thru via 1/8″ TRS inputs (5-pin DIN adapters included)
(4) configurable CV/Gate Outputs to integrate your modular setup
(8) touch-sensitive knobs with graphical OLED displays
Time stretch/pitch shift in real time
Comprehensive set of AIR effects and Hype, TubeSynth, Bassline and Electric synth engines
Ability to record 8 stereo tracks
16GB of on-board storage (over 10 gigs of sound content included)
2 GB of RAM
Full-Size SD card Slot
User-expandable 2.5″ SATA drive connector (SATA or HDD)
(2) USB 3.0 slots for thumb drives or MIDI controllers

What's Coming Next: Ableton and Splice
If you thought that Akai was going to launch the Force "as is" and leave it, you'd be mistaken. One of the key lessons of the Circuit is how Novation built a dynamic community by replying to user requests and pushing regular updates. There's two of planned updates for the Force detailed in the press release:
In March 2019, Force's development program includes in-depth Ableton Live integration. This functionality will include total visibility and command of Ableton's clip matrix, tactile control of core mixer parameters including crossfader assignments, and control of device parameters instantiated in Ableton Live's workspace via the touch user interface and Force's rotary encoders / OLED displays.

Additionally, March 2019 will also see Splice integration within Force. Splice Sounds fuels the creativity of producers around the world with millions of high-quality, royalty-free samples, sounds, presets and loops, covering nearly ever musical style. With Splice integration in Force, users will have immediate wi-fi access to their own Splice library  directly from the touch user interface – perfect for ultra-fast auditioning of sounds for implementation within their Force project.