Its safe to say that the very DIY arcade button mod I did about a year ago kicked off this whole crazy site. As we have improved the site, so it seemed it might be time to also upgrade the old VCI. Its now equipped with a band new case, professional grade cutouts and a hi grade paint job that should last a lot longer than the first one. The point of this article is not to make you jealous, but instead to let everyone know I made 2 and the other one is on ebay right now.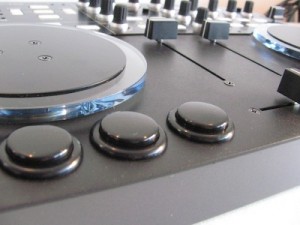 There are 2 Black VCI-100 Special edition midi controllers on ebay right now.
In case you wanted to take a look, here is a video showing off my new VCI-100 and the one up for sale.