After our Black special edition controllers sold out, we created these overlays to give every VCI-100 owner the same look and performance. These are not vinyl stickers but durable Lexan, the same material and quality found on Rane mixers and many other top dj products. Its impossible to scratch off the labeling and they will never stretch or change shape. Just remove the protective backing, apply it directly to any VCI-100 and you will have a factory quality label that will last for years.
Available for purchase in the webstore

Perfect for Traktor Pro

Now that Traktor PRO has duplicated many of the unique features we created for the VCI-100SE and Traktor 3, its possible for every VCI-100 to get the same performance without a firmware upgrade. Please check out this post where you can download a TSI mapping file for free that matches the original special edition and these overlays. Traktor 3 users will still need to upgrade to our custom firmware version 1.3 to get the same performance.
Black or Silver Knobs?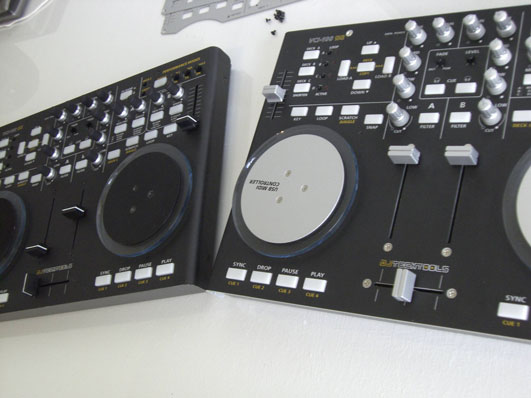 As you can see from the photo above, the original silver knobs and the black variety both look great with the overlay. There are also black knobs and faders in the web store for a full VCI-100 conversion.
Replacing parts after application?
Cut outs have been made for all of the screws needed to remove the top panel or replace any parts. This overlay will not inhibit your ability to service the VCI-100 in any way. The overlay adhesive, while very strong, is removable and will not leave any residue.
Installation?
Installation is very simple, will take about 5 minutes and is almost impossible to screw up. To really put them to the test I invited one of our readers, Dj B33SON, to come down and install one on his own.