Remix, the popular American music publication, is not going to be printing a monthly magazine anymore. Instead they will print a quarterly publication for the Remix hotels and focus on their website. That means my last "digital dj" column should print exactly 3 years after the original article first hit news stands. In that time we have seen digital djing go from fringe to mainstream as the column went from unknown to respected.
In January we had planned to give "the digital dj column" a birthday celebration so it is with some sadness that I will instead put it to rest. Remix will continue in some capacity online but we have lost what really was a damn good magazine. The articles, reviews and tutorials were always well written, on point and helpful. Remix was a hi class mag and it will be missed just as much as I will miss the opportunity to write for it.
Saudade aside, these are great times and Dj TechTools has picked up where the column left off providing information that would have never been possible in a print mag. Without lighting fast publishing times, real community interaction and embedded multimedia content there is no other way we could have kept up with the pace of a web 2.0 world. In memory of the column which actually birthed Dj TechTools, lets take a quick walk down memory lane and explain how we got here in the first place.
A little history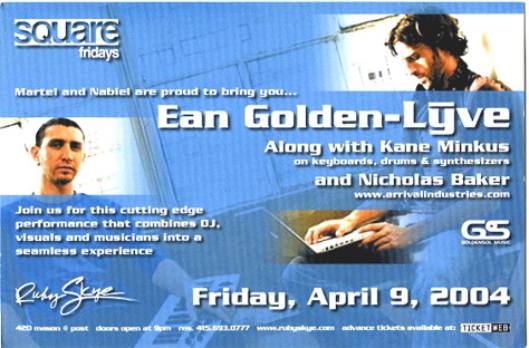 In 2004 I created a show called "LYVE" which did several appearances at Ruby Skye in San Francisco. the concept was simple, show the audience the power of digital djing through visuals. I partnered with a keyboard player and together we mixed djing,musicians and visuals by exclusively using midi controllers. All of our MIDI actions were controlling a third laptop running video loops through VDMX. It was really a stretch for the poor 12″ laptop assigned to the job with its processor nearly melting from the strain but somehow we pulled off the show.
[quicktime]http://djtechtools.com/tvshow.mov[/quicktime]
That performance caught the eye of a talented young man who was developing a new graphics engine for Apple called Quartz composer. He asked me to beta test the program and together we created an even more interesting proposition. Instead of controlling video, what if my controller was generating 3d graphics on the fly. At the 2005 Apple WWDC, we demonstrated exactly that in front of several thousand developers from around the world.
(video of this presentation is out there somewhere- does anyone have it?)
After WWDC an editor from O'Reilly's media asked me if I would write a book for them on the subject of digital djing. I wrote half the book but it never got published, as they were legitimately concerned about how many digital djs would actually buy a book! After sitting on the book for a while, I asked Remix if they would be interested in printing the un-published material. They did one better and offered me a column. That column turned into this website and the community we all are very fond of.  As one chapter closes, yet another opens, and so continues the cycle of things.
Back Articles
Every article I have ever written for Remix
My personal favorites:
The Paper chase- how has digital music effected the bottom line
interview w A Trak, P Wolf, Craze, Dan the Automator and others
and finally, the one that started it all:
VIVA LA DIGITAL!
Jan 1, 2006 12:00 PM, By Ean Golden
Welcome to the first in a series of columns dedicated to the emerging digital DJ field. This is a very exciting time to be involved in music. Many of the basic tools and techniques we have taken for granted for years are changing at a rapid pace, allowing for great opportunity and innovation. The rapid technological advancements of the DJ world certainly bring a number of new concepts, many of which can be intimidating. This column will not only make those concepts clearer but will offer up a host of new ideas, tricks and techniques to help you take your DJing to the next level.
As your digital DJ guide, I'd like to first introduce myself: Professionally performing and touring out of San Francisco for the past six years, I have honed my skills at more than a few excellent clubs and parties. For the past three years, I have been exhaustively exploring the world of digital DJing as an educator, writer, performer and developer. Over the course of playing hundreds of gigs with Native Instruments Traktor DJ, Stanton FinalScratch and Serato Scratch Live, I have dug into every nuance that those programs have to offer. During my digital DJ courses and demonstrations for Apple in San Francisco, I have learned how to effectively demonstrate these tools to others. As a beta tester, writer and developer of new digital DJ technology, I can not only explain the surface details of digital DJing but the important underlying technologies that will really give you a solid understanding of the bigger concepts.
THE BACKSTORY
Why spend all of the time, energy and money required to jump on the digital bandwagon? Is it even worth the effort? Absolutely. Not only are these powerful tools that you need to learn about — they are here to stay. If we take a step back and look at a brief history of DJing, you will see similar developments at key points in time. There are times when DJs, the equipment they used and the music they played have evolved together.
The most obvious examples are dub, reggae, hip-hop, disco and the modern electronic movement. All of these forms of music evolved out of a dancefloor's demand of the DJ. To respond to this demand, the DJs and producers came up with new technologies, new techniques and new ways of playing the music for the people. The classic example would be the beginnings of hip-hop (or rap, as it was mostly called in its earlier days). In order to extend the break of a song and keep the breakers dancing, early innovators such as Grandmaster Flash started doing what he dubbed the "quick mix theory." By quickly cutting back and forth between songs, repeating phrases like a drummer, the likes of Flash built the rhythmic foundation for hip-hop.
Turntables had to get more rugged, and DJ mixers had to adapt to accommodate the demands of cutting as well. Studio technology, such as fine-tune editing, was also created to emulate this process for production. These early adaptations grew into an entire DJ culture and a thriving music business.
MUSIC IS EVERYWHERE
So how is digital special? What musical trend is the software going to start? Well, the technology is both responding to and inspiring exciting trends in the dance world. Many DJ cultures like underground hip-hop, rare groove, deep house and, most notably, northern soul were built largely on what records you owned. The music you owned was almost more important than how you played it. Now, with the advent of digital downloads, both DJs and consumers have access to almost everything on the planet. With so much music readily available, it has become more about what you can do with your music rather than how obscure it is.
When creative manipulation is called for, you can't touch the flexibility of the systems available today. You have unparalleled control over the mix and the music. Nondestructive, on-the-fly edits; professional effects; instant loading; synchronization of songs; and looping are just a few of the many things that digital DJs can do in their sets. Now DJs can truly fulfill the age-old claim that they are remixing and creating new music on the fly with existing songs.
As the availability of music has widened, so has the listeners' taste. The "long tail" model means that every form of music can find a home and a listener to enjoy it. As the dancers' musical repertoire has expanded, so has the DJ's. The days of DJs sticking to single genres seem to be gone for the time being; instead, sets are reflecting the diverse influences of today's wide musical selection. In situations where large amounts of music are required, digital technology reigns supreme. DJs now can have access to an entire library of music, a lifetime of influences, all at their fingertips.
These are just a few of the dozens of reasons that digital DJing if worth taking a look at. But don't take my word for it. Try out systems such as Cycling 74 Ms. Pinky, FinalScratch, Scratch Live and Traktor yourself, and check back for next month's column for the first look at techniques for the digital DJ.