The quest to find a good sound card that is portable, dependable and easy on the wallet seems to never end. There are several decent options out there, many of which we already covered in our under $200 round up, but nothing really stands out as a must buy. Some of the more expensive cards try to be the all in one home studio solution offering a variety features but not really excelling at any of them.
A basic dj sound card should have:
reliable, rock solid drivers
loud, clear outputs
good A to D converters
headphone jack on the front (with volume control)
a pair of master outputs
That's it! Make it portable, rugged, easy on the wallet and bingo you have a easy sell. Well my friends I am happy to report that the audio fire2 just about fits the bill. Lets look at its many strengths and a few of the drawbacks in closer detail.
Things I like about it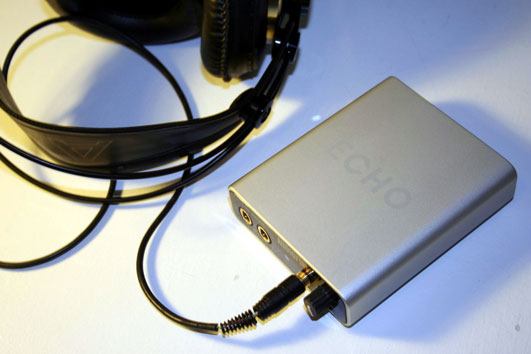 The headphone jack is 1/8″. Along with the sock monster, I swear there is a 1/4 headphone adapter monster. In fact i think they are working together to secretly horde large amounts of both. Then when the global economy crashes they plan to sell them back to us and rule the world.
Digital djs are like boxers. We are both always looking to cut weight. This box is so small and light you could literally carry it in your front pants pocket.
Your laptop only has 2 usb ports. So if your sound card is USB then that means your shit out of luck when its time to add another midi controller. Going with a firewire sound card however free's up a much needed slot.
Making good drivers is hard. Would you ever get Chinese food at that spot around the corner that sells Mexican, Chinese and donuts? Sure you can get all your munchy fixes in one convenient spot but do they really make a good spring roll?  When its time to get some good Chinese food you go to the Chinese place that does not speak any English and has been making Chinese food for 5 thousand years. Echo has been making good sound cards and writing stable drivers for a long time- that's all they do. So, when it comes to my sound card personally I would prefer a company that specializes in that technology instead of an all in one solution.
Clarity. In the realm of accessible sound cards the best A to D converters are supposed to belong to echo, RME and apogee (in that order) although its impossible to quantify that generalization in any reasonable capacity, I can tell you one thing. The top 3 all sound good and most other cards don't sound quite as nice. This card in particular had a clear punchy sound to it that will work well in clubs. Even their entry level card bus cards like the indigo dj are good enough for small sound systems. I personally used that card for several years and never once had a complaint- until I started to use it on bigger systems.
Here's to wishing..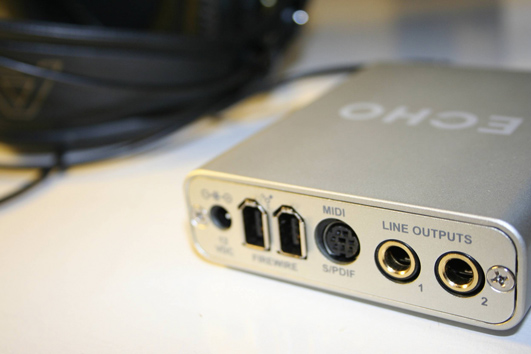 Just 2 more outputs in the same size? I like to mix externally (on an analogue mixer). If you really must know why then go read this lengthy debate on the subject. Therefore it would be great if this card had an extra pair outputs. For those mixing on controllers like the VCI-100 this is perfect but for the rest of us still mxing outside of the computer then we must look at the audio4 which is larger and more expensive. You could use a 1/8″ to rca adaptor and run the 2nd deck out of the headphone jack but the levels would be out of wack with each other.
Could it be a little less? Google shopping tells us the audio fire runs about $200. You could find it for less but that seems to be the going rate. At $150 i think it would be a no-brainer but at $200 you are very close to the firebox which offers more outputs and comparable quality- although I prefer the sound of the echo products myself.
Louder headphones! No one makes headphone outputs that are loud enough for deaf djs except for dj mixers. The audio fire 2 is no exception and when I tested it in the club I found myself needing more gain to match my excessively loud monitors. Then again, if your ears don't suffer from a 30db cut at 4k, perhaps you might feel differently.
All good?
As they have done several times before Echo again made a good sound card that performs well. When I told them we wanted to review the audio2, their PR department tried to steer us towards their new Indigo DjX. The replacement for their original indigo dj, this version is compatible with the new mac-book card slots and is a ultra portable dj solution. In my experience, going from 1/8th to a big sound system is not ideal and since they are roughly the same price the audio 2 appears to offer much more boom for your buck. I expect the audiofire 4 will perform much the same but we should get one in the office soon to confirm if that will work well as an alternative to the higher priced RME sound cards for those external mixers.