Here is a continuation of tips from last week's popular post:
By: Mike Charles
The prerequisite for today's tip is the original write up, which you should read before continuing. Today we are going to talk about 3 complications I've encountered and how to solve each of them.
1.  The smart playlist is not smart enough!
There is a playlist inside of my "House" folder called "All House" which obviously needs to contain all the tracks considered "house" . My personal definition is anything that's about 125 – 130 bpm but the smart playlist is also picking up tracks with genres of [Progressive House – about 135 bpm] and [Hard House – 140+ bpm].
There are two ways we can solve this. The first way is by adding exclusion criteria. See screenshot below for how to set this up.
The second is by using the "starts with" rule. Remember that the genre of all my house tracks is House – XXX.  So by using the following I can get the same result.
2. I followed tip #1, now I have to do the same to all my priority lists?
No you don't, but you do need updating. Check this out:
Yeah how cool is that? You can build a smart playlist off of another smart playlist! So what we did here was change it to pull only tracks that are in the "All House" playlist, and of course, with the correct star rating.
3. This track is both groovy and mello!
I have a smart playlist that pulls all tracks with the genre of "House – Groove" and another that pulls "House – Mello". The problem is that there is often a track that fits both categories.  iTunes has a field in the tag called "grouping" which is rarely used for any important info. To solve this problem we are going to re-purpose that field as a second genre field. See an example below.
So now that we have 2 genres for track, its a simple matter updating the selection criteria of our smart playlists:
Note that I had to change "match" in the upper left from "all" to "any". Now even though our track has "House – Mello" in the genre field, it will make it into my groove playlist b/c of the grouping.
There you have it, three solutions for common problems you may have run into. Hopefully these tips may help you manage you own collection. Give it a try and see what works for you- you'll be an iTunes Ninja no time.
Still Having problems?
in the comments of the last discussion, there was a good question from a reader about a common problem with using Itunes:
Has anyone else has any trouble with iTune 8 (on Mac OSX 10.5) not writing changed information to the track? I'll edit the genre, name, ect,,, of a track but the next time I click on it to play it, all the information I've entered reverts back to it's original state. =oS Almost as if the track were locked.
This is a problem that has plagued many different versions of Itunes. I recently delt with it in depth when trying to udate all of my album art work. It was amazing how little info was out there but eventually the issue was solved! The issue is simple, your getting songs from all over the place and many have been written with older ID3 tags that are not compatible by Itunes, so when you make changes to the song they dont "stick". The only way I found to fix this problem was to batch change all of your tags to an older version 1.1 and then upgrade them to the current ID3 Version ID3 2.4. This can all be done very easilly directly in Itunes by right clicking a selected track or tracks.

-Ean Golden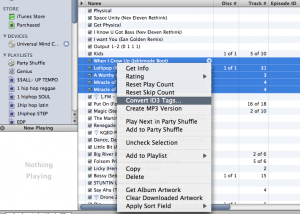 iTunes Power Tips Continued
The iTunes Power Tips series continues, check out the other articles in the series here!
iTunes Power Tips Part 1 | iTunes Power Tips Part 2 | iTunes Power Tips Part 3 | iTunes Power Tips Part 4