As a follow up to last Fridays post demonstrating live recording here are the steps required to set up live loop recording inside Traktor. Why would you want to record loops in Traktor live? Well, for a number of different reasons including sampling snares and kicks from tracks to recording controllerism routines to build songs on the fly. The technique is really quite simple and involves a beat masher set to a 4 count length. As soon as the beat masher is engaged it grabs anything that comes through the FX slot in the next 4 counts. So, you could have 3 decks all set to one FX slot record and 4 bar loop and continue to mix on those decks. In theory, with this technique, you could actaully mix up to 12 tracks at once from just 4 decks! Read on for a video tutorial on how to set up live loop recording.


Step One: Understand the Master Tempo

The masher will record 4 counts,  quantized to the master tempo so you need to know what that tempo is and where the rhythm is. You can use the internal mode, and set the tempo manually but then you will need to hear the tempo's rhythm cycle if you want to start with a juggle. This can be done by turning on tick and playing along with a metronome, or by syncing up a track to the master tempo. Setting the master tempo to auto will work as well. In this mode, the master tempo tracks the "master deck" but this is less reliable and can cause complications when doing a lot of cue point jumping.
Step Two: Put a BeatMasher into a FX slot

This will work in advanced or Chained FX slots but if you using Chained put it in the first space. This will allow you to manipulate the loop with the other FX in that slot.
Step Three: Assign the Deck to that FX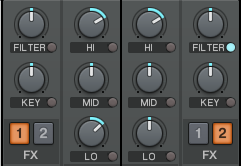 Route the deck or decks to that FX slot (these will be the source for the recording)
Step Four: Turn on the Sampler

You will want to turn the wet dry to 100%, set the sampler length to 4 counts (far left) and turn on the masher. Our latest TSI, 1_6, which you can try out for free here, does all of this in one click on the "sampler" button.
Step Five: Get Creative and Rock it!