Continuing our Traktor Centric week of next level tips, here are 2 easy ways you can enable smart knob functionality inside Traktor Pro without using midi translators. For those that are new to the blog, here is a post that will describe smart knobs, essentially one knob that does several different things at different stages. In the case of FX its desirable that one knob will turn on different fx at different stages for wild twisting fun.
.

#1) Turn on a button with a knob @ 1/2
To turn on an adjacent button with your knob when the knob is half way then set your midi mapping to this: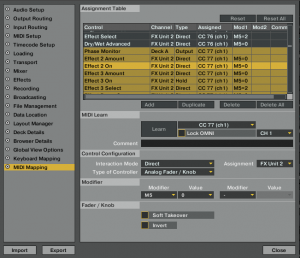 #2) Turn up another knob from 50-100% only
to use the 2nd half of a knob to turn on another knob up then you want to use relative mode set in this manner: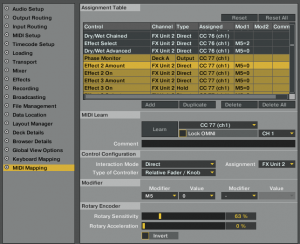 These examples are taken from the VCI-100 1_6 TSI file which can be obtained here. I recommend you download it and study this example where 1 knob controls fx slots 2 and 3.