Pioneer innovated and struck gold with its CDJ line of CD players more than 10 years ago. Since that time they have dominated the CD DJ industry and achieved the elusive goal of  becoming an "industry standard."  Today, CDJ sales are declining, laptops are in every club and controllers are blowing up. Pioneer needs to put out something big soon, or they may miss this boat entirely.  Taking a step in the big direction, their press team has been building up the hype about a "new species" of CDJs that will be released on wed of this week that they hope will be their ace up the sleeve. What can you expect? Lets look at what we know so far.
A CDJ-2000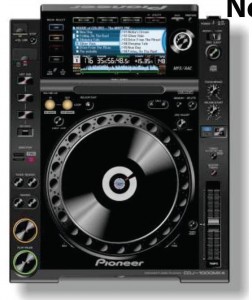 (The image above is not official, but is a render that is consistent with a promo teaser released by Pioneer bellow)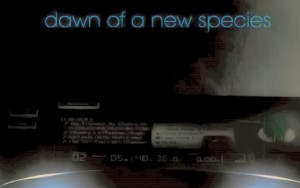 The most telling bits of information come from the cryptic artist interviews found on Djsounds.com. From those six interviews and information gathered from reliable sources, we are fairly confident this is what you might expect to see from Pioneer's CDJ-2000 tomorrow afternoon.
*A similar format as the CDJ-1000 but with a few ergonomic tweaks.
*Will feature a built-in LCD screen for track browsing (possibly touch-sensitive).
* The screen will be angled like Pioneer's VDJ series.
*Built-in FX (Pioneer is going to have to counter software FX somehow).
*Instead of bringing CDs to the club, DJs can bring a USB flash drive which contains tracks, playlists and track metadata.
*The flash drive will plug directly into the CDJ.
*You will be able to scroll through tracks and view waveforms, cue points, and loops directly on the interface.
*Pioneer will release a custom piece of software that will be used for:
setting loops, cues and possibly making edits on tracks in advance
organizing songs into playlists
managing the music collection
loading tracks onto a flash drive for the road
The Gamble
Pioneer is confident that DJs don't want to bring laptops into clubs, and that by giving them the core features offered by basic software–in a hardware environment–that DJs will ditch the software and stick with dedicated hardware. It's a gutsy move, given the power of a computer and the rising popularity of controllers. To an extent, Pioneer is correct: Controllers will need to perform more like dedicated hardware before they can truly replace the turntable. So why not circumvent the computer/controller paradigm and make dedicated hardware that works like a computer but is more reliable and user friendly? For many people, this is going to be an attractive option, offering as one dj put it, "the best of both worlds."
The Problem
In order for the gamble to work, Pioneer will have to strike gold again by creating a new industry standard–and fast. This product will have to be so compelling that a large percentage of DJs and the majority of clubs are willing to jump on board and upgrade their equipment immediately. Unless the CDJ-2000 becomes an industry-standard install in most clubs, the core concept will have a hard time getting traction. Imagine if you get on board, invest $3k in new players and spend the next two months organizing your music on the system. Unless you're a top touring DJ who can require specific equipment in a rider, then chances are most clubs wont have the gear you need for a while. That means bringing your own equipment into the club, and then we end up with the situation Paul Woolford describes in this interview as the "20-minute gap of confusion" when DJs change over between laptop setups. He is absolutely right; that gap of energy when the booth becomes a nervous bin of distracting energy is not good for the dance floor. Can a new breed of industry standard equipment solve that problem? Possibly, but it could also be effectively handled by building DJ booths designed for today's equipment and teaching DJs how to deal with a change-over professionally (that article is in the works).
The Rumor
The rumor has it that there will also be a smaller CDJ player, probably a CDJ-300, aimed at the controller market, including a Kaoss Pad-style interface and full MIDI capacity. While I would love to speculate on this possibility, we are just going to have to wait until tomorrow to see what else Pioneer has hiding up its sleeve. While, we don't expect anything earth shattering to come out of this announcement for the controller market- I will be excited to see if they can innovate and change up the game again.
Editor's note: Pioneer could not be reached in time for a comment on this article.