DJ headphones: It doesn't matter if you are mashing VCI buttons, flippin' CDs or spinning vinyl — we all need them. A few months ago, I wrote an article about my quest for good headphones. The response was overwhelming, and shortly thereafter Ean called me up and said "Mike, how would you like to do a full-on headphone review?" Naturally, I jumped at the offer and we requested the most talked about pairs. If you're in the market for a new set of cans this season, you'll want to hear what we thought of the best offerings from Allen & Heath, Pioneer, Ultrasone and Shure.
ALLEN & HEATH XONE XD-53
Allen & Heath is a UK company whose Xone series mixers have become a thing of legend; the mixers are so good, many of Europe's top DJs put riders for them in their contracts and refuse to play on anything else. In recent years, A&H has expanded the Xone line to also include a variety of MIDI controllers and this pair of headphones, the XD-53.
Build:
Material: Plastic, surprisingly durable.
Detachable cord: No.
Swivel: 90 degrees.
Extras: Faux leather pouch.
Performance:
Isolation: Good.
Comfort: Tolerable, but not for long sessions.
Highs: Excellent.
Mids: Average. Slightly muddy.
Lows: Above Average. Punchy but not artificial.
Notes:
The XD-53 headphones are made of a hard plastic, which was surprisingly durable. They are the most durable plastic headphones I've ever felt. The padding on the ear cups and headband of the XD-53s was more shallow than normal for DJ headphones, but they still have good isolation qualities.
Bottom Line:
The XD-53s are more durable than most other plastic DJ headphones out there, and produce sound good enough for the booth, but won't be mistaken for studio monitors any time soon. They will satisfy most DJs' needs.
Average Street Price: $160 to $190
ULTRASONE DJ1 PRO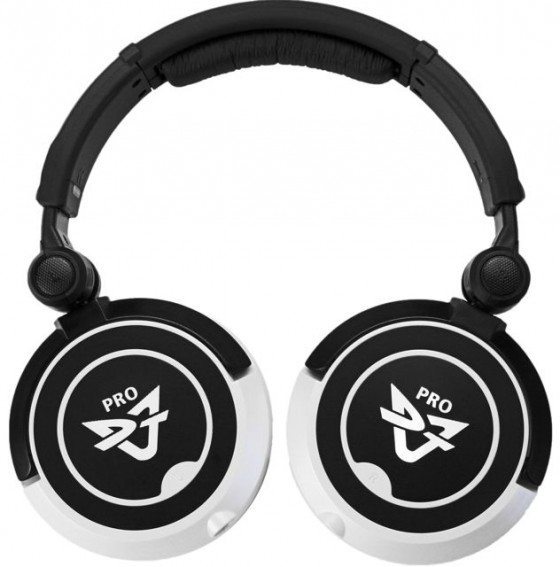 As it says right on the top of the box, Ultrasone is the German headphone company. Ultrasone only produces pro-level headphones and is on the cutting edge of headphone technology. It even has proprietary technology that attempts to reduce hearing damage.
Build:
Material: Plastic, not durable at all.
Detachable cord: Yes, comes with 2 cords.
Swivel: 90 degrees.
Extras: Zip-up hard case, extra ear pads and extra cord, demo sound/music CD.
Performance:
Isolation: Average.
Comfort: Very Good.
Highs: Excellent.
Mids: Excellent.
Lows: Excellent. Full and accurate. Not artificial.
The guys over at Ultrasone clearly care about sound, and their products. Ultrasone has gone the extra mile — in an age of corner cutting — to prove they care. The headphone hard case is much better than you would normally find, and Ultrasone are confident enough in the DJ1 Pro's sound to provide you with a demo CD of sounds and music that is all in AIFF lossless audio format. You also won't find spare ear pads or 2 detachable cords in any other headphone box. Note that one cord has a stereo/mono switch and volume attenuator.
Bottom Line:
The Ultrasone DJ1 Pro headphones are the best-sounding DJ headphones I've ever tested. They could double as studio monitors and are very comfortable as well. However, the build quality prevents me from putting them at the top of my list. If you value sound quality and are very gentle with your headphones, seriously consider these. If you are a road warrior who has already beat up a few pairs, then look elsewhere. If Ultrasone were to come out with a metal build model of the DJ1 Pros, they could easily sweep the industry.
Average Street Price: $235
SHURE SRH750DJ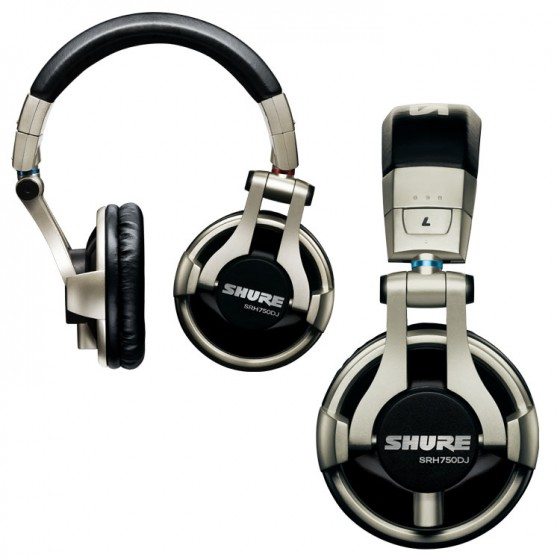 Shure is a household name in the DJ world, known for top-quality sound from turntable needles, microphones and in-ear monitors. Last month Shure decided to enter the DJ headphone fray with the SRH750DJ.
Build:
Material: Plastic, average durability.
Detachable Cord: Yes.
Swivel: 90 degrees.
Extras: Faux leather pouch, extra ear pads.
Performance:
Isolation: Average.
Comfort: Average.
Highs: Above Average.
Mids: Average.
Lows: Average, feels slightly colored for extra bass.
Notes:
There is a spare pair of ear pads, and the removable cord feels extra durable. The headband is square-ish and looks a little funny to me.
Bottom Line:
These headphones just feel very vanilla to me. Everything about them (the build, the sound, the price) screams average to me. They are on par with the Sony MDR-v700s or the Pioneer HDJ-1000s, except the cord is removable.
Average Street Price: $150
PIONEER HDJ-2000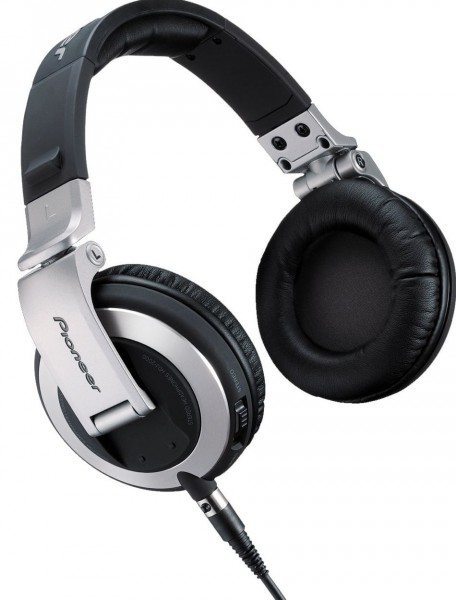 Pioneer is a company whose "Pro DJ" division has been known for making industry-standard DJ equipment for decades. The DJM series mixers are nothing short of iconic, and the CDJ did something I personally never thought possible: replace the Tech 12 as the main staple of the DJ booth. So when Pioneer released the HDJ-1000 headphones to compete with Sony, people took notice. Unfortunately they were plagued by the same lack of durability and became just another pair of cans in the headphone derby. Then the HDJ-2000s came out a little more than a year ago, and since that time Pioneer has been pushing them… hard. These headphones have been billed as the answer to every DJ's complaints, with an all-metal construction and studio-quality sound, but do they really live up to the hype?
Build:
Material: All metal, extremely durable.
Detachable Cord: Yes.
Swivel: 90 degrees.
Extras: Suede pouch, stereo/mono switch.
Performance:
Isolation: Average.
Comfort: Excellent.
Highs: Excellent.
Mids: Excellent.
Lows: Above average. Accurate.
Notes:
The HDJ-200s are clearly focused on 2 areas: good sound and durability. They sound well above average for DJ headphones, but what really sets these headphones apart is the build quality. They are made of magnesium and aluminum, making them lightweight and more durable than any other headphones on the market. The real leather and memory foam ear pads are a nice finishing touch. They can also be used as studio monitors in a pinch.
Bottom Line:
Pioneer has listened and responded with exactly what most DJs are looking for. The only flaw of the HDJ-2000 is its price tag, which is hefty, but hey… quality ain't cheap. It should be noted that while they do cost 1.5 to 2 times as much as other headphones, they will probably last 2 to 3 times as long.
Average Street Price: $270 to $300
FINAL CONCLUSIONS
Each one of these sets of headphones has strengths and drawbacks. Hopefully one of these sets appeals to you. Personally, my choice would be between the XD-53s and the HDJ-2000s. A&H has made a set of headphones that will satisfy your DJ needs, while Pioneer has created a Cadillac model that is more durable and better sounding than anything else out there. Since sound and durability are what I look for in headphones, the Pioneer HDJ-2000s get the Mike Charles stamp of approval. I'd be comfortable paying the premium to know they were built to last, but the price tag may be a bit too much for DJs on a budget.