You hit the street, passed out your demos, talked to everyone you know and now its finally paid off with a few gigs. Most djs spend so much time preparing music, hunting down shows and promoting that when it finally comes time to prepare for a gig- they leave out some very important items. Each show is not only an opportunity to play your favorite songs and rock the crowd but the very best opportunity  to get more gigs and build your career. To help you out we have created this important list of items every dj should have in his gig bag to make each gig a smooth one and create opportunities for future shows.
THE LOCAL GIG

For your local bar or club here are a few items you need to have.
Powered Light– make sure your equipment is visible no matter what conditions you may find. The Joby Gorrila torch is great.
Business Cards- People will ask for one so make sure your ready. Don't just give yours out though, always take their card and follow up the next day! Many smart djs make their business cards memorable so your prospect can put together the pieces even after a night of rough drinking. I use cards with a wax coating so they last the rigors of my dj bag.
Custom molded Ear Attenuators– Even if you must crank up the monitors while djing there is no reason to blow your ears in the hours before or after your play. There-fore, always carry around a pair of these handy buggers which will save your ears for the mix. Remember, with each hour of heavy noise exposure- your ears attentiveness decreases. So like a good fighter, rest your most valuable weapons before and after each match! Check out this site for more info on "musicians earplugs"

Back Up CD- There is absolutely no excuse for dead air. Even if the improbable happens and your laptop takes a shit- then you absolutely must be ready with a long mix cd that give you plenty of time to trouble shoot. This ideally would start off with a big intro that makes it sound like the silence was planned and gives you at least 20 minutes of time to figure out what's wrong.
Extra USB Cable- Yes, they do go bad and without one your screwed- so always pack a backup. It might make sense to use one of our high quality USB cables (they are finally back in stock!) Many users have sent us letters talking about how these cable's high quality shielding and ferrite's have stopped dropout problems in crazy club environment's. If your controller or sound card starts acting crazy one of the first things to check is the USB cable. It might either be of poor quality or just isn't working anymore.
Pad of Paper, Pen, and bunch of Mix CD's- This is the secret weapon of most successful dj's in the early days. At the end of each gig, walk around and ask people if they liked the set. If the answer is yes- give them a CD and ask them to write down their email for your "list". You will quickly convert casual listeners into devoted fans and build your most valuable asset- a following.  Making decent money for the gig? Pay one of your friends to walk around while your playing for the best results. We like mixonic for good looking mix cds

Foam Padding- Most of you here are using controllers so you have probably found yourself with no-where to put your controller in booths designed for vinyl djs. Sadly, not much has improved in the past 5 years since I first started putting foam on top of turntables to hold my controllers so it still remains a good option if you need reliable place to put your controllers. Cut yourself a small rectangle of foam that's approximately 15″ X 10″ inches.  I have always used the 1″ egg crate foam and set it right on top of the center spindle. The foam will keep the platter from spinning and provide a non-slip stable surface for your controller.
Camera- You may rock the crowd every night, but without documentation, no one will ever know. Shoot video and photos at your gigs to sell yourself to future promoters and owners. The Cannon power shot looks good at night in most conditions.
1/8″ adaptor – I highly recommend always keeping at least one extra headphone adaptor in your gig bag. It will eventually pay off big time.
Extra Laptop Power Adaptor- You are eventually going to show up to a club without your laptop power supply and only 2 hours of battery time.  Avoid this very stress-full event and purchase an extra laptop power supply that lives in your dj bag and never leaves. Trust me, its absolutely worth the $50.
The Out of Town Gigs

Along with the items in the above list,  international and national gigs require a few extras.
Envelop or Pouch- Keep the receipts for every single thing you buy. Even if you don't get re-imbursed for these expenses by the promoter (which is often the case), every single one of them is tax deductible! This will save you big cash in the future.
IEM's- In ear monitors are a lifesaver for prepping tracks on the plane. They block out all the noise and allow you to work in peace on your sets. They also make airports barely tolerable with the right play-list. I personally use the Shure SCL2's which have a good bang for your buck.
BackUp Hard Drive- In the case of laptop loss or failure the show must go on so you need to have a hard drive with all your music backed up on a portable drive. This will also prove useful for music swapping with your buddies on the road. The lacie rugged hard disk is my personal favorite.
Work Visa- International locations, especially third world countries are officially hip to International Djs and how easy it is to spot them. Give away clue? Thousands of flyers with your face and country of origin are plastered around the city. If you are traveling, make sure you have your work visa- deportation is a major bummer.
Water! Some of my globe trotting friends are equipped with bullet proof Immune systems- sadly I am not one of them and frequent gigging will always get me sick without sufficient hydration. Flights, Alcohol and late nights all work together to leave you severely de-hydrated so to stay at the top of your game make water a top priority for
Leave the Drugs- Seriously. There is no way to know how other countries feel about them. Just ask Groovrider who sat in a middle eastern jail for several years before being recently pardoned.
FURTHER READING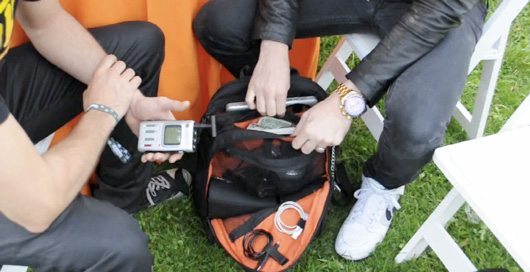 We have many more planned but its worth checking out our first "whats in your dj bag" series where Jesse from MSTRKRFT shows us what they bring to their gigs.