The DJ console has come a long way since Francis Grasso plied his trade with the first stereo mixers.  Today DJs have digital, analog, MIDI, and hybrid mixers. While analog, digital and MIDI are married among the available controls, great possibilities await for hybrids.  Well that's what the advertising promises.  Do they live up to the hype?  Let's break down the available hybrids and see if any of them show promise.
HYBRID OR THE HIGHWAY?
Mixer manufacturers have looked towards the future and it is quite evident that the digital world is only going to expand further.  Analog will likely never go completely away, thanks to its warm, human character, but the real estate it occupies is now doing double duty with digital and MIDI, sometimes both.  Opening these possibilities becomes completely context sensitive and hard to totally encompass in a single article, but let's look at a couple of the mixers available and dip into what new avenues open up for us as digital DJs.
ALLEN & HEATH XONE:4D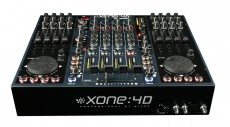 Allen & Heath offer this no joke mixer more at home in the pro DJ's studio or atop a two story stage during a five day festival  in Europe. At just under an arm and a leg the Xone:4D stays true to A&H's quality, solid workmanship and design.
$2,599.99 – $2,999.99
105 controls in two sections with 227 MIDI messages
Shift mode allows seamless switching between program layers
MIDI Merge allows for a peripheral (e.g. a keyboard) to be intergraded into the DVS
4 stereo/analog in & 1 stereo/digital in
4 stereo/analog out & 1 stereo/digital out
20 channel USB 2.0 soundcard 96 kHz/ 24 bit
BPM push and pull MIDI time clock
All new BPM detector circuit
Award winning filters and effects built in
RANE SIXTY-EIGHT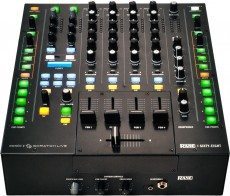 Rane has teamed up with Serato and pre-mapped this monster mixer with scratch live functions and features like dual USB ports for uninterrupted seamless switching between DJ's  or parallel mixes. It is sure to stand out huge amongst the club DJs.
$2,599 – $3,299.99
Scratch live mapped and full midi functionality
Two MIDI sections with 12 buttons and 2 endless encoders
Two USB ports for real time switching or mix in parallel with two laptops
Two 2.0 USB ports 32bit soundcard with 22 channels @48 kHz
4 channels with line/phono/spdif inputs
Built in effects section
FlexFX for multiple support of effects, hardware and software based
Headphone split cue
FlexFX mix levels
PMC-05ProIV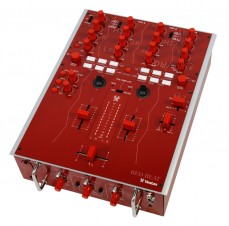 The PMC series is a staple in the turntablist's kitchen and now with cue points and effects being directly mapped to your fingertips, this hybrid mixer is sure to be rolling out some hybrid mixes and juggles.
Around $1000
13 midi functions per channel
New digital cross fader
Compatible with CoreAudio and ASIO
Transformer switch per channel
Effects send and return
USB port for computer connectivity
BEHRINGER DDM4000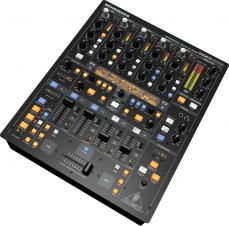 Behringer steps into the ring with the DDM4000 digital knockout that's sure to please the digital DJ. With features like EQ kill as well as sync for effects, cross fader and sampler this mixer will be going more then three rounds.
Sells for $399
32-bit digital mixer with beat-synchronized sampler
4 multi-FX sections, 2 BPM counters, digital X fader and MIDI
4 Phono/Line stereo channels allowing a max of 8 signal sources to be connected simultaneously
2 Microphone inputs with Gain, EQ, Talk function and FX
4 stereo channels with Gain, programmable parametric 3-band EQ with Kill function, fader curve control and flexible cross fader assignment
Fully featured MIDI controller for your DJ software
Sophisticated sampler with beat-controlled loop function, real-time pitch control, sampler FX and cross fader start option
2 freely assignable and BPM-synchronized, high-quality FX engines (Bit crusher, Resonator, Reverb, Flanger, and more).
ECLER NUO 4 (DISCONTINUED)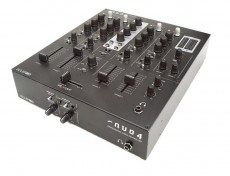 Ecler offers this simple yet power-packed four plus one channel mixer which is perfect for the crossover DJ looking to expand their skills into the software world. A smooth layout and MIDI features push this mixer into the new standard level for inspiring DJs everywhere.
$700 to $800
4 MIDI knobs and eight buttons
3 effects scenes
Deck A and B toggle button
MIDI clock
No audio interface
Replaced by Nuo4.0 which had no Midi
PIONEER DJM-800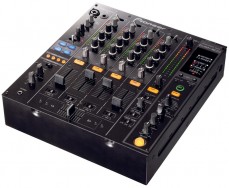 Pioneer has this new version of the DJM but can now offer a massive MIDI functioning mixer. Features recommended by many professional DJs and club engineers have been jammed into the DJM-800 and it is raising the bar on sound fidelity and ease of mixer operation.
$1,000 to $1,500
96 kHz / 24-bit digital mixer
High-fidelity sound (32-bit sound processor)
61 fully assignable MIDI controls
4 sound color effects
13 beat effects, including roll sampler
Large, bright dot matrix display
FUTURISTIC FOOLS OR JACK OF ALL TRADES?
What is the future for hybrid mixers? Is there room for these types of products in a fast growing market?  The answer is not really clear. With Ecler and Numark discontinuing several MIDI-mixers, there may be clear signs of a soft market. On many of these mixers, the MIDI-implementation seems to be just an after-thought or an extra feature requested by the marketing team, not an innovative new look at DJing. We are interested in hearing what you, the community, has to say- how do these products fit into your DJing picture?
This is Rifki's first article for DJTT, lets show a little DJTT appreciation for his work.