The Novation Dicer has been a huge hit with Serato djs by finally providing them with cue points and loops in a very ergonomic location- right on the turntable. With its plug and play functionality, direct mapping to Serato, and $99 price it's easy to see why a lot of Serato guys are picking them up. Sadly there has not been a great mapping to really showcase what the controller can do with Traktor. Well, wait no longer- Dj TechTools just finished our own high performance, Dicer mapping for Traktor Scratch Pro and you can download it for free right here! Check out the video above for a demo and the diagram of the mapping after the break.
MAPPING TRICKS
This Mapping employs a number of classic Dj TechTools FX tricks including the FX page which has 10 instant FX settings. Each button directly loads an effect, jumps to the ideal parameter, routes it to the deck and activates the effect with one press. No matter what settings get re-set, you know that each button will always sound exactly the way you expect. They have been designed to be used together in groups to create really dynamic builds and effects transitions without any distracting knob twisting. You may want to duplicate some of the groups below into your own layouts- they sound amazing!
THE DJ TECHTOOLS DICER LAYOUT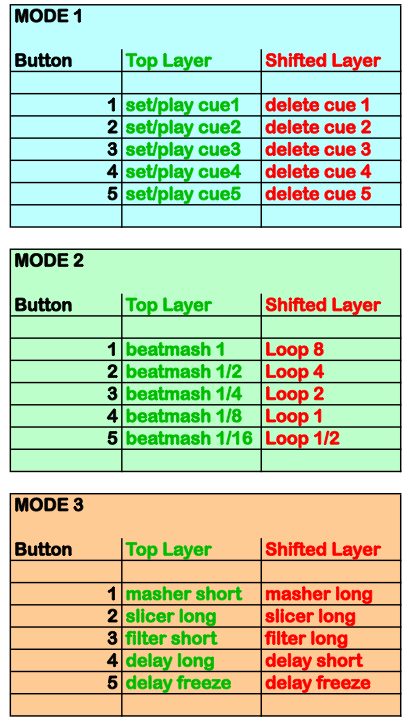 You might also be interested in:
How to map your dicer to multi colored LEDS
Midi-Fighter Mappings that take these concepts to another level!
If you're planning on getting a pair of Dicers, please consider supporting our efforts in the webstore.