We have been working deep in the DJ TechTools labs in development of some seriously cool technology and I want to share a little glimpse of it with you! The video above showcases one of 2 custom controllers built for Amp Live (of Zion I). They feature several notable new features including light shows, super knobs and big fat buttons. Get more info and see the photos after the break!

LIGHT SHOW
There is a switchable light show that turns buttons presses into lasers!
BIG BUTTONS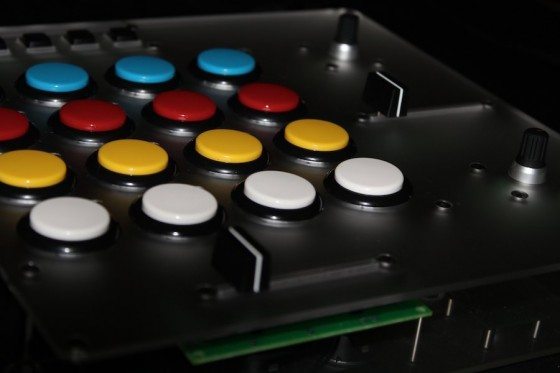 Amp Live has large hands and likes to play his Midi-Fighter like an MPC so we equipped these custom models with big 30mm buttons that have the same spacing as a MPC. Those knobs and faders you see in the photo are super knobs and control effects racks in Ableton. The top is our new matte acrylic available on all midi-fighters that lights up in a really cool way.
AVAILABILITY
The controllers in the video are experimental and not for commercial sale right now. We will, however, be showing them at NAMM 2011 and then selling similar controllers in very small quantities some time early next year (limited runs of 25 with metal cases).  If you are interested in getting more information sign up on this list and we will let you know if they become available.