For the past year we have been experimenting with various Midi Fighter configurations in our search to find the perfect controllerist instrument. After much exploration, I settled on four popular layouts that combine function, strength, and playability into one powerful surface. The resulting Midi Fighter Pro's are available now in our brand new web store. Continue reading for more photos and details on each of the four models.
Product: Midi Fighter Pro Series (Beat Masher, Cue Master, Super Knob)
Price: $349
Weight: 3 Pounds
Dimensions: 6″ (W) X 10″ (L) X 1.75″ D
Communication: MIDI over USB (bus powered) / Mac and Windows Class compliant drivers
Available: Now in the DJ TechTools Webstore (in stock!)
Ships with: Certificate of Authenticity, USB Cable, Free Mappings Available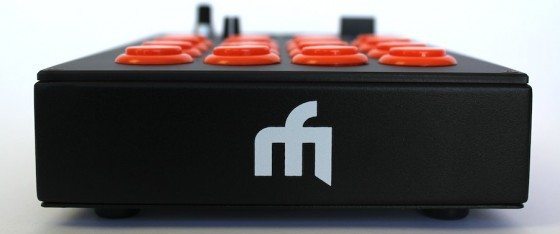 Key Features
Robust metal casing
Chip proof surface
High performance arcade buttons
Bright blue LEDs
MIDI controllable mode buttons
Rugged faders and knobs
Smooth high performance surface
Analog controls send super knob values out of the box
Digital buttons send super combo values out of the box
Trade in program for existing Midi Fighter owners
The Bottom Line
The Pro series adds what Midi Fighter owners want most, well-placed analog controls with amazing mapping integration.  The expressive and robust nature make them truly a controllerist's controller.  For those who want to connect a controller to Serato or Ableton, the built in super fader functionality is clutch. They allow anyone to create amazing effects combos right out of the box without diving into Bomes coding or advanced MIDI mapping. If you are looking for a super unique and powerful MIDI instrument, the Midi Fighter Pro is hard to beat.
THE MODELS

"BEAT MASHER"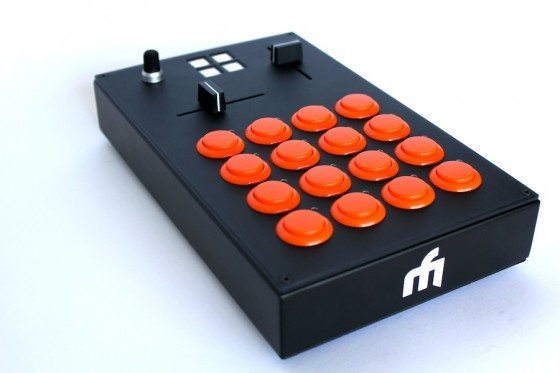 Designed to be used with Traktor Pro, the Beat Masher offers the a Deckalized/Instant Gratification combo with two dueling cross faders, one filter knob and four preset buttons.  Each cross fader connects to three effects, interacting with each other in very interesting and mind-bending ways!  The four buttons directly load effects groupings that are then controlled by the faders. Just click the preset, and start cranking the faders! Our powerful mapping does all the boring work of routing, effects settings, loading, and wet/dry tuning so you can focus on rocking the party.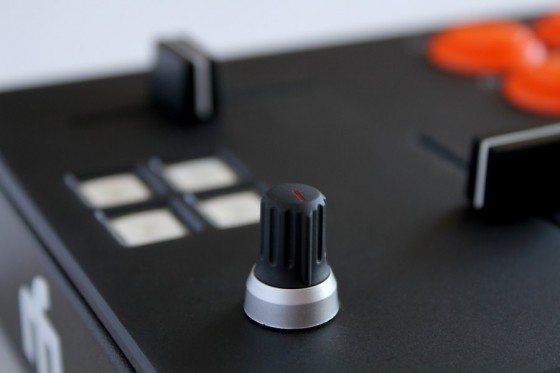 "XX FADER"
Editorial Note: We originally had a model listed here at launch called the XX Fader – this has been discontinued in favor of using the Cue Master and rotating it. 
"CUE MASTER"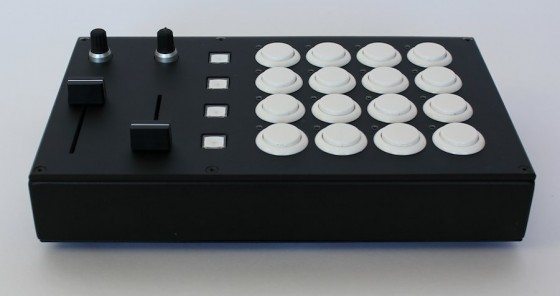 The Cue Master is my personal workhorse and can be heard in this video with QBert. Two expression faders are connected to several effects, modulating the cue points, and turning a regular deck into a next level DJ instrument!  One knob is used for a filter and the other is a dedicated Echo send. The mapping and full on performance video will also be published next week.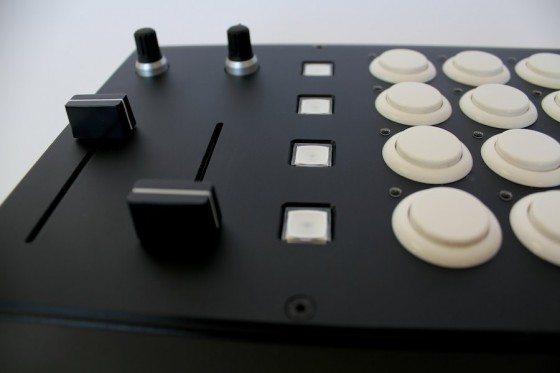 "SUPER KNOB"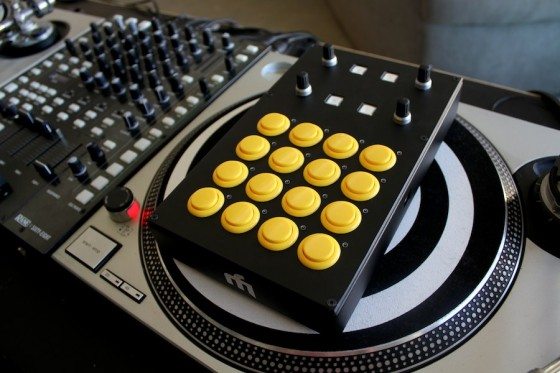 The Super Knob controller was designed with three unique purposes in mind:
As a Serato controller for easy access of cue points, effects racks, and the sampler
As an all in one Traktor controller for super basic internal mixing of four decks
As a controller for two sample decks in Traktor Pro
For the all in one controller, you can control all four decks with one small, basic controller. The four buttons focus the arcade buttons on each deck with the knobs being dedicated volume levels for each deck. The arcade buttons are connected to our Deckalized/Instant Gratification combo mapping.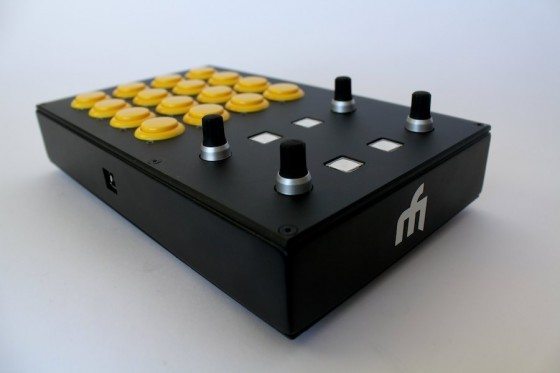 Construction Style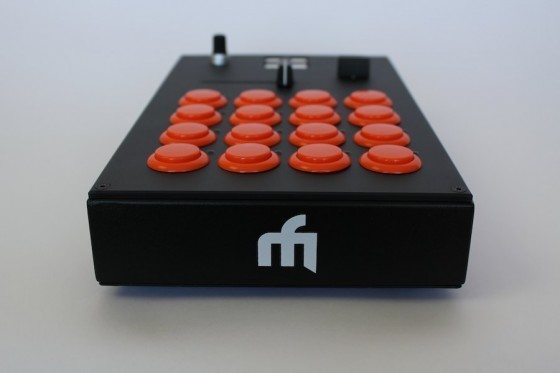 Designed to be played hard, the Midi Fighter Pro is rugged and built to last.
High quality knobs are mounted directly to the metal case
High quality faders are fast, smooth, and fun to play!
Rugged mode buttons are recessed, back lit, and impossible to hit accidentally
Steel Chassis is strong but not too heavy for easy packing
The acrylic top is a custom, finger print, and chip proof material that will look great for years.
And of course, the buttons are our Sanwa arcade buttons designed to withstand millions of hardcore hits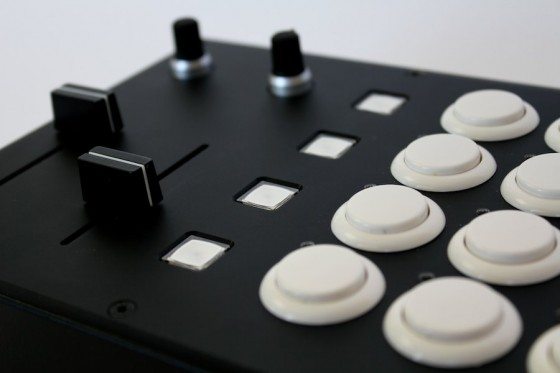 The performance zone is ergonimically spaced for musical expression and built with high quality components that will take a beating and keep on ticking. If you really get into your performance, heavy duty bumpers keep the controller locked firmly on the table. A handy center locating hole on the underside allows a Pro to be placed on a turntable if there is no room in the booth.
TRADE IN PROGRAM

The Midi Fighter Classic (and any trade-in program towards the Pro) was discontinued in November, 2012 – if you're interested in a next-generation version, check out the Midi Fighter Spectra.
And if you think the Midi Fighter Pro looks interesting, you should see our latest controller—the Midi Fighter 3D!
MAPPINGS
As you probably learned with our VCI-100SE, one of the most valuable things we offer is continued mapping support. Over the coming months we will release official mappings for all of these controllers and then iteratively develop them (with your help) for years to come. While I can't tell you exactly what we will create, be assured, it will be totally rad!