Last week we looked at a heap of components that are commonly used in DJ controllers. On one hand, having a better understanding of a component's capabilities should allow you to make more informed judgements about the right "off the shelf controller" for you. On the other hand – a more adventurous, rebellious hand – knowing how a controller could work is only a few short steps (yes, we've transferred from hands to feet) from creating it yourself.
Long time readers will know that this isn't the first time we've breached the topic of DIY by any means; DJ Tech Tools has long advocated pushing technology (click here for a previous look at some MIDI boards, until we update for a 2011 article!) into the direction we need it in order to give us new opportunities with DJing.
There are tons of ways to go about making a controller, and we're going to take a little look at a few cool one off projects, how they were made and the design choices that turned them into what they are.
The 4×4 Briefcase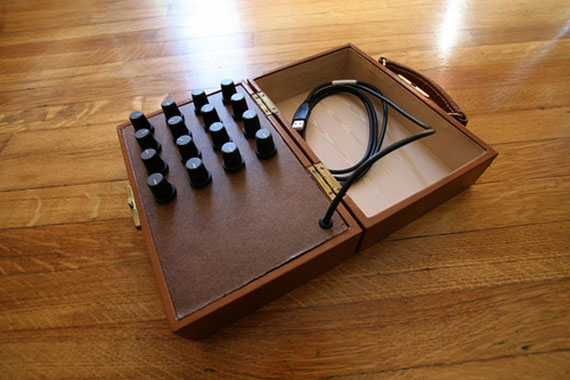 Nothing says your design has to be groundbreaking – and Seth A Ferris's aka Typenerd's 4×4 knob controller is a simple controller that looks great. It's based on an Arduino brain, which isn't necessarily the most efficient way to create a controller nowadays – since this was built there have been a number of simple and efficient MIDI boards – but the 16 rotary pots are simple and effective. Perhaps if this controller was made today, something like the Highly Liquid MIDI CPU and rotary encoders instead of potentiometers would turn this into an amazing software controller.
Key Components: Rotary pots (such as these from Maplin) and rubber caps (such as these)
Enclosure Style: Vintage Briefcase (get digging in your loft/local charity shop!)
Innards: Arduino (in this case requiring a MIDI translator for software)
Cool Moment: DJing with a briefcase and simultaneously having a place to hide your lunch!
Chopper Tone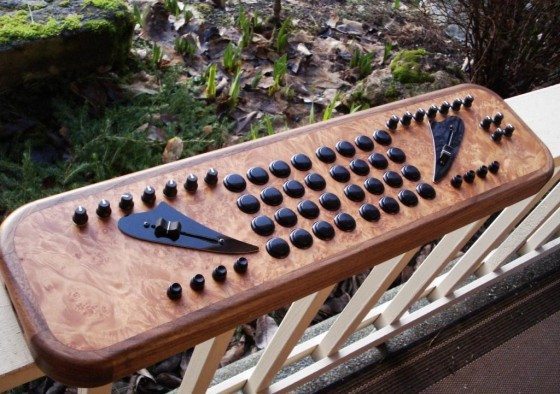 We loved Nick Francis's Chopper Tone when we featured it earlier this year. It has a beautiful aesthetic, and Nick really thought about his needs when it came to the unit's controls. The arcade buttons will have been a significant cost compared to a Monome-esque matrix, but enable super quick triggering from any angle which is a must considering that Chopper Tone's designed to be held. The rotary pots with their 7o'clock – 5o'clock style reinforce that Chopper Tone doesn't have to be held at a specific angle to make sense and really lends the whole unit to play on the lap. It was created with a Livid Brain DIY kit, and as switches and standard rotary pots are some of the most straight forward connections Nick could really focus on the design of his instrument.
Monodeck I/II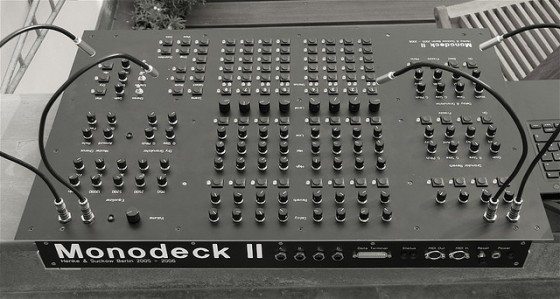 (image credit Tim Fellscrow)
As one of the founding developers of Ableton Live, Robert Henke – aka Monolake – knows a thing or two about designing musical products. His controllers, the Monodeck and Monodeck II, are mammoth pieces of gear, personally designed to give him ultimate control over his Live sets without having to go near the computer. The first Monodeck was based around a cannibalised Doepfer Drehbank MIDI controller, which featured 64 rotary pots. As we have touched on before, using an existing controller as the brains to a DIY project can be an excellent way to get something off the ground, especially if the existing controls are the same or directly compatible with what you have in mind (different types of push to make switches and different shaped but identical resistance potentiometers come to mind). Monodeck II was a more ambitious project, and thus was designed from the ground up on the MIDIbox platform, a free to use project that allows controllers of almost limitless scope to be designed. The result is a breathtaking controller which allows Monolake to be totally at one with his performance.
Key Components: a HEAP of rotary pots, multicolour LEDs (like these, for instance) and push to make switches.
Enclosure style: Custom formed metal
Innards: MIDIbox and custom programming
Arcade Button Chording Controller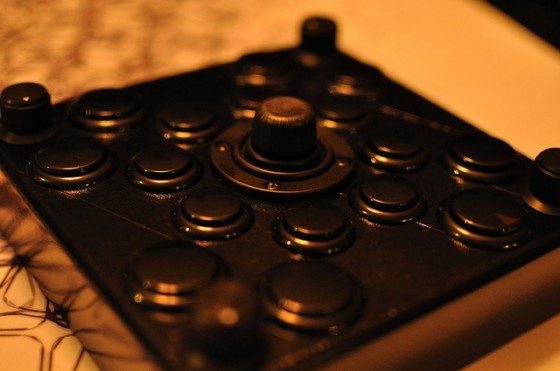 This controller by DJ Lokey features arcade buttons, knobs, and a 3 way joystick, and gets its name from the way that the different buttons are designed to be used as modifiers for the joystick's operation. The use of different sized arcade buttons create a visual cue for the controller's functions and makes the all black design easier to use…
Key Components: Arcade buttons, rotary pots, and a joystick (sourced from the controller it's based on)
Enclosure type: Customised project enclosure
Innards: a USB gaming controller (designed with a Max for Live translator in mind to make controls useable)
Cool Moment: Breaking out Mario after the set!
Kromatron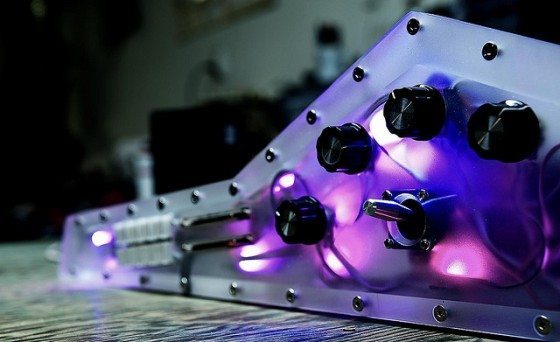 Craig Dorety's Kromatron is a real stage instrument, with LEDs that constantly change based on input to the knobs, faders, buttons, and joystick. We love how the shape is reminiscent of a guitar, a time honoured musical instrument with an established ergonomic shape, and the way that the design is absolutely stage oriented.
Key Components: Rotary and slide pots, a two axis joystick pot and eight buttons (perhaps something like these from Sparkfun with these tops!)
Enclosure type: Translucent custom made plastic enclosure
Innards: We're actually not sure, but it could be done with any of the boards we mentioned in our post earlier!
Cool Moment: Taking front and centre stage and rocking out!
The more mature the digital DJing and controllerism scene gets, the better the big manufacturers get at giving us what we want and the more viable it becomes for boutique setups like us to make high quality, high concept controllers. That doesn't mean that the DIY age is over though; we want to see your mods and unique controllers! Please let us know what interests you, what you want to see, what you'd love to make, and where you think manufacturers are getting things right – and wrong.