Prior to the release of this year's well-known DJ Mag Top 100 list, former DJ Mag editor Terry Church published an article detailing the complete failings of the list over the years, suggesting that the internet already has plenty of tools to determine the true popularity of DJs. We decided to take his conclusion to heart, and using stats from social media websites, see who has the biggest following. Continue reading to see the full list and how it stacks up against the much debated DJ Mag top 100. 
The Highest Ranked DJs (By Social popularity)
Here are the top 100 DJs with the largest social reach on the internet and how the results compare to the DJ Mag top 100. For more information on those stats and to see the supporting data see the section below called: "Check our Math". This was in no way intended to create an official top 100 list but a fun experiment to validate the DJ mag list against social media statistics.


Sometimes crowd-sourcing worked well in the DJ Mag contest, and as highlighted in green, there are positions that are impressively on the mark. David Guetta is the most popular DJ in the world  – even despite the fact that the crowd was less than kind to him when he accepted his title of number one at the official ceremony.  Aside from the inclusion of LMFAO, the DJ Mag top 5 is pretty spot on but after that things start to to shift dramatically. 

We were amazed at the number of people that didn't make it on to the DJ Mag list, and you'll probably have nodded along with a number of the items we highlighted in red. Just because an artist like DJ Shadow, Moby or the Chemical Brothers have been active for a long time doesn't mean that they should be overlooked or ignored – especially if they're still active, DJing all over the world, and producing!
In addition, we've highlighted how strange it is that Skrillex, master of brolectrostep, is in the original top 100, yet his very popular colleagues Bassnectar and Rusko are completely left out.
Also, we were impressed to see how incredibly popular LMFAO has become – and while many don't view them as DJs, we'd argue that their live shows are often DJ sets. The Party Rock crew rolls deep with S4s, mixes songs all night long, and of course throws down plenty of shots.
What Are They Doing Here?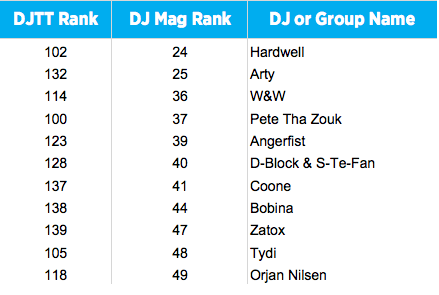 We couldn't help but highlight a few epic fails from the DJ Mag Top 100 that placed well out of our Top 100 – it's not to say that any of these folks are bad DJs, but the numbers seem to show that they're simply not as popular as their DJ Mag number might make them out to be.
Most Impressive Rise to Fame!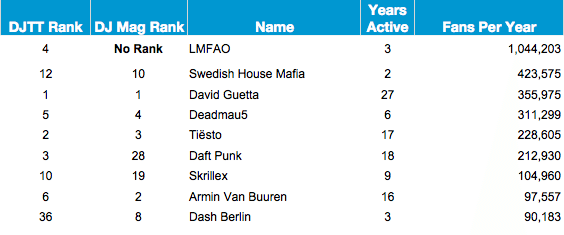 While we were gathering all of this data, we also got the best estimates as to how long each of these groups and DJs have existed (under the name listed, not other names of the DJs or group members). This made for a really interesting analysis of who has had the most impressive, effective, and powerful rise to popularity.
How The Heck Did We Calculate This?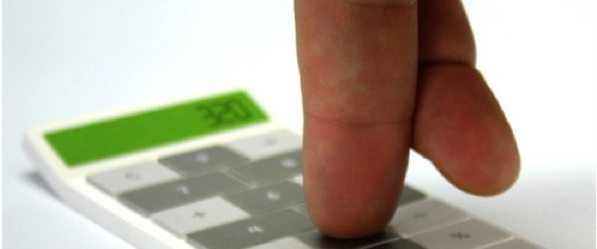 We decided it was best to collect the average number of fans/followers/listeners from three very popular websites on which I would be able to find all of the DJs in question – so Facebook, Twitter, and Last FM were pretty natural choices. If an artist did not have a Twitter or Facebook account, I used the most popular fan-made account, or in a pinch averaged out the other two numbers. This gives us an estimate of how many people really know about a artist and are actively following them – as opposed to simply how many people (or very simple-to-code vote bots) voted for that artist in an online poll.
It's important to note that we're well aware that there are potential flaws in our process, but it gets us very close, and possibly provides a better representation of real world popularity instead of online voting and polls, which can be susceptible to fraud and inaccuracy. If you have any great ideas on how we can improve our algorithm, please share in the comments – as we want to make it even better next year!
Check our Math!

Do you want to see the numbers and see exactly how this list was generated? Help yourself! All of the numbers in this spreadsheet were retrieved within the last two weeks. If you find an error, feel free to let us know in the comments. Click here to view the data collection spreadsheet.
More importantly, we want to address the most difficult part of making a "new"  list: picking the DJs to include. Naturally, we ran the numbers on all of the Top 100 from DJ Mag's list, as well as 60+ others from a variety of sources. We did our best to include people who, when you see them at a show, are DJing. But where is the line drawn? It's not an easy process these days with the lines between production and DJing blurring into oblivion.
Closing Thoughts
This list is not a true representation of the "top" DJs in the world, but a statistical analysis each artists true reach across the most relevant platforms. To compile a real top 100 that took into account subjective parameters like skill or quality would be incredibly difficult.
Finally, remember that some of the best DJs you'll ever see will not be on this list. This list is purely about popularity!  Talent doesn't always mean you're incredibly famous or even well-known, and we're sure that there are hidden deck-masters hiding at weddings and wakes, as well as in bars and bar mitzvahs, all over the world.
Note from the Managing Editor: DJ Mag has asked us to reinforce that their contest is purely a global popularity contest based upon voting and voter activation by artists – they have no hand in the final results, nor is the list directly curated by them.