Last week we looked at ten ways to get into digital DJ software for less than $100. Let's take it to the next logical step and add some cost effective hardware controls to the software and really get into DJing on the computer. Today Ean and Chris will go through the best options for purchasing controllers from $50-$500, and look for the best value.
BASIC CONTROLLERS
Ok, the software thing is going great but now you want a little more than just a keypad to trigger effects and mix between tunes.The time has come to add a digital control surface called a "MIDI controller". Much like a remote control for the TV, today's best USB DJ controllers are just giant remote controls that tell DJ software what do, while providing a large tactile playing surface.
The good news is that all the DJ software mentioned below are "MIDI-Enabled" so that means any controller that is "MIDI-Compliant" will work with it. This opens up a lot of low cost music controllers that were not intended for DJing but will work just fine for getting started.
Here are, in our opinion, the most notable examples of the best MIDI controller options for DJs: from low to high price.
KORG NANO KONTROL / NANO PAD

Cost: $39 each
Good For:
Adding lots of controls on the cheap
Small footprint
Not So Great:
Build Quality
Controls are a bit of a squeeze (Kontrol)
Pads aren't very responsive (Pad)
Bottom Line:
The Korg Nano series is undoubtedly cheap and cheerful; they won't last the rigours of being thrown around but they are handy for stay at home setups. The Nano Key is a bit of a waste though, as it doesn't really add anything that your computer keys don't already do.
Additional Editor's Tip: The Korg Nano Series has been updated to a new v2 series which promises a bit more in terms of build quality. They come in at a reasonable $60, and come in a bit nicer design. Check them out here: Korg nanoKONTROL2 Slim-Line USB Control Surface

AKAI MPK MINI
Cost: $80
Good For:
Keys, pads, and knobs all-in-one
Handy form factor
25 keys gives plenty of control
Not So Great:
The knobs have very short caps that can make them tricky to use
The pads are okay at best
Bottom Line:
The MPK Mini is a great controller for the price, as it's small but pretty sturdy, and although it's not designed specifically with DJs in mind it does have potential. Interested in grabbing one for your setup? Check out the Akai Pro MPK Mini on Amazon
.
Numark DJ 2 Go

Cost: $49
Good For:
It's 'DJ shaped'
Mobile DJs
Not So Great
The unit's not very controllerist friendly
The dials aren't up to much and feel cruddy
Bottom Line
If you're in the market for a low budget controller you'll probably have seen the DJ2GO. It's not terrible, but its traditionalist design feels like a bit of a throwback. Actually… it's pretty terrible. We're listing it because it's something many of you will likely consider. If you decided to see if it's right for you, here's the Amazon product page: Numark DJ2Go USB DJ Controller
OXYGEN 25 KEYBOARD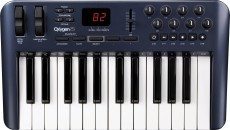 Cost: $99
Good For:
Sturdy design
25 full-size keyboard keys
Pitch and mod wheels
Pretty good knobs
Not So Great:
Not designed for DJs
No pads
Bottom Line
The Oxygen 25, previously known as the Oxygen 8, is something of a classic among controllerists on account of its low cost and high potential. It's definitely worth a look, and will likely outlast the smaller, flimsier gear above. If it seems right for you, here's a link to where you can pick one up: M-Audio Oxygen 25 25-Key USB MIDI Controller
NUMARK MIXTRACK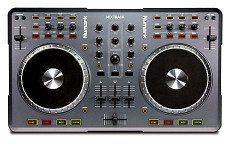 Cost: $130
Good For:
Actually looking like a DJ controller
Large platters
DJ-focused controls
Not So Great:
Generally light on build quality
Platters aren't very good for track control
Bottom Line
The Mixtrack is actually a pretty decent attempt at a super-low budget DJ controller. It won't set the world alight and I doubt it'll last forever, but it has all the right controls. Want to get one and get started mixing? Here's the obligatory link to buy: Numark MIXTRACK DJ Software Controller

If you've got a bit more cash, we do know that the Mixtrack Pro
($250) might be tempting, but remember that unlike the Trakor Kontrol S2, the only included softwares are the limited LE versions.
DJ TECHTOOLS MIDI FIGHTER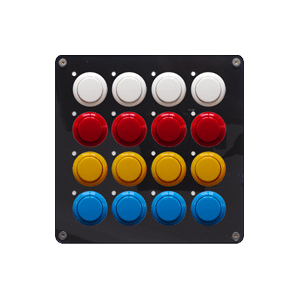 Cost: $179
Good For:
Extreme tactile satisfaction
Customization options
Not So Great:
Pinning your whole DJing control to it
Bottom Line
Okay, obviously the Midi Fighter is a DJ TechTools creation, but we hope you can trust our objectivity. The Midi Fighter uses professional quality buttons, but in all honesty 16 buttons without labels might not quite cut it when it comes to controlling everything your software has to offer. That won't stop us from mentioning it, though – get your very own here!
NATIVE INSTRUMENTS KONTROL X1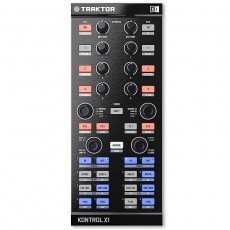 Cost: $199
Good For
Excellent build quality
High resolution controls in Traktor and Serato
Not So Great
Limited control surfaces in a cramped interface
Better as an accompanying device
Bottom Line
The Kontrol X1 is a great feeling unit, but it feels like it's designed to be the companion to something that controls your actual decks. Price per control ratio is high, but it's a quality unit with awesome default Traktor and Serato mappings. It's also a pretty decent deal at $199 – Amazon has it with free shipping, as well: Native Instruments Traktor Kontrol X1 Performance DJ Controller
DJ SOUNDCARDS UNDER $220
If you are ready to start doing some DJ pre-cuing then you will need to add a USB sound card with 2 stereo outputs: one output goes to the speakers and the other is used for headphones. With the controllers above and a low cost sound card, you are still in for less than $400 with software. Below, we take a look at the best DJ soundcards under $220.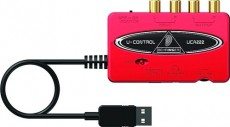 Behringer UCA222
Cost: $40
Good For:
Not So Great:
Bottom Line:
The Behringer UCA222 is unbelievably cheap, but it sort of shows; the chassis sometimes splits and the audio quality is just okay. It works, but if you can, then just wait a little longer and upgrade. If you can't wait, here's the link to getting your own: Behringer UCA222 U-Control USB Audio Interface.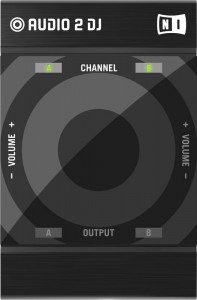 Native Instruments Audio 2
Cost: $99
Good For:
Tiny but sturdy unit
Sound quality is excellent
Not So Great
Extremely limited connectivity
Bottom Line
The NI Audio 2 sounds really good, but has nothing in the way of inputs and just stereo 1/4″ sockets for output. If it's all you need then it's all you need, but you might need more for your setup. Either way, at just $99, it's a nice piece of kit to have if you're just starting out – grab one for yourself here.
ReLoop Play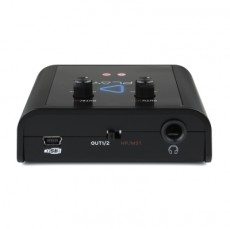 Cost: $90
Good For:
Getting separate RCA outputs
Not So Great
Bottom Line
For total, honest disclosure here, I need to tell you the only contact I've had with the Play is at trade show level. I can't, therefore, really recommend that you do something either way – but I can tell you that the Play is tiny, seemed to work just fine, and provides more flexible I/O than the Audio 2 for less money. Test it out for yourself and grab one over on the Amazon product page: Reloop Play Interface
Novation Nio 2|4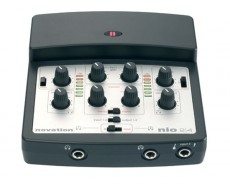 Cost: $220
Good for:
Sturdy build
Very low latency
Phantom power input
Free effects plugins
Not So Great:
Confusing top controls
A shame not to have four inputs
Bottom Line:
The Novation Nio is really sturdy, and features special firmware that allows FX routing to be extremely low latency (handy if you're going down the Ableton Live or similar route). Novation chose to trade four inputs for two, one with phantom power (through-cable power to allow condenser mics to work), and whilst it is cheaper, it's not much cheaper than the Native Instruments Audio 6; if you're planning on going DVS at some point soon, this isn't the best card for you. It's also not in production anymore – but you might be able to find a used one around if you snoop hard enough.
THE ALL-IN-ONE SOLUTION
If you know that tactile control and a sound card are going to be essential then it might be wise to skip straight to an "all in one" DJ controller that is equipped with software, hardware and a sound card for one price.  Here are our three favorite beginner DJ controllers under $500:
VESTAX SPIN / TYPHOON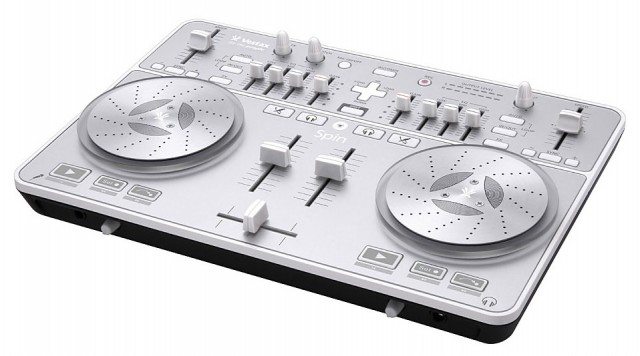 Cost: $249
Good For:
Plug and go on the cheap
Looks like a DJ controller
Not So Great
Limited control
Limited quality
Bottom Line
Spin is designed for Mac and ships with Djay, whereas Typhoon is cross-platform and has Virtual DJ LE. Other than a paint job they're basically the same controller, and they have a feel of 'my first VCI-100' about them. They are fun, but they lack controls for things like effects. Read some customer reviews and get one on Amazon here: Vestax Typhoon Midi Controller
RELOOP DIGITAL JOCKEY 2 INTERFACE EDITION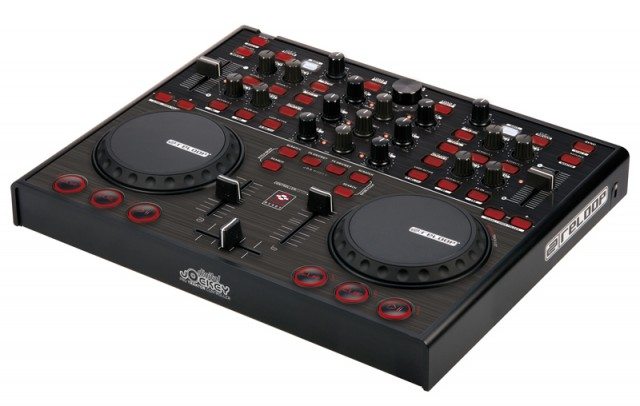 Cost: $300
Good For:
Decent build
Nice looking
Sensible layout
Not So Great:
Slightly squashed up design
Buttons aren't ideal
Bottom Line:
The Reloop DJ2 is a surprisingly decent controller – you might immediately get controller envy when comparing it to their newer DJ3, but the DJ2 has plenty of controls and ships with Traktor LE, which is a short upgrade path from Traktor Pro. There's a lot of controller for the money, but it's also quite small so you might feel like you're a bit squashed in. Into getting squashed? Grab a Reloop Digital Jockey 2
here – and celebrate for the potential free shipping.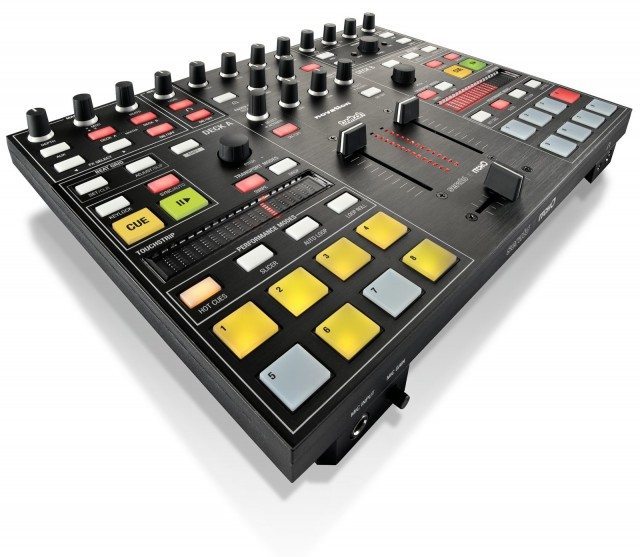 Novation Twitch
Cost: $499
Good For:
The very cool slicer mode in Itch
Generally professional feel
Not So Great:
Some build quality issues
No platters might be weird for some
Bottom Line:
Twitch is a controller unto its own, as although it has plenty of competition it also has enough USP to ensure it stands out. Where it really works is the cool features developed for Itch, including the excellent integration of slicer mode. We actually sell them in the DJ TechTools store!
CHOOSE YOUR PATH CAREFULLY!
Most popular DJ solutions today start at $500 and up but there are lots of ways to get started for less. Just keep growth in mind if possible. Pick components that are modular and software that leaves room for growth so that as your demands increase, you can re-use and integrate the components you already have.
Using an external sound card is sometimes smart, because when you want to upgrade your controller you wont need to spend money on another controller with a sound card built in. If your eventual goal is to use Traktor Pro or Serato Scratch Live/Itch then it might be wise to start with their "junior" or light versions. By starting there, the work and experience you put in now wont be wasted when moving to an entirely new DJ platform. Much of the time spent in digital DJing admin is preparing music – cue points, grid information, comments and so on – so switching platforms can be a very time consuming down the road.
Did you miss part one of this series? "DJ Software Options for Beginners: Free to $99" highlights the best DJ software for those out there looking to get started mixin'.