Straight off the Musikmesse 2012 floor is Reloop's new Beatmix controller. While we've seen tons of controllers ship with an included version of Virtual DJ, Reloop is claiming that this will be one of the first controllers on the market designed specifically with VDJ in mind. The two-channel controller keeps it simple with minimal bells and whistles – see the full details inside!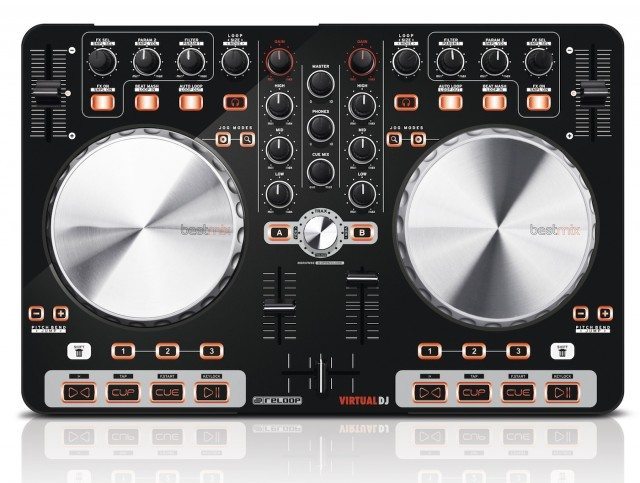 Manufacturer: Reloop
Price: $249. 
Release Date: End of July.
Key Features: Simple but feature-packed layout and Reloop's large jogwheels
What's Missing: VU meters and balanced outputs
Each of the two decks feature two of  Reloop's signature jog wheels which are extra large and flat with sensitivity control, full effects control, the standard Reloop Trax Encoder for browsing and loading tracks, and 70mm pitch faders.
The Beatmix will ship with the custom Reloop version of Virtual DJ LE, and is also compatible with Serato Intro as well as any software that supports MIDI configuration. Reloop is also touting the "Beat Mash" mode, which allows for simple chopping up of samples and loops. This is software-based, and will most likely take advantage of Virtual DJs built-in slicer-style effect.
The unit includes an onboard USB soundcard with two RCA outs- one as a master, and the other as a Rec/Booth out.
With a focus on a two deck workflow but an equivalent style and design to the Terminal Mix 4, we're wondering why Reloop didn't just call this the Terminal Mix 2!
Taking On Native Instruments
With the announcement of the Terminal Mix 4 at NAMM earlier this year, and now the announcement of the Beatmix, it's clear that Reloop is looking to grab a piece of the pie that Native Instruments has seen so much success from in the last two years. We're betting that the price will be comparable if not better – but still waiting on Reloop to share that information!

Technical Specifications
Mixer section:

Classic 2-channel mixer design
1x Pro Longlife crossfader
2x volume controllers with Pro Longlife linefaders
2x 3-band EQ dials
2x gain dials

Player section:

2x 14cm touch-sensitive, 2-part jog wheels for scratching, cueing, etc.
Different jog modes (Scratch and Pitch Bend, Quick Search)
2x high-resolution pitch faders without locking point
1x assignable encoder, 3x assignable controllers
16x buttons for pitch bend, effects, Beat Mash, auto loop, cue points, sync, cup, cue, play and shift
Single-coloured glistening red illumination

Master Section:

Cue mix, headphones volume, sampler volume and master controller
Extra large Trax Encoder for quick and easy music library browsing (with 4 load buttons)
Dimensions: (w) 420mm x (d) 274mm x (h) 41mm
Weight: 1.9kg (net)
Incl. Virtual DJ LE Deck Reloop Edition and USB cable