It's time for another edition of "Show Us Your DJ Setup"! This is the blog version of our popular set-up section in the DJ TechTools forum, and we're excited to feature long-time forum member Jon Hersom (fullenglishpint) today. In case you haven't noticed, DJ TechTools hosts one of the largest DJ communities on the internet and this is just one of the ways we try to include you in the editorial process. 
Hey Jon! How about quick description of how you use your gear and what your standard workflow/practice session consists of?
Thanks for asking me! I've been a huge fan of DJTechTools for a long time now.
I've DJ'd quite a few different ways since I started in 2007 but right now I generally use my CDJs with Scratch Live, running each deck into 2 channels of the Allen and Heath DB4 using the matrix input.
The Novation Dicers are perfect for me, allowing access to cue points and loops right there when I need them without taking up any space. I know that in the current fast-paced and complex world of DJing with controllers, Ableton Live, Traktor's new remix decks and so on, a simple two CDJ and mixer workflow might seem a little plain, but right now it's what I'm comfortable with.
I also like to switch things up a bit for variety, so often I'll spin with my Twitch instead or break out the Midi Fighter and have a good button mashing session in Traktor.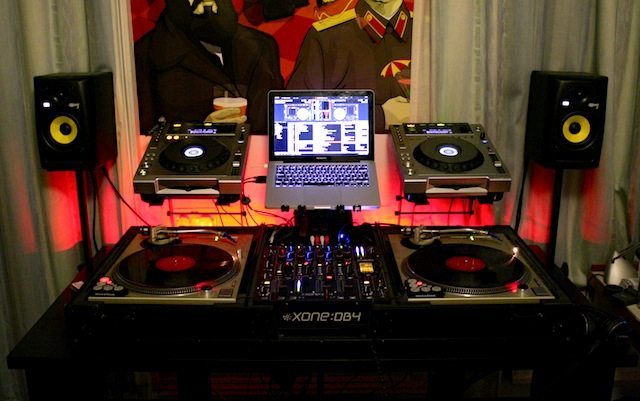 I noticed that you've got CDJs and Technics on the same setup – which do you prefer to use, and why?
Hmm, tough one. I guess, as parents always say to their kids, I love them in different ways. Even though I'm a pretty new DJ in the grand scheme of things who started on controllers (a Behringer BCD-2000 as it happens), I really do have a love for the feel of vinyl. It makes me feel connected with the track.
That said, most of my gigs are on CDJs and I like the extra space you have over a controller, particularly the long pitch fader and big jog wheel. The HID support for the 850s in Scratch Live is excellent as well – one of my pet peeves with Traktor. The way I have things set up right now means that with one click per deck I can switch between CDJ and vinyl control in SSL, which is ideal.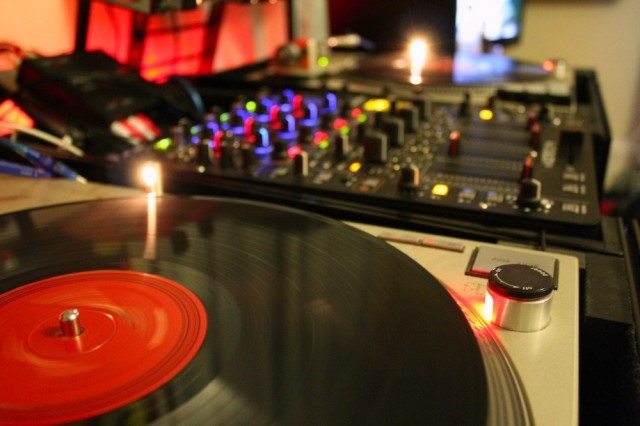 Anything in your setup that you want to replace or get rid of?
I'm a self confessed gear whore, so I'd love to replace my CDJs with 2000s (or whatever Pioneer have been whispering about recently), but right now I'm happy with what I have. I do have a pile of old stuff sitting around that I should really get around to selling though.
Everyone raves about the Allen and Heath DB4 – how do you find it for your setup?
It's by far the best mixer I've ever used. I had a DJM-800 before, which is a really solid mixer, but feature-wise I think the DB4 is in a league of its own. The effects are phenomenal for a DJ product (everyone says it, but they really are studio quality) and the filter EQ mode is really useful – it's changed the way I DJ. Also, having the matrix input takes a lot of the fuss out of wiring things up and means I can have more fun with FX and loops by running the same track on multiple channels.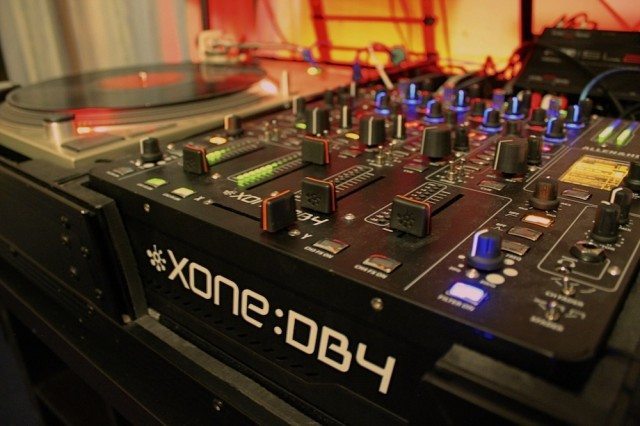 I noticed that you don't have any MIDI controllers in this rig aside from the Novation Dicers – what kinds of controllers would you work in here if you had space?
I have a Novation Twitch which I'd love to have within reach, at the moment I have to unplug one of the CDJs to use it. I also really like the look of the VCI-400 as an all in one alternative, though I wish it were ITCH certified! Props to you guys on the Ean Golden edition by the way, it looks killer. The VCI-380 looks good as well, since I don't really use more than two decks, and I'm interested to see if A&H come out with more X-Link compatible controllers that I could try with my DB4.
When you play a gig, what gear do you usually bring with you? What do you leave behind?
For club gigs it's usually either the Twitch or my SL-box with control CDs and the X1 (and of course my trusty macbook pro). I've played in bars that don't have their own gear and if I have time I like to set up my own CDJs because I feel at home with them (and it means I get to use my DB4), but if not the Twitch is a more than admirable substitute.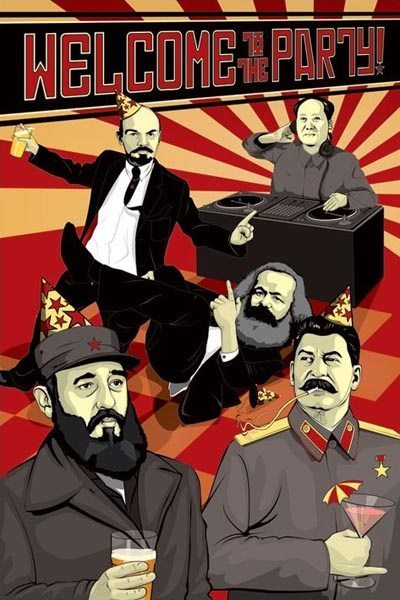 What kind of desk is that?
That was inspired by the IKEA mod post a few months back! It's a 4×2 expedit shelving unit with the 150cm vika amon table top. I had the whole lot on a keyboard stand until recently but drunken friends bumping into it was getting far too nerve wracking. Eventually I'd like to move everything away from the wall and when I do I'll put some IKEA vika kaj legs on the back for extra stability.
There appears to be a poster of dictators consuming cocktails in the background – are the communists having another party?
Yes they are! I found it at a poster sale last year and didn't think twice – it's perfect!
Anything else you're keen to share while you've got everyone's attention?
Absolutely, just a couple of things while I'm here:
Native Instruments, please improve your HID support.
Serato, please improve your MIDI support – I like LEDs.
Do you want to land on the front page?  – Post your impressive DJ rig in the newly re-designed show us your setup section. 
Forget about RGAS for just a second— we noticed that Jon has some of our favorite monitors: the KRK Rokits!