First up, we are so proud of everyone that entered this contest. There are so many great musical arrangements and performances that it was really hard to pick a winner. Through these contest videos, we are really starting to see our full vision for controllerism and DJ TechTools come to life in an amazing way. Ok, enough feel good community babble – onto the winners! (The Midi Fighter 3D is available in our store now!)
Because there were so many awesome entries, We've decided to break this into two categories, best performance and most creative video:
BEST PERFORMANCE
FIRST PLACE: Riccardo Betti

What can we say about this video that wasn't already stated in the comments? With 47,000 views so far and counting, this was not only the best performance, but the most popular by far. What made this a stand out winner?
Great musical arrangement
Killer playing and timing
Excellent use of the samples provided
SECOND PLACE: Distracted Dispatches

The second place video used a lot of the same samples, but what we really liked about this video is that it's all played free hand, which creates a killer swing that feels really organic and dynamic. Great track!
MOST CREATIVE VIDEO
FIRST PLACE: Bandesnaci
As DJs, we're biased towards folks who introduce us to unknown musical genres. Do it in a hilarious way, and we'll like you even more. How could this video not be the winner for most creative?
SECOND PLACE: DJ Captcha

It takes a lot to sing and rap on camera if you're not normally doing it – combine that with a bit of drum and bass elements, and performing what we think is the first ever rap shout out to DJ TechTools.
THE PRIZES…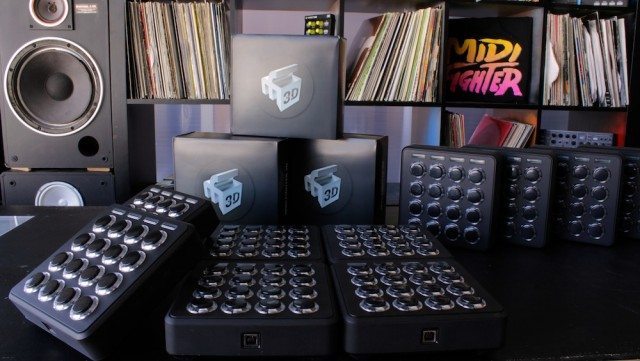 As many of you know, we're just a few weeks away from shipping the first batch of Midi Fighter 3Ds! The pile above are the first ten to come out of the oven, and four of them are going to the winners of this contest! We originally said we were only giving away one – but Ean's in a really good mood today and super proud of everyone, so it's Midi Fighter 3Ds for all the winners listed above!
Didn't Win? Want A 3D? Like we said, the Midi Fighter 3D is available in our store now!
HONORABLE MENTIONS FROM THE DJTT STAFF
Here are five great videos that our staff loved but didn't win the top prizes.
Craziest Controllers: Bass N1xx1N
Best Transformation of the Samples to a New Genre: Monika MHz
Honorable Mention for Best Performance: Coda in Blue
Best Use Of Puppets: Sound Observer

Best Party Thrown While Shooting An Entry: Flat Nanders

Stay tuned later this month more information about the complete release of the Midi Fighter 3D. Thanks again to everyone who submitted a video in this contest – and yes, we did watch every single video! Also big thanks to Mad Zach for making the awesome drumrack pack used in this contest! For more music from Mad Zach including new releases and free downloads check out soundcloud.com/mad-zach and make sure to stay tuned for the next sample pack!